The appearance is the same as our Anti-vandal switches, but this is a bi-color version.
A BLUE & RED colored LED ring give you a clear indication about the current state of the switch.

Stand-by mode: The Blue LED ring lights up, but the connected LEDs do not.
Power-on mode: The Red LED ring lights up, as well as the connected LEDs.
The stand-by blue LED ring can let you know where the switch is in a dark environment. You can also wire the switch in another way to turn off the blue LED ring in stand-by mode. The switch will act like a normal single color Red LED Anti-vandal switch. See the pin out diagram in Tech info.
With an IP67 waterproof rating (and Stainless Steel), you can install the switch on your boat or anywhere the switch may get wet. The switch however is NOT supposed to be used underwater.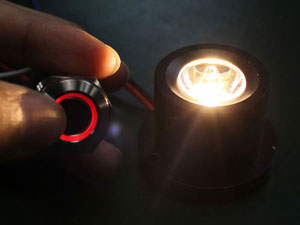 Two styles are available: Latching and Momentary

Latching: Push to switch on, push again to switch off.
Momentary: It is only connects the circuit while you hold the switch.

* Please note this switch does NOT come with wires.

You can do the wiring by yourself, or you may buy the connector from us.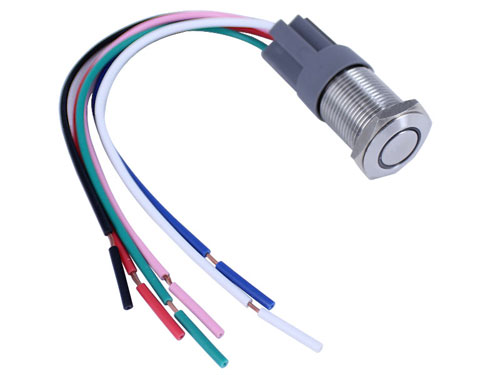 With this connector, you don't have to solder the wires one by one. Just simply plug the switch into this specific connector, and you can immediately connect it to your power supply and LEDs. Save your valuable time :)
Check out the Bi-color Anti-vandal LED Switch Connector here. WIRING DIAGRAM AVAILABLE AT THIS LINK!
⇒ Here's the difference between our existing anti-vandal switch and this bi-color switch ⇐