Combined IR Proximity Sensor Switch and IR Touch-less Sensor Switch functions into ONE!
Door mode and Touch mode
Door mode -
Use this mode when you place this sensor inside your cabinet! LED light connected will turn on when you open the cabinet while it will turn off when the cabinet is closed. Function is same as the
IR Proximity Sensor Switch
Touch mode -
Turn on or off you light by your hand movement under the touch mode! When you shake your hand in front of the sensor, you can turn on the LED light; shake again to turn it off. Function is same as the
IR Touch-less Sensor Switch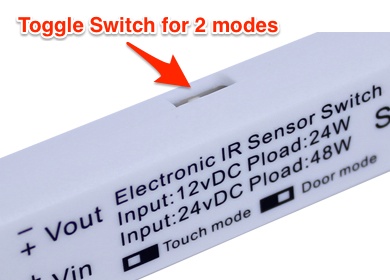 Small size and easy installation:
Simply drill a hole and put the wires through it. All wires and the sensor body would be hidden behind the panel.