Remote Control On/Off Switch for 12V LEDs FAQs
All Customer Questions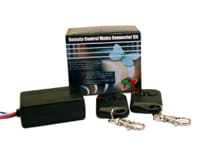 Remote Control On/Off Switch
Q:
I have been using this unit to turn a duck wing on/off from a duck blind. My friends tell me the over water application limits the signal for operation. I have modified several units for my duck hunting friends. Will over the water operation be affected? - by Hal (Sacramento ,Ca)
A:
Sorry, we have never tested for that scenario.
Q:
How do you re program the remote to the receiver ?
Thanks - by Cham
A:
It is done at the factory. Please call Customer Service is you need further assistance.
Q:
This is probably the best FAQ I've ever seen. Read every one and it seems this remote can be adapted to my need. The answer here is important
"Answer
No, we don't. You could wire a home light switch to the remote control though. Just open up the remote control and solder wires to the contacts."
I need to control a signal light on a pole 60 feet from a water tank. The above answer indicates I can connect an external switch to activate the fob on circuit and off circuit. This perhaps means I can put the Fob outside the tank and waterproof it from normal rain and place a mechanically activated switch inside the high humidity tank to detect in flow.
Is the 60 feet too far if there is line of site between fob and receiver antenna?
Also, what is the power source for the fob? Coin batteries? - by Chris (Santa Barbara CA)
A:
If you are to solder wires to the remote to activate it with an external switch, keep in mind it will expect a momentary signal, and not a constant connection.

If you have a constant connection, you could translate that into say a 1 second momentary connection with this time delay relay.

The 60 foot line of sight should be fine.

The battery is a 12volt 27A size
Q:
I need a range of 200-300 feet, to turn on a light as I drive down a long driveway. Is it possible to use a longer antenna to increase the range? - by Gregory
A:
It may increase it slightly
Q:
I have a 12v led light for my car that has 10 individual lights so they can all be placed seperatly how do I split it to where only half come on at a time or so 5 are on one switch and 5are on the other - by Kailey (Texas)
A:
You can either use two separate 1 channel kits, or a single 4 channel kit and only use 2 of those channels.

You can then wire your various lights to the appropriate channels.
Q:
Can you program a programmable garage door opener to operate this switch instead of the fob? - by Jared
A:
Our switches cannot be programmed. It might be something programmed from the garage door opener, not sure.
Q:
I am installing a small dash mounted 2 speed fan in my motorhome. What's the best way? Use your 1 channel and then find a relay or use the 4 channel and use the seperate wires [1 low spd. &1 high spd?] Any other lideas?
A:
Depends how much current the fan draws. You don't want to overload the relay on the remote controller.
Its up to you whether you use a 1 channel or 4 channel.
Q:
Would it hurt the unit if it were placed in the engine compartment? Thinking of the summer-heat (especially when engine is running), or winter-cold (when engine not running) affecting the electronics in the unit. - by Charles (Hixson, TN)
A:
Yes, it would hurt the unit. You probably shouldn't put it in the engine bay. It'd still work, just might not last that long.
Q:
How much current does this device draw in standby mode? I am planning on hooking up a battery supply to it and wanted to determine how many amp hours of battery life I will need.
A:
Only uses 1-2 mA.
Q:
I would like to use a product like this to control some items on my Harley. Unfortunately, this item is not waterproof and I can not guarantee it will not be exposed to some degree of residual engine heat. Can you recommend another remote device that will, at the very least, be waterproof? I can, if need be, always intstall a little section of thermal protection. Thank you, in advance! ( I suppose I could make an acrylic box and run the antenna wire out of it, but that's a lot of work.) - by Mike (Omaha, NE)
A:
Sorry, we can't recommend another remote device that will be waterproof.
One option you may consider: just install it anyways and hope for the best.
You'd still likely get at least a few years of operation out of it, but we can't guarantee anything.
Q:
I am thinking of a 4 channel to future proof my items only have 2 item to connect now and 2 later, will it work with only 2 connected or does it need 4 wired for any to work. Cheers - by James (Australia)
A:
Yes, you can hook up 1-, 2-, or 3- channels. You don't have took hook up all 4-channels.
Q:
Could I use this to turn on &off my sump pump in my boat that is in salt water
A:
Yes.
Q:
Can I use this device to replace an on/off rocker switch. - by Ron (Brampton, Ontario)
A:
Yep!
Q:
Can I use this to break power on and off to my R/C 7.2 volt battery pack? - by Lance
A:
I don't see why not. Go for it.
Q:
I got custom made LED DOOR handles for my 2011 camaro! If I get two of theses an install them on each door can I control BOTH door handle LEDs with one remote? Meaning if I buy two separate divices will one remote work for both or will I have to carry two remotes to turn them both on? - by Jason (Ohio)
A:
One remote will not control both devices, you would need to separate units.
Q:
Does the remote control transmitter have the battery included?
A:
Yes, the battery is included.
Q:
Do you ship the item to middle east area on Payment by Visa Card and shipping by DHL/ARAMEX? If possible, how many days it will take.
I need a set of 4 channel and one channel one each - Rafi - by H.M.Rafi (United Arab Emirates)
A:
Add the product you want to your shopping cart and try to select your country. If your country is on the list, we'll ship it. You can use Visa, Mastercard, American Express, or Discover to make a purchase. We ship USPS and UPS. You decide the shipping speed.
Q:
I have this receiver hooked up to a 12v AA NiMH battery pack. Can I leave everything hooked up and charge the battery pack with a 14v, 600 mA charger without damaging the receiver?
A:
Yes
Q:
I wan't to use a 4 channel unit to turn on/off 4sets of LEDs in a radio controlled car (hobby) 7.4 volt li-poly 6000 mah. will this work? and is there a limit of how many LEDs that are wired parallel to each channel (5volt LEDs with resistors)? - by James
A:
Not 100% sure if it will work reliably on 7.4 volts, since it is designed for 12 volts, but you're welcome to try.

It can power about 6 amps, so thats a lot of LEDs.
Q:
do you need line of sight (no obstruction) to function?
A:
No, does not need line of sight to function.
Q:
Referring to the wiring diagram, what would happen if I used the sub in my car as my power source? So the LEDs would pulse every time the bass hit, but would the remote work as an on/off switch in that situation? - by manuel (United States)
A:
Sorry, this won't work.
Q:
Can i split the positive put the wireless switch on one toggle on the other then put them back together so i can stand outside and turn them on with the toggle in the car - by Shawn
A:
No, sorry.
Q:
I am wanting to make a Radio Controlled Deadman for a Sand Blaster. I have access to a solenoid valve that uses 17 watts at 12vdc. My first question is, would the 1 channel unit work? Second, Is there a way to get about 300 feet of range out of it? - by Jimmy (Salinas, Ca.)
A:
This should be able to work with 17watts at 12v. You won't be able to get 300 feet out of it though. Sorry.
Q:
Hello, I would like to use this switch to turn off/on my air compressor on my truck. Is it possible to wire this switch up so that by default the switch is in the "ON" position, and then when I need to turn the switch "off" (in case ice freezes up in the compressor output line)? - by David (Albuquerque)
A:
No. Sorry.
Q:
I saw a couple questions about the antenna but I have a different one. What is the length of the antenna wire so I know where to mount and have enough room to run the antenna close to the windshield. Thanks. - by Adrian (Barstow, CA)
A:
About 6-8 inches
Q:
I would like to install it in a van that has electric side doors. It is now controlled by a rocker switch to open and close the door. Will this remote
open and close the door? jcb
A:
Are you asking if this product will open/close your doors? Maybe. These can handle up to 6 Amps. If your electric side doors are less than 6 amps, then yes.
Q:
Why is the 1 channel receiver much larger than the 4 channel receiver. From you previous answers you show 1 channel 2.5 x 1.75 x .75, and 4 channel .75 x 1.25 x .25. Please explain why the larger unit is smaller that the smaller unit. Can this unit be used to move an actuator or servo unit? - by Frank (Virginia Beach, VA)
A:
This can used to turn items on and off, moving or starting an actuator. The dimensions of the larger unit are 4" wide x 2.5" long x 1.25" deep, sorry for the confusion.
Q:
I have a 12vdc circuit that is nc. I would like to be able to remotely open the circuit when I press the button and close when I release the button. Is there a product that can do this?
A:
This switch would probably work for you. It can be returned if it doesn't operate the way you need it to.
Q:
I want to be able to operate flood lights out side with a hand held remote on/off switch such as being shown on this page, what would it cost to be able to do this. ? Thx., Ron... - by Ron (Citrus Hts CA. 9562)
A:
The 1-channels is $24.99, the 4-channel is $39.99. It would be great for your application.
Q:
My house have 12 volt (10 awg) through out for back up lighting, if I were to hook up all my lighting (through a c/b) directly to the battery banks, would this harm the receiver unit, battery bank with 440 amp/hr capacity.
A:
Yes, this maximum for this unit is 6 amps per channel.
Q:
what is the max range between the transmitter and the receiver - by Marco (Chicago)
A:
About 30 feet.
Q:
Is there a wiring diagram for the 4ch version? Different color wires corresponding to the channels 1-4? - by icerabbit (usa)
A:
Nothing different just more channels. https://www.oznium.com/product_photos/large/2554.jpg
Q:
can I have more key hobs (same frequency) as I am looking for a project? May need about 200 hobs. possible?
A:
I'm sorry but each set of Key Fob is on their own frequency. There is no way to change/tune them to different frequencies.
Q:
I am looking as a remote control to open the gate to my home. This need a relay function to the existing manual switch to make the gate open.
A:
Are you asking if this needs a separate relay function? As far as I understand, you don't need anything different.
Q:
I'm thinking of making a solar panel trickle charging a 12 volt car battery connected to 2 sealed beam headlights mounted on a pole to light up a yard for security reasons remotely from about 150 feet. Would this work if figure out the circuitry? - by Mickey (Toronto, On. Canada)
A:
Sound good. We don't have any information on solar applications, sorry.
Q:
Can I get multi. (6) recievers with the same freq./code so 1 FOB would be able to turn each reciever on? - by Tim
A:
This isn't possible.
Q:
the device is 12V. In the technical info, I read that you tested it on a 6.5 volts device and works with no issues. I like to use it for switching a 6 volt (4x 1.5v) device; is it worth trying out the device if it will work ?; or is 6.5volt a minimum ?. - by Patrick (The Netherlands)
A:
It won't hurt to try it at 6 volts.
Q:
What gauge wire is with this unit? Do I need to purchase the fuse portion separately? - by Tomas (Aurora, OR)
A:
18 to 20 gauge wire.

This unit does not come with a fuse, so if you'd like to use a fuse, then you'll certainly need to purchase a fuse separately.
Q:
I want to use this to turn on lights on my motorcycle at night before I turn the motorcycle on. Will this still work if the motorcycle isn't running? - by Tomas (Aurora, OR)
A:
Yes!
Q:
Could I wire the remote control to a thermostat in my RV. The thermostat wire has failed and it is very difficult to wire in a new one.
Don - by Don (Bisbee AZ)
A:
We aren't sure. We haven't tried. It can handle up to 6 Amps.
Q:
I would like to have a 4 channel remote turn on and off 4 separate switches (a separate channel for each switch), each switch in a different location. Can I buy a 4 channel remote and 4 separate switches, all appropriately programmed? - by Don (Tucson, AZ)
A:
It is certainly possible, but this current product doesn't offer such customization.
Q:
Are these units affected by cell phones ect.? - by Mike
A:
I haven't had any issues with these and my cell phone or other electronics near by.
Q:
Do you ship this product to europe/germany? How much would that cost?
A:
Yes we do. Here is a video that would help you determine a cost


Q:
where can u buy a 12v junction box with 4 3v sockets? this came with my neons and now it is not working and i cannot find a replacement. - by Cheryl (South Carolina)
A:
I'm not sure. I'm sorry.
Q:
Is the "ON" button a latching signal? I need a remote system of this size that has momentary functions. Is that available?
A:
It's latching, not momentary. We haven't come across a momentary system. It could certainly be done though.
Q:
I am after a remote kill on a training motorcycle - could I wire this up via the safety kill switch on the side stand? - by Dawn (Auckland, New Zealan)
A:
I'm pretty sure that would work.
Q:
I am looking for a remote control so that in the late season in my trailer (ALL 12 VOLT POWER) i can leave the thermostat set at 65 and click on the remote to turn on the thermostat to start the furnace, to warm up the trailer to 65, before I have to get up----essentially remote power on and off to the thermostat---Will this unit do the job?
A:
Should work fine.
Q:
does this have a direct volt out put such as 12 in 12 out.. if so.. how does this affect my device after the reciever is turned on??
A:
The box does have a 12v in and 12v out. I'm not sure why it would effect any devices.
Q:
Can the unit be placed under the dash in a vehicle and still receive the signal and operate correctly when you press the on/off button. In other words does the unit have to have no obstructions in between it and the fob??
A:
It can be placed under the dash and still function.
Q:
I am installing a low voltage (12 volt) outdoor lighting system. one of the lights is a 50 watt spot in the carport that I would like to activate remotely from the car. Does these sound like a reasonable application? The spot would be under the carport so I don't think weather is a problem. - by bob (tucson az)
A:
It sounds reasonable. Give it a try!
Q:
is there enough hook up from remote to connect two led's around both headlights,and is further water proofing needed? thanks peter uk - by Peter (Ulverston, United Ki)
A:
You'll have to add wire. The case it not waterproof.
Q:
I am installing halos on my car. I guess I would need to use the 4 channel remote as this is how the halos will light up: Hi/Low, both sides. Halo on signals, both sides. Halos on fog lights, both sides. Might possibly split hi/low beams to use the 4th channel. Would this work? Thank you. G.N. - by Gary (Connecticut)
A:
Yes, this will work just fine.
Q:
Can I us this unit on 12 Volt AC? - by John (Sacramento)
A:
No the unit requires dc. You could use it by insalling a diode to convert to dc
Q:
how much draw does the receiver make on the battery? How long before the battery goes dead if the car sits for a long time? - by john (san diego, ca)
A:
testing it here in the warehouse the unit only draws 1or 2 ma in off position. It would take many weeks and or months to drain the battery by itself.
Q:
Is there any way to make either of your remotes reverse polarity? I am looking at the Firgelli Auto switch (http://www.firgelliauto.com/product_info.php?cPath=100&products_id=18) that reverses polarity depending on the channel it is hooked up to. There remotes are more expensive and I would rather use Oznium's. Is this possible?

Thanks - by Ryan
A:
You could probably use one of our relays to do this.
Q:
I have a hose reel I want to turn off and on with a remote I can not give you the exact draw but I run from a 30amp breaker will this unit turn it off and on - by Steve (Perkasie PA 18944)
A:
I'm sure you could hook this up to do it. You could always use a relay. This unit uses 12 volts, and has a maximum output of around 6 amps.
Q:
i lost one fob can it be replaced - by jarrod (Ronkonkoma, NY)
A:
Unfortunately the fob remote control is not available separately.

Each one is uniquely coded from the factory to match up with the remote receiver box.
Q:
Can the 1-Channel be spliced to feed more than 1 item? - by Anonymous
A:
Yes, as long as it pulls less than 6 amps total.
Q:
Can I use this remote control transmitter to turn ON/OFF flashlight? - by Andrew
A:
Yes
Q:
I'm trying to figure out which of the two systems I need. The one-channel remote seems to have two buttons. What does each button do? Is one ON and the other OFF?
Thanks! - by Mike
A:
Yes this is correct. If you look at the "More Photos" tab, and then click on the photo of the remote, you can see the words "On" and "Off" printed on the buttons.
Q:
You could always use relays to have remote control over devices more powerful than 6 amps, correct? - by Acey (Alberta)
A:
Yes, absolutely.
Q:
I read the specs and questions, including ones about improving the antenna (range; blue wire). I see "extended range" underlined, but it is not a link. Unobstructed range is of primary importance to me. Please estimate it. - by Weldon (San Antonio, TX)
A:
You should be able to control it from at least 30 feet, if not more. It will also vary depending on factors like weather, obstacles, where the antenna wire is located on your vehicle, etc.
Q:
Why are there 2 ground wires coming out of the remote control box? If I was hooking this remote box to a junction box with an AC adapter plugged into it as power to it, do the ground wires need to be wired to the same post? (junction box has 4 + & 4 - posts) and then the white output power wire goes to another junction box input(to activate more than one item by remote on/off with one button push). Is the negitive (ground) input to 2nd junction box ok to be wired to a different negitive (ground) post from junction box 1? - by Mike (Florida)
A:
Please see the diagram on our website.
https://www.oznium.com/switches/remote-switch#tech
Q:
what is the dimensions of the 4 channel receiver? - by Rob
A:
around .75" wide
around 1.25" long
around .25" thick
Q:
I want to re program these units so I can control several from one transmitter. I noticed there is a code on both the receiver and transmitter that match could I order kits with similar #'s. When I opened the units I could not see a way to reprogram. I would like to buy 5 or so. - by chris (nashville tn.)
A:
Sorry, but we have no idea how to re-program it.
Q:
So the 4 channel one controls four different items, correct? - by brian
A:
Yes
Q:
What is the maximum current the receiver can handle?
A:
Output current: 6 amp max (per channel)
Q:
Could I tap the Antenna wire to the cars OEM antenna, and go off of that?

Do I need to buy a separate antenna that goes in my front window, or will it just pick up the signal by the blue wire? - by Knate
A:
Good creative thinking. You could, but I don't really think it is necessary.

The blue wire already serves as an antenna. You do not need a separate antenna.
Q:
How long are the wire coming from the relay box? Also what gauge is it in case I need to extend it? - by wes
A:
Its under a foot. Its probably 18 gauge.
Q:
Will this remote work on a 6 volt application? - by Randy
A:
I don't think so.
Q:
If I already have my LEDs hooked up to a toggle switch, would I be able to hook this remote control up so that I could turn the LEDs on with either the toggle switch, or this remote? - by Patrick (Belvidere, NJ)
A:
That is certainly possible.
Q:
How can I hook this up for use with a home adapter? - by billy (Seattle, WA)
A:
Just connect the red and black wires from the remote control receiver to the positive and negative wires from the home adapter.


Q:
Do I need a fuse before the remote unit and one after? If so, what amperage for each? Thanks....
A:
It is best to put a fuse before the remote unit. You can put extra fuses in the system as an extra precaution if you'd like, but they are not really necessary. The amperage of the fuse really depends on the amperage draw of the products you are powering.
Q:
Is there a way this remote can control 3 cathode kits? - by Tanner
A:
Absolutely!
Q:
What does "key fob" stand for?
A:
The key fob is the remote itself.
Q:
I have my car wired with StreetGlow Underglow. They have a wireless kit also but for some reason it only works with the 7 color led kits that they sell, which I don't have. Will I be able to use this with my StreetGlow Kit? - by Fernando (North Carolina)
A:
This remote control is designed to turn any two-wire device on and off. If your underbody kit uses a standard positive and negative hookup to turn on and off, it will work.
Q:
I saw the question listed about using 2 units with a single fob, to which you replied they would need reprogrammed. I wanted to make sure that if I bought 2 units, I could control them completely independent (i.e. have 1 unit control some lights, and the other my stereo amplifier) so that activating one remote won't turn on the other unit? - by Rishi (Orlando, FL)
A:
Yes, this is correct. They are independent. They operate on unique frequencies.
Q:
I want to put this on a 12V 1000 MA magnetic door lock, will this work? I would also like to purchase extra handset controls, is this possible? - by Bill
A:
Yes, this would work for your application.
The unit comes with 2 remotes, but we do not sell extras.
Q:
What size fuse should be added into the system and where?
A:
Usually you would install the in-line fuse holder on the Positive side, coming off of your battery. The amperage of the fuse really depends on the amperage draw of the products you are powering.
Q:
I see the unit has 2 ground wires. How does that work? A ground wire for the controller itself and a ground for the device you are connecting it to? Or can both ground wires be connected to the same grounding point?
A:
Both ground wires can be connected to the same grounding point.
Q:
Do you sell a light switch for this system that looks like a home light switch? I have a camper that has overhead lights with switches on them but they are to high for the grandkids to reach. - by Mark
A:
No, we don't. You could wire a home light switch to the remote control though. Just open up the remote control and solder wires to the contacts.
Q:
Would like to know if this receiver can be connected to a 12 volt alarm battery that is 5 amps. Would you know if it would last more than one year if used about 4 times a day? - by steve (ottawa ontario)
A:
It should work just fine. If you have any problems with the unit, we're just a phone call away.
Q:
Is this unit water resistant? I want to use it on a motorcycle. - by Tim
A:
It is not waterproof or designed to be in direct access to water, however it is fairly resistant. Some extra silicone and electrical tape should seal it up nicely.
Q:
Does this have a fuse in it or do I need to install an inline fuse? - by Tim (Johnston, IA)
A:
There is no fuse included, you'll need to install your own. The size of the fuse depends on the current draw of the products you are powering.
Q:
What are the dimensions of the reciever? I like to know if there's room for me to fit it in my motorcycle. - by R.B. (Oxnard, Ca)
A:
The dimensions of the 1 channel Remote Control On/Off Switch receiver are:
Length: 2.5 inches
Width: 1.75
Height: 0.75
Q:
Where should I place the antenna to get further range? On the front window, perhaps? - by cam (alaska boy)
A:
Yes, somewhere near a window is recommended. Near the headliner by the rear window would be a great place.
Q:
Do they all operate on the same frequency, or do the have unique frequencies? I want to install multiple remote controls to operate more than one device. - by Robb (California)
A:
Each one has a unique frequency. You can install multiple units without any interference.
Q:
I want to use this relay as a starter "interruptor" so that by using the fob I will be the only one able to start my truck. I would have the relay interrupt the wire that ties to the ignition switch so current draw would be minimal. Do this sound like an application your product can work for? - by Dave
A:
Yes that sounds reasonable. It should work great.
Q:
What is the range of these units? - by Bill (Michigan)
A:
You should be able to control it from at least 30 feet, if not more. It will also vary depending on factors like weather, obstacles, where the antenna wire is located on your vehicle, etc.
Q:
What does the blue one hook up to? I know it says antenna, but I'm confused.
A:
The blue wire acts as an antenna. You don't have to hook it up to anything specific, however you can add extra wire to it if the unit is deep within your car, so you get better range with the remotes.