Marine LED Spotlight - High Intensity & Waterproof
Our versatile Waterproof LED Spot Light provides a vast array of applications for any marine, boating, or fishing purpose. Tired of dim halogen lamps?
This little dome unit packs an incredible punch, with a precision cut-off for flawless illumination, and lasts over 50,000+ hours! No more swapping bulbs every six months in hard to reach places. With an energy footprint of just one watt you can forget about high energy bills, not only due to the saved energy from your spotlights, but energy saved from not having to pump up the air conditioning to balance out the heat from halogen spotlights / sodium halide ballasts.
Oznium's extremely energy efficient LED spotlights utilize only 1 watt. That's less than 2% the energy a normal halogen spotlight uses! You could replace one 60 watt spotlight with 60 of our spotlights, with a lot more light output, and the same energy footprint! Due to the specially designed aluminum housing the LED sits in, heat dissipation isn't a problem, you could keep this spotlight on 24/7, and spend less than $3.00 per year powering it. This product is the epitome of efficiency, all packed into a tiny dome.
This ultra-powered spotlight can be used for an incredible variety of lighting tasks in your home or business, including: art lighting, fountain lighting, garden spotlighting, track lighting, or whatever you can imagine. Since they're waterproof you can use them outside, regardless of weather. Each unit also includes two screw holes for seamless mounting, almost anywhere.
This product is fully waterproof. Once you secure your wires, it can even be fully submerged for years of underwater brilliance. And your options are endless, because this spiffy LED dome module is available in six eye-catching vibrant colors: warm white, cool white, red, green, blue, or amber.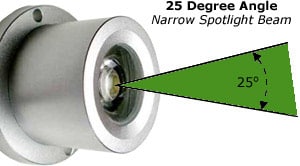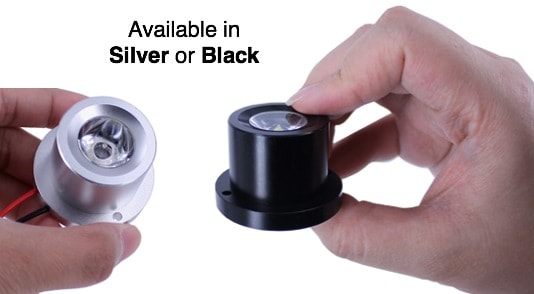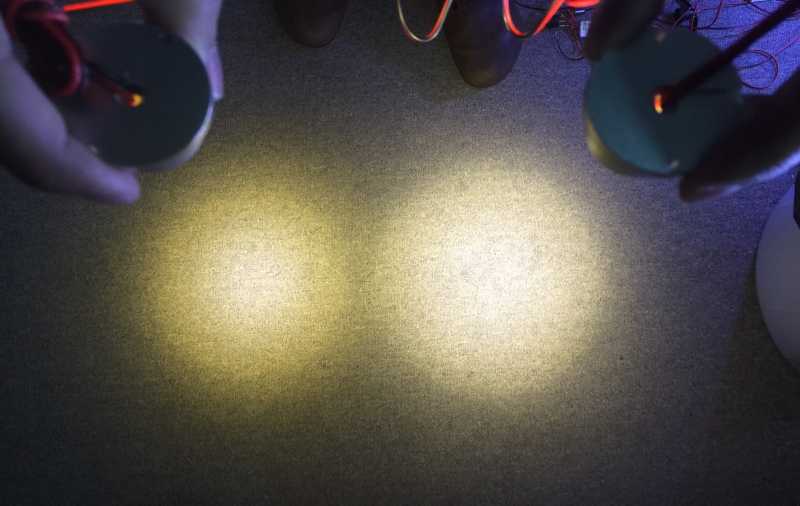 Side by side comparison of 1w (left) and 3w (right) high intensity spot warm white.
Other applications:
You are currently viewing
Marine
applications for our
High Intensity LED Spotlight
.
We also recommend this product for:
Customer Questions?
Our customers have asked 32 questions about this product.
→ Read common questions and answers.
Customer Reviews
Led lights
Reviewer: Wesley Smith (Wilsonville, AL)
Item: High Intensity LED Spotlight
Pontoon boat
I installed lights under my boat for swimming and fishing.
Installed lights in all storage areas for the boat and accent lights on the boat.
Have been in for two years and have worked fantastic.
Very impressed with the service and the product.
Shopping today to add more lights to pontoon and my bass boat to make easier to see at night.
thanks
Write an online review and share your thoughts with other customers.
Upload your own action shots - show us how you creatively used our product.