Extremely bright pre-wired superflux 4-chip 12V LED
Want it delivered

Friday, February 12

?

Order it in the next

18 hours and 40 minutes

, and choose

One-Day Shipping

at checkout.
Most people avoid working with loose LEDs because installation is tricky and time-consuming. Why not let us do the work for you? Our single lights are all waterproof, with a built-in resistor and a foot of wire, so all you have to do is plug them in. Could it be simpler?
Probably not, and our product is better too! Compared to 5mm LEDs, our superflux 4-chip LEDs will blow you away. Each superflux light is a square of brightness with four times the capacity of a regular LED, and they'll work with any 12-volt system. These lights use little electricity and give off virtually no heat, so you won't have to worry about a fire with these cool lights.
We take a 4-chip superflux LED and glue it into a tiny waterproof housing. There's a built in resistor, and a foot of wire.
Action shots!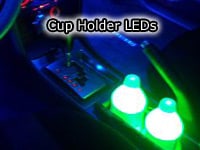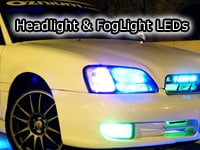 Check out
more stunning photos
.
They are ready to go - "pre-wired" to work on any 12 volt system.
Just hook up the red wire to positive, and the black to negative (ground).
A superflux LED is a square LED, with a very wide viewing angle. And our superflux LEDs have not just one, but FOUR chips in one LED for ultimate brightness. They can mount in a 3/8" hole.
Here's how it works: we glue each superflux LED into waterproof housing and pre-wire it, so it's ready to go. You simply hook up the red wire to positive and the black wire to your ground on your 12-volt system and you're in business!
Why not get a few of every color? Buy ten or more, and we'll even drop the price. Check out the difference between our 4-chip and a regular 5mm LED - where else can you get this much bright for your buck?
Compared to our 5mm LEDs, the Superflux 4-chip offers much improved brightness.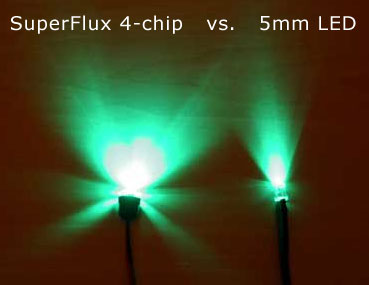 Other applications:
You are currently viewing
Automotive
applications for our
Prewired Superflux 4 Chip LEDs
.
We also recommend this product for:
Customer Questions?
Our customers have asked 95 questions about this product.
→ Read common questions and answers.
Customer Reviews
96 Reviews
Average Customer Review
(96 customer reviews)
Endless Applications... great longevity
Reviewer: Christopher Thibaut (Columbus, OH)
Item: Prewired Superflux 4 Chip LEDs
I've used these superflux LED's in a few fashions. I first used them with a black shoe box to make a very stunning, and of course very bright, decoration which automatically turn on for about 10 hrs a day. My second application is that I wired them to connect to my Ninja 250R's front turn signals (which came off when the bike was put down by the previous owner. They can be seen in daylight if I bend over the bike and I can see the flash at night easily. All in all, these little lights are amazing and have worked perfectly in my case. I have and will continue to shop from Oznium. Can't beat the shipping either!
Cup holder lighting
Reviewer: Ron Blevins (Chardon, OH)
Item: Prewired Superflux 4 Chip LEDs
I installed two of these superflux chips in the rear cup holder in my silverado crew cap as the cup holder is on the floor and at night really hard to find and use. Works great and bright enough for my project. Thanks again. Will buy more when I need them.
Power wheel Retro Fit
Reviewer: Thomas Campbell (Georgia)
Item: Prewired Superflux 4 Chip LEDs
Used 4 of the white LED's as a headlight/fog light set for my son's Ram 3500 Power wheel. These are super bright and worked perfectly!
Still Running strong
Reviewer: Dirtybelly (Pueblo , CO)
Item: Prewired Superflux 4 Chip LEDs
Great product purchased back in 2007 after 5+ years still running strong and looking great. still as bright as the day they arrived These lights have lived threw 3 cars and growing great product and company.
Fatboy custom rear fender
Reviewer: Mark Swimm (Depauw, IN)
Item: Prewired Superflux 4 Chip LEDs
Used 6 red one to create a custom run/brake light. Bright and looks great. I've got one that doesn't work but its to hard to take out to replace. Till winter its just going to be out. I also ordered two other lights for turn signals and a bolt light. Looks sweet. Many compliments and I quickly tell them where to buy them.
Nice amount of light and finished well but did not last very long
Reviewer: Bryan (VA)
Item: Prewired Superflux 4 Chip LEDs
I installed these in my ARB bumper on my FJ cruiser. I installed two per side. The light output was great but they on lasted about 3 months per side and they burned out. These lights on the ARB bumper are hard to remove to replace bulbs so when the incandescent bulbs burned out I replaced them with these thinking that I would not have to replace them for a long time. Unfortunately they did not last very long (3 months). I ended up replacing them with 1.5W LED Eagle Eyes. The repacements fit the area better for the installation. I wanted to install the Oznium high intensity spot lights but alas they were too big to fit and I didn't want to use the 4 chip ones again because of the potential failure. Bear in mind the 4chip leds were purchased in 2011. I have had nothing but great service and reliability out of all the other Oznium products I have purchased and will be purchasing other products but I had a bad ordeal with these unfortunately.
Fantastic!!
Reviewer: Shane (TX)
Item: Prewired Superflux 4 Chip LEDs
I ordered these a year ago to put into a boat. They look awesome!! I have 3 other friends that put them into their boats as well and everyone asks where we got these lights from. They are a little time consuming wiring individually but well worth the effort! I bought another boat and just placed an order for 40 more of these lights for the new boat.
hmmmm.....not so bright....
Reviewer: George Marquise (Rensselaer, NY)
Item: Prewired Superflux 4 Chip LEDs
if you read some of the other reviews about being "bright", one would think, Ummm.... Bright..... I ordered orange ones and to be honest, don't think they are any brighter than the run if the mill LEDs everywhere out there...maybe cause of the color?....dunno..............just sayin'
Way better than radioshack
Reviewer: Victor (San Antonio, TX)
Item: Prewired Superflux 4 Chip LEDs
So I wanted to throw in some LED's into my Charger's air vents, I took a trip to radioshack, bought some switches, LED's, resistors, etc... after wiring everything up, I was hardly satisfied with the quality and luminosity of the LED's. I came here, picked up 2 of the green and 2 of the UV Superflux chips, wired them up and O M G dude the difference is there! The UV I'll admit isn't really as bright as the green but they all look super cool. I'm gonna buy some more green ones to put into my other vents!
Brighter than expected
Reviewer: L Boden ( WA)
Item: Prewired Superflux 4 Chip LEDs
I had a 3 led waterproof marine light installed inside my fountain in my fish pound untill it burned out so I went online to oznium and found the superflux leds so I picked up 3 because the other light had three leds so I hooked them up and wow I could have put one superfux leds in the fountain its brighter than the other light with three leds and they have been going strong for about a year and a half so I just picked up 4 more for other projects.
See all 96 customer reviews...
Write an online review and share your thoughts with other customers.
Upload your own action shots - show us how you creatively used our product.