Extremely bright pre-wired superflux 4-chip 12V LED
Most people avoid working with loose LEDs because installation is tricky and time-consuming. Why not let us do the work for you? Our single lights are all waterproofed, with a built-in resistor and a foot of wire, so all you have to do is plug them in. Could it be simpler?
Probably not, and our product is better too! Compared to 5mm LEDs, our superflux 4-chip LEDs will blow you away. Each superflux light is a square of brightness with four times the capacity of a regular LED, and they'll work with any 12-volt system. These lights use little electricity and give off virtually no heat, so you won't have to worry about a fire with these cool lights.
We take a 4-chip superflux LED and glue it into a tiny waterproof housing. There's a built in resistor, and a foot of wire.
Action shots!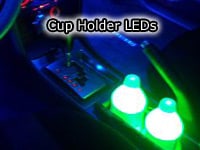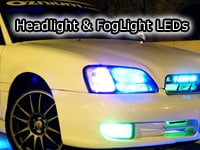 Check out
more stunning photos
.
They are ready to go - "pre-wired" to work on any 12 volt system.
Just hook up the red wire to positive, and the black to negative (ground).
A superflux LED is a square LED, with a very wide viewing angle. And our superflux LEDs have not just one, but FOUR chips in one LED for ultimate brightness. They can mount in a 3/8" hole.
Here's how it works: we glue each superflux LED into waterproof housing and pre-wire it, so it's ready to go. You simply hook up the red wire to positive and the black wire to your ground on your 12-volt system and you're in business!
Why not get a few of every color? Buy ten or more, and we'll even drop the price. Check out the difference between our 4-chip and a regular 5mm LED - where else can you get this much bright for your buck?
Compared to our 5mm LEDs, the Superflux 4-chip offers much improved brightness.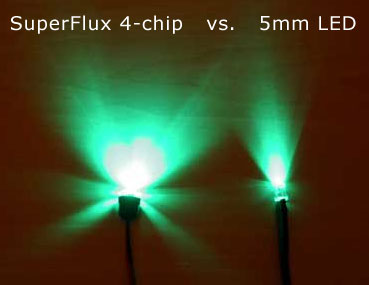 Other applications:
You are currently viewing
Automotive
applications for our
Prewired Superflux 4 Chip LEDs
.
We also recommend this product for:
Customer Questions?
Our customers have asked 84 questions about this product.
→ Read common questions and answers.
Customer Reviews
90 Reviews
Average Customer Review
(90 customer reviews)
Fantastic!! | Mar 18, 2013
Reviewer: Shane (TX)
Item: Prewired Superflux 4 Chip LEDs
I ordered these a year ago to put into a boat. They look awesome!! I have 3 other friends that put them into their boats as well and everyone asks where we got these lights from. They are a little time consuming wiring individually but well worth the effort! I bought another boat and just placed an order for 40 more of these lights for the new boat.
hmmmm.....not so bright.... | Jul 23, 2012
Reviewer: George Marquise (Rensselaer, NY)
Item: Prewired Superflux 4 Chip LEDs
if you read some of the other reviews about being "bright", one would think, Ummm.... Bright..... I ordered orange ones and to be honest, don't think they are any brighter than the run if the mill LEDs everywhere out there...maybe cause of the color?....dunno..............just sayin'
Way better than radioshack | Mar 22, 2012
Reviewer: Victor (San Antonio, TX)
Item: Prewired Superflux 4 Chip LEDs
So I wanted to throw in some LED's into my Charger's air vents, I took a trip to radioshack, bought some switches, LED's, resistors, etc... after wiring everything up, I was hardly satisfied with the quality and luminosity of the LED's. I came here, picked up 2 of the green and 2 of the UV Superflux chips, wired them up and O M G dude the difference is there! The UV I'll admit isn't really as bright as the green but they all look super cool. I'm gonna buy some more green ones to put into my other vents!
Brighter than expected | Feb 16, 2012
Reviewer: L Boden ( WA)
Item: Prewired Superflux 4 Chip LEDs
I had a 3 led waterproof marine light installed inside my fountain in my fish pound untill it burned out so I went online to oznium and found the superflux leds so I picked up 3 because the other light had three leds so I hooked them up and wow I could have put one superfux leds in the fountain its brighter than the other light with three leds and they have been going strong for about a year and a half so I just picked up 4 more for other projects.
Drill 3/8 hole not accurate | Jan 10, 2012
Reviewer: Todd Dryer (Spring, TX)
Item: Prewired Superflux 4 Chip LEDs
I installed these in to my door panels as well as my mirrors. One issue I ran into was the description says drill a 3/8 hole to intall these. This is not accurate. click on to Technical info where it shows a drawing of the lights. The outer shoulder is 10mm not 3/8. Good luck finding a 10mm drill bit. If you want to install these flush you will need to drill a 10mm hole for a perfect fit. If you use standard size bits you will have slop in the hole and need to use glue or something similiar.
Crazy Bright caution where you mount them | Nov 20, 2011
Reviewer: Reece Russell (Salemburg, NC)
Item: Prewired Superflux 4 Chip LEDs
I picked up a pair of the Red 4 Chip's and installed them in my cup holders in my 05 Scion xB. HOLY CRAP they are bright!!! I have to make sure theres a bottle or cup in there or I get blinded while cruising at night. Very happy with the product and will be ordering more for other accent lighting mods in the near future...
Definitely ordering more | Nov 08, 2011
Reviewer: Derek Vaughn Ulmer (Iron Range, MN)
Item: Prewired Superflux 4 Chip LEDs
I bought two (blue) of these to put into my Neon's vents but ended up putting them in my headlights as it was much easier than a strip. They work great and are very bright. Shipping was very fast, and being pre-wired, very easy to install. I'm going to be ordering more for my Neon and a couple for my Blazer also.
Great Product. I love them.
Super bright but make sure you use 12V DC and not AC | Oct 13, 2011
Reviewer: Allen Stiner (Sarasota, FL)
Item: Prewired Superflux 4 Chip LEDs
Product says works with any 12v system. When I got these I hooked them up to a 12v transformer that I have and the amount of light was very disappointing. I almost packed these all up to return. Then I figured I would try a 9v battery which is DC and at only 9V the brightness has to be 20 times better. 1 LED lit like a candle. So needless to say my lesson is that we use DC current only on these and that these LED lights are awesome and we of course will NOT be returning them.
Nice Product | Sep 09, 2011
Reviewer: L.P. (MA)
Item: Prewired Superflux 4 Chip LEDs
Installed 3 white pre-wired superflux leds 9 month ago in my existing porch fixtures wired to a 12v light sensor. Lights have come on automatically every night, no problems yet, and none expected. When and if they burn out I will probably replace with 3 tri-chip leds from the tube lights, less wattage and more light.
Burning out | Aug 04, 2011
Reviewer: Dan (MD)
Item: Prewired Superflux 4 Chip LEDs
The "new batch" of white LEDs the owner speaks of does not exist. I purchased mine since he informed me of this and my white LEDs are burning out after 1 month of use (about 1 hour a day). STAY AWAY
See all 90 customer reviews...
Write an online review and share your thoughts with other customers.
Upload your own action shots - show us how you creatively used our product.