Super Bright and Ultra Slim Pre-Wired Surface Mount 12V LED : 5050 SMD
Want it delivered

Wednesday, February 10

?

Order it in the next

15 hours and 28 minutes

, and choose

One-Day Shipping

at checkout.
Oznium.com Exclusive Product
Most people avoid working with tiny LEDs, because installation is tricky and time-consuming. Sometimes there just isn't enough space for other solutions, and they're crucial to a project, but unpleasant to work with, especially to waterproof at such a small size.
Let Oznium do the work for you
. Our 12V super bright SMT LED modules are 100% waterproof and come with a built-in resistor and a couple of feet of wire, so all you'll need to do is plug them in. A super easy
DIY LED solution
that will make even a first time installer look like a time tested professional. Could it be any simpler?
After months of development and testing, our testers unanimously decided:
"Probably not."
Our exclusive ultra thin LED module is better than any others now on the market! Compared to standard 5mm LEDs, our super bright surface-mount LEDs will blow you away, having you run for sunglasses, and back to our website to re-order!
Each super thin tiny LED light is a uniform, evenly distributed punch of brightness, with
five times the brightness
of a regular 5mm LED, they distribute light more evenly for a uniform professional looking DIY installation, and will work with
any
12-volt system. These super bright LED lights use very little electricity and give off
virtually no heat
.
The World's First "All In One" Universal LED Solution
- We take only the highest quality super bright "5050 size" surface-mount LEDs and attach them into a tiny, custom designed flexible circuit board. There's a built-in resistor, a couple of feet of wire (sorry radio shack) on the LED module for a seamless install. To make installation even easier, and based on customer requests, we've even added ultra-thin
3M super adhesive material
to the back. No need to use the glue gun every time you have to install an LED.
Action Shots!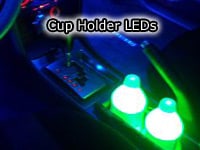 Check out
more stunning photos
.
12V Universal Plug and Play Technology On Board
- Unlike some other project LEDs that require an engineering degree to install, these LEDs are truly
ready to go
right out of the box. They are "pre-wired" to work on any 12-volt DC system. Automotive, Motorcycle Lighting, RV, Trade Show, Casino, Retail Storefront, Home Accent Lighting, Project Lighting, and more.
Oznium.com Exclusive Product
- We pulled out all of the stops on this LED and had a custom designed "all-in-one" solution created. Another Oznium.com exclusive, this
super bright LED
isn't available anywhere else! Don't accept shoddy knock-offs, always trust authentic Oznium.com products.
Easy 1-2-3 DIY Installation
- Simply hook up the red wire to positive and the black to negative (ground) of any 12 volt DC power system. Doesn't light up? Don't worry - It's OK! Just reverse the wires, and it will light up! The pre-wired LED module has a built-in polarity protection system (just don't feed it 1.21 giga-watts!), and is covered by our
unparalleled
hassle-free
1 year guaranteed warranty.
This
Super Bright LED Module
is square shaped, with a very wide viewing angle for a
smooth & balanced
even distribution of light at any distance. Also, our surface-mount LEDs have not just one, but THREE lighting chips packed into one LED for ultimate brightness, 3x the brightness of any other "surface mount LED". The lights can easily be attached to any surface with the use of the included 3M sticky tape. Just peel, stick, and glow!
Buy More, Save More
- Why not get a few of these super bright prewired LEDs in every color? If you purchase ten or more, and we'll even
drop the price
. Where else can you get this much bright for your buck?
Using an RGB Controller ?
- (Million Color / Rainbow) We've got you fully covered. The LED module has 4 wires, a universal common positive, and three negatives. We've got a handful of
LED Controllers
to choose from, including our most popular
Freedom Controller
if you don't already have an RGB / Rainbow LED controller.
The RGB (Million) won't change colors on its own unless you hook it up to a controller. If you're looking for a tiny LED that changes colors on its own, check our exclusive
RGB Color Changing LED
.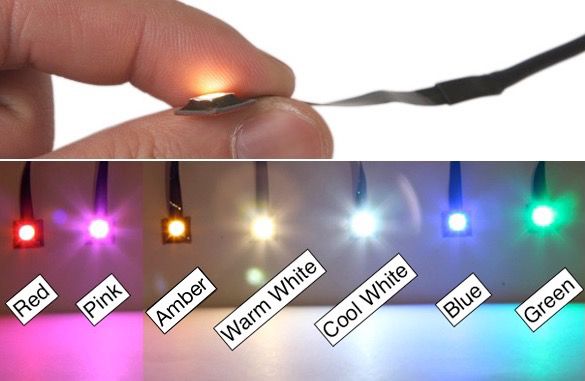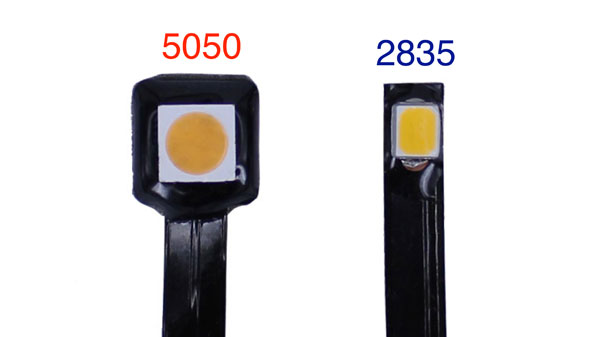 Other applications:
You are currently viewing
Automotive
applications for our
Prewired Surface Mount LEDs
.
We also recommend this product for:
Customer Questions?
Our customers have asked 59 questions about this product.
→ Read common questions and answers.
Customer Reviews
60 Reviews
(53)
(3)
(2)
2 star:
(0)
(2)
Average Customer Review
(60 customer reviews)
Motorcycle turn signal indicators
Reviewer: Gary (Greene, NY)
Item: Prewired Surface Mount LEDs
My wife's motorcycle turn signals do not self cancel so quite often she would ride for miles before turning them off. I took two of these (blue) and mounted them to the windshield bracket and then ran the wires into the headlight bucket and connected them to the turn signals. They worked perfectly and no way you can forget to cancel the turn signal. Much cheaper than the canceling device for sale on the Internet and they look neat too. Going to wire some red ones to the tail light and stick them to the license plate frame.
Micro Sized = Supernova Level Output
Reviewer: Top-Shelf Cosplay (Arizona)
Item: Prewired Surface Mount LEDs
I'd bought two of the million color 5050 variant, & the moment I powered them on with eight AA batteries just one of these 'lil buggers was like the surface of the sun when looking at it.

I had also purchased the mini micro controller for the multi-colored LEDs, and I must say that it allowed for stellar results with its many features. I plan to use these lights for my company's first cosplay/prop item that utilizes some methods known, & one combinatiin of three materials never before seen together as one.
Very bright, long lasting, simple to use
Reviewer: Jay (Atlanta, GA)
Item: Prewired Surface Mount LEDs
I am extremely pleased with these LEDs. I emailed the support team with my problem. I need lots of light, but I need battery life too. They recommended these, and they are amazing.

Great product, great support.
Low Profile, perfect for spicing up costumes
Reviewer: Louie (Sartell, MN)
Item: Prewired Surface Mount LEDs
I made a costume for Halloween last year and wanted to incorporate and LED into the mask I was wearing. I bought 2 red surface mounts in case one of them wasn't bright enough I would use the 2nd one too. The first one was definitely bright enough and I held on to the unopened one in case the ribbon on the one ripped or broke I had another to replace it. I didn't have to worry about that at all, and it held up for the entire run of the haunted hayride I was working at. Very bright and received many compliments on it. Still have the 2nd one still in it's package and I just ordered 2 different ones for my costume this year. The one from last year is still going strong too.
Edit to previous review
Reviewer: Freddie Cooper (Cool Ridge, WV)
Item: Prewired Surface Mount LEDs
I bought 15 blue LEDs and they installed fine. I put one in each cup holder, one in each speaker grill, and one in each door handle. The ones on the inside held up fine the ones I installed worked fine until this past winter. All 4 of them went out and it was a couple days after the 365 day warranty, so I didn't bother with trying to get them replaced. I wish they would have lasted longer than that in those handles and the wiring isn't pinched or crimped any where. I guess the ice got in the lights and pulled the connections apart. I got alot of complements on them when they did work. I will put another type in there next time, but they will come from oznium
awesome little package
Reviewer: Caleb Stubstad (Fargo, ND)
Item: Prewired Surface Mount LEDs
bought these to put in my cupholder, haven't installed yet but i'm chomping at the bit to do so! I tested em tonight on a 9v battery, and they are already way brighter than the 5mms in my vents, even with reflective tape (for an even glow). I can't imagine what they'll be with a full 12v pumpin through em ;) super happy, and a super easy install, just remember to wire in parallel (power to power, ground to next ones power, etc). super happy with these lights, well worth the little extra money.
ps I have red for my cupholders, and 4 blue I have yet to decide their destiny
Very bright RGB
Reviewer: Freddie Cooper (Cool Ridge, WV)
Item: Prewired Surface Mount LEDs
I purchased 10 of the RGB lights and they are a little bit bigger than the solid color ones. These little lights are bright and with the simple RGB controller there is a ton of colors u can make with the little controller. The reason I gave it 4 stars instead of 5 is because of the wiring it has one red and 3 black and u don't know which black wire goes to the rEd blue and green. It would make the install easier if they was color coded to each color. Just had to write down which wire was which for a big install so u don't end up with green on one side and red on the other. Over all great product.
Hi-brite!
Reviewer: Justhan (TN)
Item: Prewired Surface Mount LEDs
They're really small and easy to hook up. I was actually surprised by how bright they are. I purchased the ORANGE color, which has a low lumen rating, but gosh they-are-bright.

Definitely a 5 in my book. I actually just ordered more!
Epic Little Lights!
Reviewer: Miguel R. (Katy, TX)
Item: Prewired Surface Mount LEDs
I bought 4 of these lights in blue for my 4Runner. Used 1 to replace the dome light and 3 to light up the inside of my gauge cluster. They were incredibly easy to install and are BRIGHT!! I'll be buying more for sure!
bright...
Reviewer: jon ( GA)
Item: Prewired Surface Mount LEDs
used as a shift indicator in my truck...i really liked this product, but it only lasted 3 months.... going to have to get another one coming...
See all 60 customer reviews...
Write an online review and share your thoughts with other customers.
Upload your own action shots - show us how you creatively used our product.