The Ribbon LED Strips by Oznium are yet another solution to your lighting challenge. These strips are designed for interior use to bend and twist in just about any direction imaginable. Our surface mount LEDs allow these strips an amazing amount of flexibility without causing damage to the product. Each Ribbon LED strip comes equipped with a 3M adhesive backing and can be stuck just about anywhere.
These strips are amazingly bright and are available in blue, green, red, 3 shades of white, amber, UV blacklight, and a million color version!
These 12-volt-ready Ribbon LED Strips are sold in pre-wired lengths with power connectors on both ends so you can easily daisy-chain them together. No soldering required. The wires are already attached to the strip - simply plug and play.
Need to make it shorter? They can be cut every few inches (or between every 3rd LED). The all-black circuit board offers an elegant aesthetic, especially for installations where the strip may be directly visible. Each end has pre-attached power wires. You only have to hook up one end. The other may be used to extend the strip. Simply plug another one in! Hook the wires up to your 12V power source. One is indicated with a white stripe, for positive, and the other is all black for negative. You can easily connect multiple strips of any length together by plugging them in together with the quick disconnects.
Our strips are not only used by car enthusiasts! They are used for lighting projects by designers, developers, inventors, home owners, and if you have a creative application for these please don't hesitate to contact us for support. We're constantly working with many professionals to turn their ideas into a reality.
These LED's are very bright with a wide viewing angle. They will keep your electricity bill low as they draw very little power. They are extremely efficient and will not waste energy as heat, meaning you don't have to worry about fire danger and will not have to fight the extra heat emissions with your air conditioner. This is another benefit with our extremely bright LED's.
What does each white version look like?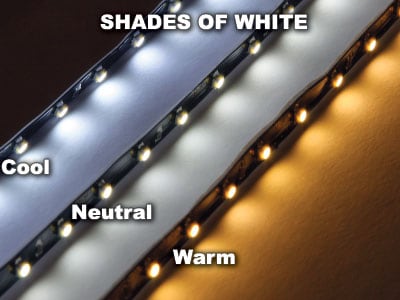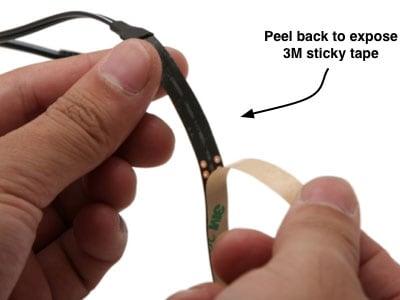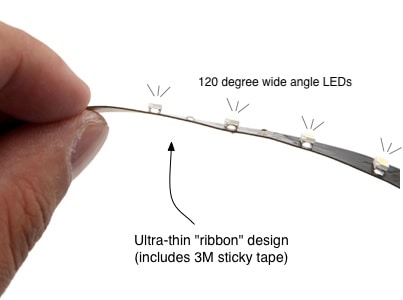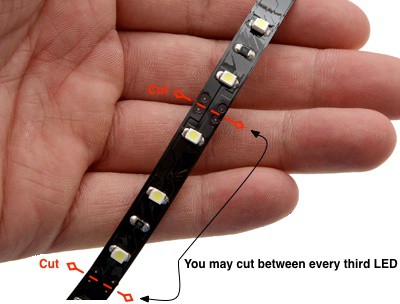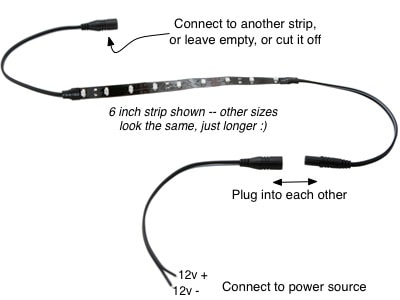 The 2-pin plug version of RGB strips will be faded out soon. The 4-pin version is now available.
Instead of having 2 x 2 pins power connectors, we use 1 x 4 pins waterproof connectors which let you be even simpler and easier to daisy-chain the strips together.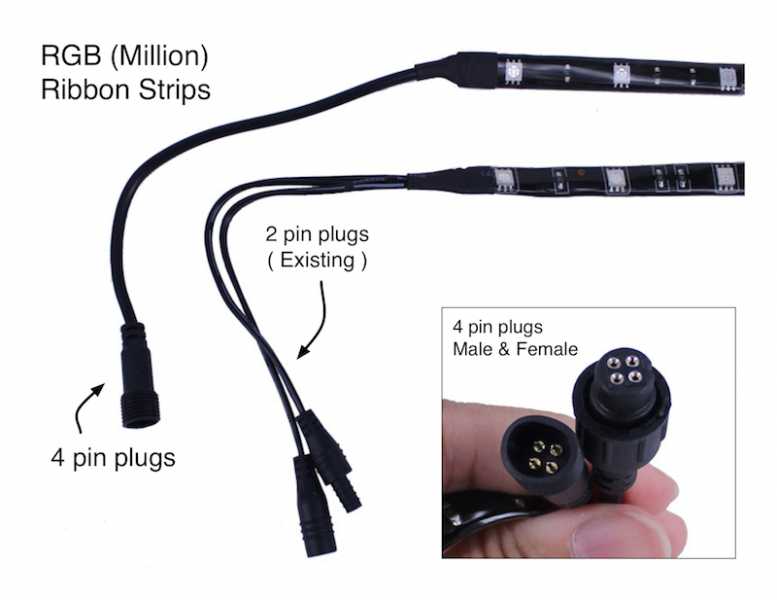 LED Dimmers:
-
Rotary Knob Dimmer
-
Remote Control Dimmer
AC Adapters - Power the Ribbon LED Strips from 110V:
-
2 amp, 3.25 amp, and 5 amp AC Adapters
Using the RGB/Million Color style?
These lights don't change color on their own. You'll need to hook them up to an RGB controller.
- Our
Freedom RGB Controller
is a popular option.
Now we offer
Waterproof 1-to-8 Y adapter
for you easy to power more LED strips.