Thin, Waterproof, pre-wired, and reliable: LED Ribbon Strips FAQs
All Customer Questions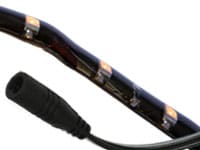 Pre-wired Waterproof Ribbon LED Strips
Q:
Can I order strips that are multicolored blue, red, green, and uv? without having to go with the million color?
A:
We can certainly custom make a strip with an RGB LED plus a UV LED on it, but it only makes sense if you're able to order a large quantity. ($1000 worth)
If you just need a few, you should simply order an RGB strip, a UV strip, and put them next to each other.
Q:
If i cut a 6in. strip in half, can I still use the 3in. that doesn't have the connectors on it? If so, how can I use it?
A:
There is wire on both ends of the strip so if cut both sections can be used.
Q:
Can the linear extension cables hook together? I need somethign between 40 inches and 16 feet. - by David (Texas)
A:
Yes, they are made to daisy chain together.
Q:
Can the brightness of these strips be constantly reduced using resistors? if so what is the lowest voltage this strips will work at?
Thanks in advance
- by dylan
A:
Its much better to use an actual LED dimmer such as this one: Inline LED Controller.
Q:
I am curious, since I have never done this. I would like to order 2, 1 foot long, red led strips. I was wondering, would I be able to use the power source you supplied on here: http://www.oznium.com/12v-rechargeable-ni-mh-battery. And how exactly would I use a switch in this instance? Thanks so much. - by Autumn (Fort Drum, NY)
A:
You can certainly use the battery as a power source.


Q:
I wanted to know how many watts two of your 6" warm white Ribbon LED Strips would use, so I looked on the internet and found a site that stated that the "typical luminous efficacy" (lumens/watt) of an LED lamp is 30-90 lm/W. Then I found another site that had a lumens to watts conversion calculator. I entered the "luminous flux" in lumens as 58.7, which is the value for one of your 12" warm white Ribbon LED Strips. Then I had to enter a value for "luminous efficacy" and so I used three different values -- 30, 60, and 90 lm/W, and got values of 1.9567, 0.9783, and 0.6522 watts, respectively, which is a range of 3:1. My question is, can you tell me any more precisely (I assume within that range) how many watts two of your 6" warm white Ribbon LED Strips would use? Just wondering... Richard (Chicagoland) - by Richard (Chicagoland)
A:
Here is our Technical page showing the amp and lumens for each size and color: https://www.oznium.com/flexible-led-strips/led-ribbon#tech 6 inch WW = 24 lumens, we have tested these, so 50 mA or .05 amps = .60 watts
Q:
In order to run two pre-wired strips in parallel, do you offer some kind of splitter? - by John-Michael (Green Bay, WI)
A:
Its as simple as splicing the wires together. Or simply plugging the strips in to each other (end to end).
Otherwise you may be more comfortable using something like this Quick Splice Connector.
Q:
Assuming 120mA per foot, if I have 48" and 24" in series that would be 720 mA. Can this be run off 8 AA batteries? - by John-Michael (Green Bay, WI)
A:
Yes, 720 mA.
Yes, you can run them off 8 AA batteries.
You'd wire them in parallel, not series though.
Q:
not sure: if I use 6 @36" strips in line with a 16'-0 x-tension between each set would the 5 amp waterproof transformer be sufficient. Thanks in advance.
7tmonte,New Orleans - by 7tmonte (New Orleans)
A:
Yes
Q:
If you daisy chain four of the 3' strips what is the best method of sealing the first end connector that will be open to the elements ?

- by GrevB
A:
Silicone or heat shrink wrap.
Q:
I'm looking to purchase two 1ft lengths of the million color ribbon and daisy-chain them together as well as attaching the Mini Inline RGB LED Controller to control them. How would I took the controller up to the ribbon, as they are pre-wired and don't have 4 wires coming off of them? Also, if I just want solid colors, would the normal Inline LED controller work for this?

Thank you. - by Ryan
A:
The ribbon strips do have 4 wires coming off them.
To hook up the controller to any LED strip, simply strip the wires back, and splice them together.
Q:
Since both sides have the pre-wired plugs on them, how would you solder them to a wire so you can run that wire to your fuse box?
A:
You could just snip off one of the ends of the plugs, strip the wires back, and hook up to a wire running to your fuse box.
Q:
What type of LED's are they?
I'm buying 4 strips but I want to make sure they are the same colour as other LED's I currently have. I want them in UV, and I have 2 100cm UV strips at the moment (bought from another place) they are 5050 SMD LED's.
Will the colour of these match those? Or is there no way of knowing till I buy it? - by Tom
A:
3528 leds, hard to tell color difference between different companies leds.
Q:
I'm trying to create clearance marker lights for my vehicle. It would need to be 5 "lights" across the front of the top of the vehicle, one on each edge, and three grouped in the middle. I'm looking for something very thin and black to make them almost invisible during the day. What would be the best light unit to make this happen, and what power source, wiring would I need? Thanks! - by Steve (Twin Cities)
A:
This is a very thin black single led with sticky tape on the back. You could group these as needed: https://www.oznium.com/led-bolts-prewired-leds/prewired-surface-mount-led
Q:
I would like to use Pre-wired waterproof ribbon strip to put it underneath the stone wall capstone. The stone wall is about 2 foot high and 50 feet long and is the backdrop behind a pool. My question is whether this light strip will be bright enough in an outdoor application such as this. I am only looking for mood lighting and not to illuminat the walkway beside the wall. - by Jim (Lancaster, PA, USA)
A:
Yep, should be great for that. Go for it!
Q:
I want to use these in a engine bay right under the engine cover will they withstand the heat, or do u have a heat rating for these strips? - by Freddie (Cool Ridge, WV)
A:
You should use something like this instead: https://www.oznium.com/linear-lights/smd-bar
Q:
This more along the lines of a wiring question then a question specific to these lights.
i already know how i am going to hook them up as an underbody glow kit, but i was wanting to add some to my trunk as well. The thing is i am going to be using The RGB strips with a light organ controller(sadly the controller is not sold by your guys) and i want my truck to do the same as my underbody kit but only when the truck lid is open. So, the actual question is, since the controller really only turns the ground on and off, can i have my controller and underbody on one power and my trunk on the power to the switched light (the light that comes on when you open the truck) and still have my grounds daisied? if not how do you think it should be done.

Thanks
Matt in cincy - by Matthew (Amelia, OH)
A:
Not sure what the controller is exactly. Sounds like it should work. If you have any problems you could contact our Forum for further help.
Q:
Can the connectors be snip off to connect it to an fixture connector? - by Carlos (montreal)
A:
Yes, of course!
Q:
We want to install the flex ribbon LED lights in remote architectural interior applications without access to house electrical system both in dry and periodically moist applications (eg kitchen and bath cabinet under lighting). What is the maximum length, battery requirements per foot of installation and usage life of system. We have locations that cannot be reached to extend house wiring.
A:
Each foot draws about 120 mA of power.
The maximum length depends on the battery.
Q:
I want to use as a stop/tail lamp on my motorcycle. Are any of these two stage? Dimming will not work. - by kevin (dexter mo)
A:
No, sorry.
Q:
What is the acceptable operating voltage range of these LED strips? I have installed five strips in parallel for under cabinet lighting but they are not as bright as anticipated. I'd like to know if running them at 14-16VDC would have a significant negative impact on their life expectancy. Thanks. - by Kristopher (Wichita, KS)
A:
These are 12v ready. Running them at a higher voltage will decrease their life. If you have any issues, please contact us immediately.
Q:
would these lights be suitable as lights on my bumper, not fog lights exactly, but more like an accent light that i could tap into my parking lights with? - by Caleb (Fargo, ND)
A:
You could use them for that, but they probably won't last too long exposed to such harsh elements.
Q:
whats the maximum temp these strips can withstand, air temp and submerged?
A:
We haven't tested them in heated conditions. We do know some customers have good luck and put them in their engine bay, with no issues. Others have had problems doing the same.
Q:
What's the difference between the waterproof ribbon LED strips & the silicone encased Led strips? Which are brighter? If they are the same brightness do they use the same LED's? & which are more waterproof? Can any be submerged in water? - by Tish (Dillonvale, Ohio)
A:
The Ribbon comes in different lengths, while the Silicone encased strip comes in 1-ft lengths. Same brightness - uses the same LEDs. Neither is more waterproof. Yes, can be submerged.
Q:
Am I correct in assuming that I can wire 6" strip to a 9 volt battery and the lights would still work, just dimmer?
A:
Correct.
Q:
How many amps are the rgb strips in 1 foot,2 foot,4 foot,16foot? Can the strips be cut and soldered back together to space the LEDs out to make them longer?
A:
We haven't tested for this, the other colors are listed here: https://www.oznium.com/flexible-led-strips/thin-waterproof-ribbon#tech The RGB are not going to be higher than any of these figures. The strips can be cut every 3 leds, but they can't be re-spaced.
Q:
Will it hurt these LED strips to be synced to a strobe patern on a car?
Also if these strips can be used in this manner how bright will the be during the daylight hours?
A:
No, strobe is okay. Pretty bright. We have tech information available in the tech page: https://www.oznium.com/flexible-led-strips/led-ribbon#tech
Q:
I need a very thin (narrow) 9" LED strip and they need to be waterproof.
What is the over-all width of one of your strips? - by Richard (Dublin Ohio)
A:
https://www.oznium.com/flexible-led-strips/thin-waterproof-ribbon#tech Specifications: Size: 0.32 inches wide x 0.09 inches tall.
Q:
Can i make amber with the RGB strip? i wont be buying a controller, i was just wondering if i could combined to colors to make it - by Michael (United States)
A:
A combination of red and green can make amber. You may have to play with the voltages to get the color just right.
You could always use this Rotary RGB Dimmer controller.
Q:
I'm going to set up an interior kit with lights under both dashes and seats (driver/passenger) to illuminate all of the floor in the car.
1) Should I use strips or bars (million color)?
2) Can these be hooked up to an LRDF-RGB4-A audio trigger controller? You don't sell this controller. It has a V+ (common positive?) wire input and standard R, G, and B inputs.
3) What would be the best (simplest) way to connect the system to the car?
4) Would I need any extra accessories (fuses, amps, etc)?
- by BDK
A:
1: Up to you. Your preference.
2: Probably, but not 100% since we don't have that controller.
3: Battery > Fuse > Switch > Strips/Bars
4: Yes. Fuses - depends on the amount of strips you are using.
Q:
Im interested in purchasing a set of your uv for aquarium use to show off the coloring in fish. Since they are rear adhesive would i be ok in placing them on the outside bottom of a 12x12x12 tank pointing outward, or should i find a way to mount them facing the tank. Or...is there a different set of leds you would recommend for this? I chose these as they were bendable and i could just purchase a 36" set to bend 90degrees at each 12" interval...also which power supply would you recommend? The 3 amp im guessing but i wanted to hear it from the horses mouth.
Thanks - by Kris (Whitehouse texas)
A:
Yes, this would work. And the 3Amp is good too!
Q:
Does the million color strip use 5050 leds
A:
Yes!
Q:
Using the controller on the million color led strip can i tune the strip to a.specific color and keep it there?? For example i want a baby blue instead of regular blue..is there a way i can tweek it to baby blue and keep other there?? - by Lorenzo
A:
Most of the controllers have a pause feature or static color feature for specific colors, they also let you adjust the intensity of the led.
Q:
If I wired a small section of this strip, a foot or two, to the dome light circuit, would the dimming of the ground wire damage the LED's or lower their lifespan? - by Conrad (Ohio)
A:
You should be fine, but we haven't tested it.
Q:
do they have different patterns? - by colt (texas)
A:
They are on/off Strips
Q:
what size fuse should i use to run 12 foot of the led waterproof strips?

and

what size wire should i use? - by Matt (Illinois)
A:
3 amp fuse and 14 to 18 gauge wire.
Q:
is this statement correct?

"if i 'tap' into my running lights in the middle of a run....there is no need to use a fuse because the lights i install would be protected by the fuse used by the running lights......correct?"
A:
Yes.
Q:
Would you recommend these or other LEDs for fabric-related projects? - by Jake
A:
These would work fine with fabric, the sticky tape would hold them in place.
Q:
Can you please specify the colour temps? eg. is cool daylight 5000k? I am after 5000k. Thanks.
A:
Cool White 16494 Color Temperature (deg. K)
Neutral White 5973 Color Temperature (deg. K)
Warm White 3256 Color Temperature (deg. K)

Source: https://www.oznium.com/flexible-led-strips/thin-waterproof-ribbon#tech
Q:
Do I need resistors or anything esle if I just want to use a switch to turn lights on and off When I want to (pre-wired waterproof strips. - by wash (charlotte nc)
A:
Resistors are already built on, so you don't need anything else.
Q:
As far s brightness compared to the Flex LED strips, which is brighter? - by Randy (Lowell, NC)
A:
Ribbon strips are brighter than that Flex Strips.
Q:
sorta same question as above... i would like to do a straight run of about 150' with LED strip lights. I see you recommend no more than 32 feet (two reels correct?) to be ran in a continuous length, and to run a new wire to the next 32 foot section. you also recommend to use an 18 gauge wire and connect that to the original power source. can you recommend what power source to use to go 150', which would be a total of ten sets on five circuits (yes?), in both an architectural (110v) and automotive (12v) applications. thanks! - by Eli
A:
If each 16 ft reel is approx. 2 amps, that is 20 amps. You would need two Adapters, probably the 12.5 amp would be the best. https://www.oznium.com/power-adapters/heavy-duty-ac-adapter
Q:
I am looking at purchasing multiple strips. Which controller would I need to make them flash to the music from the boat's head unit?
A:
Either the Music & Flash Interface [https://www.oznium.com/led-controllers/cathode-music], or the Remote 4 Channel Million Color Controller [https://www.oznium.com/led-controllers/rgb-led-remote-controller].
Q:
What would the million color LED light strip look like without a controller hooked up to it? Would it work at all? What colors? Change colors? - by Thomas
A:
It would just be white. Since You're giving power to the strips on all 3 colors, red green and blue, white will only show up.
Q:
We are using this product along with your LED dimmer switch in a light box we are making to illuminate art glass. It is to be displayed outdoors and my intention was to get the 12V power from our 12V low voltage outdoor lighting system. I just discovered that all outdoor systems are 12V AC and not DC. Will I have to get a dedicated 12V DC transformer to power the LED's? I am afraid that if I use the existing yard light power it will damage the LED's or the dimmer. If I can use the existing 12V AC power supply, will the dimmer work as it is polarity sensitive? - by Jeff (Portland)
A:
The LEDs should be fine on AC, but I doubt the dimmer would work.
Q:
Could you tell me the number of lumens in a 16 foot strip of warm white?
A:
939.2, more of this information is on the Technical tab on the website.
Q:
What would be necessary to use these as a third brake light, to function with dual intensity? - by Glen (Oakville, CT)
A:
These work great as a third brake light and be hooked to your brake lights. We would suggest checking out the videos on this on You-tube.
Q:
If I purchase a 4foot strip and want to cut it into 4 different strips, How will I be able to connect them so they all light up together?
A:
You can solder on wires to the positive and negative terminals on the strip.
Q:
I need 10 of the 16feet RGB (million) Thin, Waterproof, pre-wired, and reliable: LED Ribbon Strips. Can all of these be hooked up to the same controller? Would I just put extensions between all of them? What kind of controller would allow a slow cycle between the colors? How much power would these take. Thank you for your response.

- by Kevin
A:
10-16 ft rolls use 20 amps, there have quick connect ends so you can plug them into each other end-to-end. You can hook all these to out Multifunctional LED Controller [https://www.oznium.com/multifunctional-controller] or to 2 of our 4 Channel Remote or Freedom Controllers.
Q:
Do the RGB's achieve a "white?" - by sean
A:
Yes.
Q:
I previous asked if i could use the simple RGB LED controller with these strips you advised no, but after looking further you have it showing as one of the controllers for this strip so wanted to make sure we were both talking about the same thing
A:
Yes, this controller works with these strips. Sorry for any confusion.
Q:
Can i use this controller with this strip Million Color LED Controller
$19.99 - by Jonathan
A:
No. Any other common positive will work fine.
Q:
Can these be daisy-chained in the same chain as the Surface Mount LED Bars (since those can also be daisy-chained)?
A:
Yes, you can daisy chain different light strips together.
Q:
i would like to put uv strips in the rub rail on my boat for night fishing,a couple of 24inchs on each side,front and back. how would i go about installing them and connecting the two on each side together....corbett - by corbett (clintwood,virginia)
A:
These have sticky tape on the back or they could be glued on. You could run our 3 ft extension cord between them [https://www.oznium.com/replacement-parts/linear-light-extension-cable] and hook them to your power source.
Q:
I am trying to throw together a simple undercarriage glow kit with these and your Waterproof SMD Bars. I know the LED Ribbon Strips are waterproof and can be daisy chained, as are the SMD Bars. My question is: Can the SMD bars and these Ribbon strips (the strips will be in the wheel wells) be daisy chained all together, in one linear circuit? Or will I need to have separate circuits for the SMD bars and LED strips
A:
One circuit will work.
Q:
will i be able to have the power and ground wires instead of the daisy chain for example if i cut off the daisy-chain will i be able to use the power and ground wires thanks! sean
A:
Yes. Snip off the connector, and then you've got power and ground wires.
Q:
I am using 7 of the 16 foot blue LED strips and need to know how many amps to buy a deep cell battery for them. - by Vanessa (Eastern Westmoreland)
A:
Seven feet will use 875 mA.
Q:
What color temperature is the -cool white- strips when matching up with HID k's ? - by JMaRv3LoUs (Harlem USA)
A:
Sorry, we don't have that information yet, we are working on it.
Q:
WHY IS THIS SITE A RIP OFF? YOU SAY WE CAN ORDER ANY SIZE FROM 1 - 50 FOOT WHEN SOMEONE REQUESTS A CUSTOM SIZE YOU CHARGE 3 TIMES MORE PER FOOT? WHAT A RIP OFF!!!
A:
When we spoke on the phone, I explained that we have designated sizes, however you can order any length you want. The reason it is more expensive, again, is because we have to make a new mold for ONE strip. Plus, you have to calculate the shipping with that as well.
Q:
If i mount these facing up on a surface which is flat, would i be able to see same light output if i mouted in facing outwards in direct sight? - by nrupal
A:
Yes. If not more.
Q:
I would like to use the red strips as rear running lights and brakes so dual intensity. Can your strips do this? - by Alex (San Diego, CA)
A:
Yes of course, they can be dimmed.
Q:
I am wiring two 24 inch cool white and wondering on how much amps they pull or can you suggest a fuse size. - by Chris (Pueblo West, CO)
A:
They will pull less then 1 amp. Use a 3 amp fuse.
Q:
What is the wiring like for the RGB strips? Does it have three separate wires for the colors then a common ground or how does it work? - by Bill
A:
one wire for each of the colors and a common positive connection
Q:
Are these bright enough to use as underbody lighting? How do they compare in brightness to the Flowlighting single and 7 color kits? - by Keith
A:
Yes you certainly could use them for underbody lighting. The brightness is comparable with the FlowLighting underbody kits.

I'd probably use these 20 inch Surface Mount LED Bars instead though since they don't use a flexible circuit board, and are thus more durable.
Q:
I am wanting to use these lights in an architectural application. They would be recessed in moulding to light a dome. Once hardwired, can they be put on a dimmer?
A:
Yes, these can be dimmed.
Q:
with the RGB strip do they caome with a controller? if not what is the best controller for these? - by Ricky (Texas)
A:
These do not come with a controller. There is not 'best' controller because each user has a different purpose for their RGB strips. The controllers can be found here: https://www.oznium.com/led-controllers
Q:
Do you offer these in a white background? - by Perry
A:
Nope, we only offer black background for these. We do offer white background for these Tri-Chip Ultra-Flex Waterproof Strip, but only in a 1 foot length.

If you need a special length or style in white background, we can certainly custom make it, but would require a minimum of $2000.
Q:
Wow!! I had got a quick reply for my previous question. Fantastic Support!!

I have just one more question. I am looking forward to use 2 LED dome lights and LED strips on all the 4 doors, driver's footwell and passenger footwell. I want to connect all of these to the dome light switch on a 2006 chevy equinox. Since there are like 6 strips with 2 extra LED lights, I was wondering whether the whole setup can get overloaded. Also I would like to know whether the clearance would be enough between the door and the frames for installing the strips. - by arvindh (st. john's)
A:
It shouldn't be a problem, since the LEDs don't draw much power at all.

For the clearance between the doors, it sounds like you're going to use the Ribbon Strips. I've seen people use these with great results. You might even consider a 3 foot long strip for maximum light output. It will just stick on with the included 3M double side tape.
Q:
is it necessary to have a fuse while connecting the strips to dome lights? - by arvindh (st. john's)
A:
Its not necessary.
Q:
what size LEDs are on these strips and the side emitting LED strips? - by Steve (cali)
A:
The Ribbon Strips use a 3528 size LED. The million color Ribbon Strips use a 5050 size LED. And the side emitting strips use a 335 size LED.

These are all standard surface mount LED sizes.

3528 for example is 3.5 mm x 2.8 mm.
Q:
I'm placing four of the 6 in. strips in various locations on the bike and they will be tied in to the other ground effects lighting so I need to know the current draw to get the proper fuse for the circuit. - by Sean (Ironton, OH)
A:
they should draw a little less than 100ma per strip.
Q:
The pre-wired strips have 2 x power connections. What is the spec for the connection (diameter / shape)? I would prefer not to cut off a professional connector, but the required type may not be available in UK. - by Roger (United Kingdom)
A:
We already include an extra connector for your convenience so you don't have to cut anything if you don't want to.
Q:
I'd like to use one of your products on fresh water tank (6'L x 24"D x 20"H ) w/plants & fish. I would like a white color & light blue tint strong enough to grow plants and show off fish. Which one of your LED products would you recommend. Cover on tank will be sealed, no need for water profing - by wayne (Mandeville La.)
A:
I'd recommend a handful of these 20 inch bars:
https://www.oznium.com/home-led/tri-chip-led-tube
The "White" color will give you a cool white with hint of light blue.

You can plug them into each other, and then plug them into our 3.25 amp AC Adapter.
Q:
Can this item be used inside a car engine bay? and what other models will withstand the engine heat. - by cruz
A:
We've had customers use this in their engine bay.
Q:
I have a lot of questions.

1) How many LED would I cut off to get a 45 inch long strip?
2) How long is the power cords?
3) Is it self sealing when you cut it or does it need to be sealed? What would be used to seal it if it need to be sealed?
A:
1. Just mark where 45 inches is on the strip, and count ever three LEDs to cut off. It might be exactly 45 inches.
2. 3-6 inches.
3. It is not "self-sealing". Use anything to cover it up. Silicone, tape, etc.
Q:
How do you control the colors on the RGB (million) strips? - by Bob (Sammamish, WA)
A:
Use one of our million color LED controllers.
Q:
Lets say you cut a 16' length into 2) 7' pieces which would leave a 2' section left, is it possible to solder new wires onto that 2' piece so that it would be useable? Does the cut end automatically seal itself or must it be sealed by hand? You say "They can be cut every few inches (or between every 3rd LED)". This is a little confusing---does it mean that it can only be cut between every 3rd LED and how many inches is it between every 3 LEDs?
A:
You can solder new wires if you are good at soldering. You can cut wherever you'd like, but the LEDs are wired in series of 3, so it is best to cut between every third LED. Please see this for the distance between LEDs: https://www.oznium.com/flexible-led-strips/led-ribbon#tech
Q:
How are the positive and negative wires identified if I need to cut them off to splice them into my car's wiring? Does it matter which one is positive? What is the best method you recommend for splicing in car applications? Is the illuminating angle still 140 degrees for them? - by sergey
A:
There should be a white strip on the positive wire. If not, you can always just test them directly to a 12v source. Try it one way, if it doesn't work, switch it around. Won't hurt anything. It does matter which is positive, they will only light up one way. Car applications vary greatly, see our Forums for many write-ups on splicing into your vehicle. And yes, the LEDs are the same.
Q:
If I purchased a 24" strip would I be able to cut it right in the center so that there would be two 12" strips with only one power connector on each? I know the description says you can cut every few leds, so I'm just worried I'd have one section longer than the other.
A:
Yep you should be able to
Q:
can the million color strip (6" specifically) be cut every third LED also? - by Brett (South Carolina)
A:
Yes
Q:
looking to buy a few of these. i need 1-2ft one and 2-6in ones. i understand they can be powered at either end but can the end not being used be cut off or does it need to remain? and also, if the connections are not long enough to reach to the next strip would you recommend not cutting them or can these be cut and extended without a problem? some strips wont work if theyre cut.

do you sell extensions for them so i wouldnt have to extend it? - by kevin
A:
Feel free to cut off the wires. You only need to power it from one end. The other end is for your convenience so that you can daisy chain them together. If you cut off one end, nothing bad will happen.

You can cut the LED strip between every three LEDs.

We do offer a 3 foot extension cable. Here: https://www.oznium.com/replacement-parts/linear-light-extension-cable
Q:
Do you sell or know of a way to easily hook this to a cars wiring?
A:
Yes. Cut the power wire in the car, then connect the postive wire to that. Reconnect wires together. Ground the negative wire.
Q:
Is the yellow an amber yellow or a bright yellow?
A:
Amber Yellow
Q:
Are these strips common anode, or common cathode? - by Craig (Spokane)
A:
Common positive.
Q:
What other product(s) does this need to work?
A:
A 12V battery. We encourage a fuse between the car/motorcycle battery and the strips.
Q:
what are the mcd specs on these lights?
A:
Check out the technical info from the non-waterproof version of these strips: https://www.oznium.com/flexible-led-strips/led-ribbon#tech The LEDs are exactly the same, just waterproof!
Q:
I've got three questions. My application is architectural. I want to use the strip as a continuous downlight installed at the top of a translucent polycarbonate wall. And I think the "neutral white" would probably be best for this application. The wall runs for 51' 9".
1) The run of LEDs needs to be pretty much flat along its entire length, and the pattern of light points needs to be continous. It looks like the best way to make that happen would be to use your other product with the solder connections. The website's a little confusing though. There's a photo on that page showing the three shades of white, but only warm white is included on the price list. Are the three shades of white available in that product?
2) Using your 12.5A transformer, how much reduction in brightness might I expect across a run of that length?
3) Do you know the color temperatures for the three shades of white?
Thanks very much,
Mark in Seattle
A:
I agree, its a bit confusing for this one. We're phasing out the gold strip (replacing with the black one), and thus only a few colors are still available.

The black one is the newer style which is already pre-wired so you don't have to solder.

The solder points are still actually there on the strip just like the gold one, but they are hidden. You simply have to scrape away a bit of the black to expose the solder point. Or, you can also access the solder point from the backside of the strip, under the 3M tape.

But, I don't think you really need to solder. You can still keep the pattern of light points continuous. Plug in the strips together, butt the ends up to each other, and have the 6 inches or so of extra wire pushed off to the side.

We don't really recommend using more than 32 feet in a continuous length because the copper in the flexible circuit board can't handle that much power. You can easily get around this though by running say, a new power wire to each 16 foot length of strip from the original power source. An 18 gauge wire would be fine.

Sorry, I don't know the color temperatures for the three shades. From what I've found, LED suppliers are a bit inaccurate in what they tell you, so its difficult to trust that the specs are even accurate. Perhaps you'd like to order one of each of the 6 inch length to test, and see which will work best for your application?

Hope this helps. Let me know if you have any further questions.