Introducing FlowLighting's 4-Channel Remote Million Color LED Controller
Our brand new cutting-edge technology controller is sure to impress you and your friends. This controller does it all. Four channels of RGB goodness provide you with over 25 pattern options. Normal colors, ground colors, multicolor modes, music modes, demo mode. Simply no other controller can provide as many options as the Flowlighting 4-Channel LED Controller.
Use the 4 channel controller to turn any common positive RGB LED product into a rainbow of color. With power capabilities of up to 8 amps, the sky's the limit! Instantly create a stunning light show on your motorcycle, car, truck, limo, boat, house - just about anything!
Memory! Tired of spending hours searching for that right combination of pattern, color and speed, just to turn the lights off for the day, show up to your hang out spot and turn it on and get... the original setting? This controller has its own memory feature that will not only remember the last setting, but every combination you have set on the kit.
Still not convinced? Check out the feature list on this beastly unit: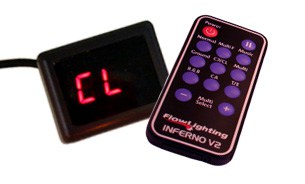 7 Normal colors, 7 Ground colors, & 10 multicolor changes
Million color and 42 multi-color combination changing
5 normal & 5 music display modes
2 flash multi-color modes
10 speeds from slow to fast
Pause "freeze frame" option
13-key super thin infrared remote control
Microphone or line-in music source, selectable via remote
64 levels of music sensitivity
6 tone levels for bass and treble adjustment
Digital remote display
Mode memory feature
Demo mode -

Great for shows, or just showing off!
Setting up your new Controller is easier than changing your oil. Just plug and play – literally. Once you plug in the green sockets, you will be playing through the night, amazed how many different colors and patterns this controller can produce.
Multi-use! Purchase one of our 12v AC Adapters as an accessory and use this controller in your home! Colored accent lighting was never any easier.
Frequently Asked Questions
What's in the package?
You'll receive the 4-channel controller, remote display, super-thin remote, power cord w/ inline fuse, and green connectors.
What products can I control using this?
You can control any LED product that has common positive wiring, including individual LEDs, flexible LED strips, LED tubes, and more. If you have any doubts about compatibility, just ask.
Can this controller be linked to other Flowlighting products?
Sorry, the 4-Channel LED Controller is a stand-alone product, and can't be linked to any underbody kits or other controllers.
How many LEDs can I hook up to this controller?
That will depend on what kind of LEDs you're using. The controller can handle up to 2 amps per channel. See the Technical Information tab for more information.