iPhone/Android WiFi Compatible RGB Controller FAQs
All Customer Questions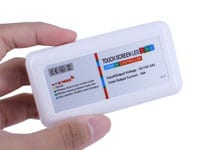 iPhone/Android WiFi Compatible RGB Controller
Q:
I want to get the KITT car effect , where the red light moves back and forth slowly. Can this product be set to function that way? - by Agostino
A:
Sorry, this product can't be set to function that way.
Q:
Can you plug one of your 12v AC adapters directly into this box? Looking at 3.5 amp AC power into box, and 16ft RGB Waterproof LED Strip out. That work? - by Tim (Kansas)
A:
Yes

Q:
I just purchased a dual color halo kit for my car, can this product be used in 2 different channels? Also, will my phone always need to be connected to wifi signal before I could send a signal to the halos? - by Josh
A:
Yes. You can control anywhere from 1 channel to 3 channels of light with this controller. So in other terms, you could control a single color product, a dual color product, or a 3 color product.

Yes, your phone will need to connect to the wifi signal before you can control it.