New for 2020: Two colors in one LED bolt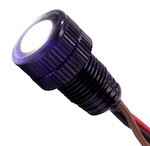 The Amber / White combination
Bi-color Flush Mount LED Bolt
is popular for vehicle turn signal and running light applications. It's can be used as a daytime running light and works well with our
Switchback Driver
and
2nd Gen side emitting LED strips
. When hooked up to the
Switchback Driver
, the bolt will automatically switch between two different LED colors: White for daytime running lights and Amber for turn signal lights. We inject a hard yet crystal clear epoxy on top to protect the LED and make it IP67 (fully waterproof). You can install it on the front of your car, truck, motorcycle, or ATV.
Front turn signal activated
It allows you changing light color for motor's signal.
White LEDs OFF. Amber LEDs ON. When the turn signal is deactivated, Amber LEDs will be OFF and White LEDs will be automatically ON again after 2 seconds.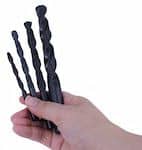 Need
an 11mm metric drill bit
?
Buy them conveniently from us to match the 11mm diameter hole required for your bi-color bolt.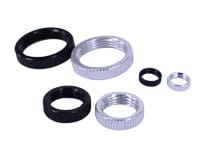 Lose your
11mm Nuts
?
You can buy replacements.
Also want a bi-color LED strip? We offer both a Top emitting and Side emitting LED strip.

Other custom colors?
For now, we only produce the bi-color bolt in an Amber/White configuration, but we're happy to custom make other color combinations (for example, Red/White, Blue/Green, or anything else!) generally with a minimum order of 100 to 200 pieces. Please contact us if you're interested.