Ribbon LED Strips
Want it delivered

Friday, April 25

?

Order it in the next

15 hours and 15 minutes

, and choose

One-Day Shipping

at checkout.
The Ribbon LED Strips by Oznium are yet another solution to your lighting challenge. These strips are designed for interior use to bend and twist in just about any direction imaginable. Our surface mount LEDs allow these strips an amazing amount of flexibility without causing damage to the product. Each Ribbon LED strip comes equipped with a 3M adhesive backing and can be stuck just about anywhere.
These strips are amazingly bright and are available in blue, green, red, 3 shades of white, amber, UV blacklight, and a million color version!
These 12-volt-ready Ribbon LED Strips are sold in pre-wired lengths with power connectors on both ends so you can easily daisy-chain them together. No soldering required. The wires are already attached to the strip - simply plug and play.
Need to make it shorter? They can be cut every few inches (or between every 3rd LED). The all-black circuit board offers an elegant aesthetic, especially for installations where the strip may be directly visible. Each end has pre-attached power wires. You only have to hook up one end. The other may be used to extend the strip. Simply plug another one in! Hook the wires up to your 12V power source. One is indicated with a white stripe, for positive, and the other is all black for negative. You can easily connect multiple strips of any length together by plugging them in together with the quick disconnects.
Our strips are not only used by car enthusiasts! They are used for lighting projects by designers, developers, inventors, home owners, and if you have a creative application for these please don't hesitate to contact us for support. We're constantly working with many professionals to turn their ideas into a reality.
These LED's are very bright with a wide viewing angle. They will keep your electricity bill low as they draw very little power. They are extremely efficient and will not waste energy as heat, meaning you don't have to worry about fire danger and will not have to fight the extra heat emissions with your air conditioner. This is another benefit with our extremely bright LED's.
What does each white version look like?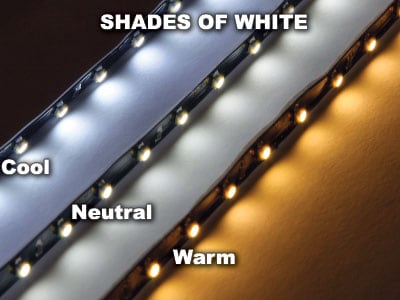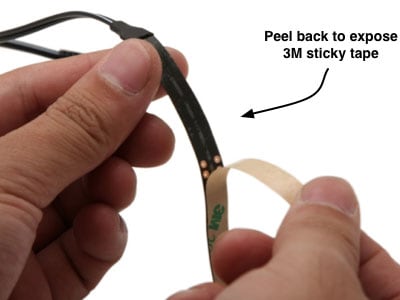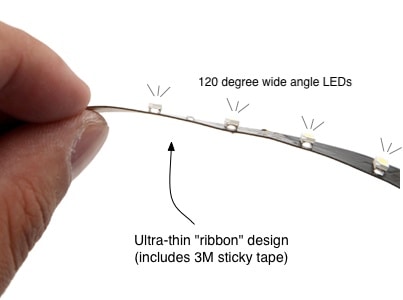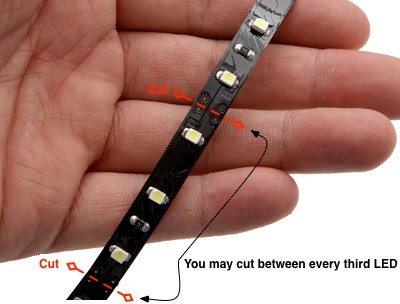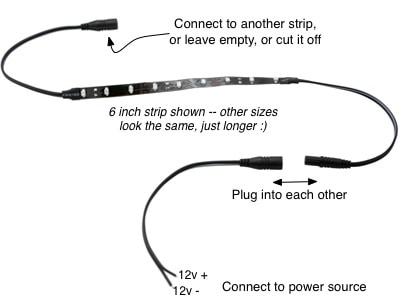 LED Dimmers:
-
Rotary Knob Dimmer
-
Remote Control Dimmer
AC Adapters - Power the Ribbon LED Strips from 110V:
-
2 amp, 3.25 amp, and 5 amp AC Adapters
Using the RGB/Million Color style?
These lights don't change color on their own. You'll need to hook them up to an RGB controller.
- Our
Freedom RGB Controller
is a popular option
Customer Questions?
Our customers have asked 90 questions about this product.
→ Read common questions and answers.
Customer Reviews
28 Reviews
Average Customer Review
(28 customer reviews)
works great in footwells
Reviewer: J Bailey (Norwood, OH)
Item: Pre-wired Ribbon LED Strips
Ordered one of these blue strips to work on a wiring project in my car. It came within 2 days of ordering (standard shipping). I hooked them up and they work and look great in my ford. Just ordered another one on Friday to finish the job. It should be here today.

Great products, and friendly customer service. Definitely worth my money
Ribbon Led Lights
Reviewer: Caleb Stubstad (Fargo, ND)
Item: Pre-wired Ribbon LED Strips
I ordered these lights monday night (well very early Tuesday morning), and they arrived today (Thursday) in my mailbox at around noon, you guys are amazing! After many hours of tinkering, I think i finally found how to wire these bad boys into my system. Since I have a parallel circuit already through my vents and cupholders, I ended up having to use + from one end of the strip and - from the other end to make them work, who woulda thunk that. Anyways, i'm yet to see these at night, but i'm sure they'll blow me away, as do all your guys' other products! Phone customer service was fantastic, def shopping with you guys many times again!
Very bright For its size
Reviewer: BeeranR (Brentwood, NY)
Item: Pre-wired Ribbon LED Strips
These LED's are great for undercabinet lighting. They I got the RGB with controller and many people have to look to see where the light is coming from. It makes for a great effect as well as a good "night light" when you want a late night snack but dont want to turn on the kitchen lights. I have them for about 6 months now.

The only things not so great about the LED's are they are not very sticky but this is a minor issue and the second thing is that they are not always color coded the same meaning some of sets have wires are reversed so you have to check and label each wire before installation so that when you are done and turn it on, you do not end up with a multicolor setup. But these are just minor issues and do not affect the performance of the product.
Engraved Glass Business - Custom Use
Reviewer: Matt Geraci (Saint Augustine, FL)
Item: Pre-wired Ribbon LED Strips
-
First time using Oznium. The order was packed and shipped out with in 5 hours of hitting enter. Impressed.

I ordered a few items as my business needs are unique. The pre-wired ribbon strips have a low, thin profile and fit perfectly within my custom made bases. Size is important with my applications. They light up my glass engravings and make the designs really POP!

Click here to view my projects: http://www.theblastingcabinet.com/Special_Orders.html

Customer service was great and responsive. Will use Oznium for my needs in the future! Thanks-

Matt
Owner/Operator
TheBlastingCabinet.com
-

Sounded good.
Reviewer: Kyle 2 (Santa Clara, CA)
Item: Pre-wired Ribbon LED Strips
LED's were not bright enough for my application, much less than anticipated.

Third Brake Light
Reviewer: Vince (Chicago, IL)
Item: Pre-wired Ribbon LED Strips
I used the red flexible LED strip for a custom third brake light. Worked perfectly!
The adhesive backing was acceptable, but I used extra to ensure it stayed put.
They shine brightly enough to be seen clearly through a lightly tinted lens.
1' Neutral White for '09 tC Glove Box
Reviewer: Stephen (Clemson)
Item: Pre-wired Ribbon LED Strips
Excellent Product, comes with a pre-set up extension port, which helped for the installation. I just unplug the port, hooked up the wires, and then plugged the port back in. I hooked it up to a pressure switch in my glovebox, so the LED's turn on when I open the box. I highly recommend this cause it's an easy mod, looks nice, and is especially helpful if you ever need to find something in your glovebox when its dark out.... Thanks Oznium, excellent work as always
Pre-wired - Much Easier to Use
Reviewer: GTP (Minnesota)
Item: Pre-wired Ribbon LED Strips
The Pre-wired configuration is a huge improvement over the older products which required soldering of the wires to the PCB.
The LED's are nice and bright!
2008 Scion TC
Reviewer: Ryan Zane (Kapolei, HI)
Item: Pre-wired Ribbon LED Strips
These LEDs are BRIGHT! Actually, too bright. I got the 1 foot blue led strips on each side of my under dash and extremely satisfied. Only flaw was that the adhesive backing seemed to be old? and did not stick :( I went and bought 3m mounting tape.
Excellent product and service
Reviewer: Kenn S (Lake Geneva, WI)
Item: Pre-wired Ribbon LED Strips
Yesterday I received my order of 2' red and 2' blue flexible LED strips, plugged them in and found out these are very bright. However, on the blue strip, 3 LEDS in the 10,11,12 spots were out and would not light up. I submitted an RMA on the strip last night and this morning my new strip is already shipped! Hopefully this new one will arrive without issues. Overall, I plan on buying more of these in the near future and will always shop at Oznium for all my LED needs.
Write an online review and share your thoughts with other customers.
Upload your own action shots - show us how you creatively used our product.