Ultra Mini Pre-Wired Marine LED Flood Light
Looking for some serious lighting, without hours of wiring, the high price, and tremendous heat output? Your search has ended. Our Mini LED Flood Light is exactly what your project is in dire need of.
With 4 LED chips built into 1 very small LED that's waterproof and includes an easy-to-mount base, our Mini LED Floodlight will become your new favorite LED product.
Most people avoid working with loose LEDs because installation is tricky and time-consuming. Why not let us do the work for you? Our single lights are all waterproofed, with a built-in resistor and a foot of wire, so all you have to do is plug them in. Could it be simpler?
Probably not, and our product is better too! Compared to 5mm LEDs, our superflux 4-chip LEDs will blow you away. Each superflux light is a square of brightness with four times the capacity of a regular LED, and they'll work with any 12-volt system. These lights use little electricity and give off virtually no heat, so you won't have to worry about a fire with these cool lights.
We take a 4-chip superflux LED and glue it into a tiny waterproof housing. There's a built in resistor, and a foot of wire.
Action shots!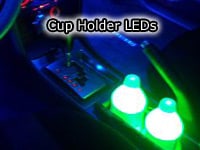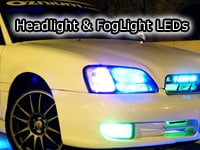 Check out
more stunning photos
.
They are ready to go - "pre-wired" to work on any 12 volt system.
Just hook up the red wire to positive, and the black to negative (ground).
A superflux LED is square LED, with a very wide viewing angle. And our superflux LEDs have not just one, but FOUR chips in one LED for ultimate brightness. They can mount in a 3/8" hole.
Here's how it works: we glue each superflux LED into waterproof housing and pre-wire it, so it's ready to go. You simply hook up the red wire to positive and the black wire to your ground on your 12-volt system and you're in business! These lights are FOUR LEDs in one, so they're bright enough for all of your needs, and they mount in any 3/8" hole, so you can use them just about anywhere.
Why not get a few of every color? Buy ten or more, and we'll even drop the price. Check out the difference between our 4-chip and a regular 5mm LED - where else can you get this much bright for your buck?
Compared to our 5mm LEDs, the Superflux 4-chip offers much improved brightness.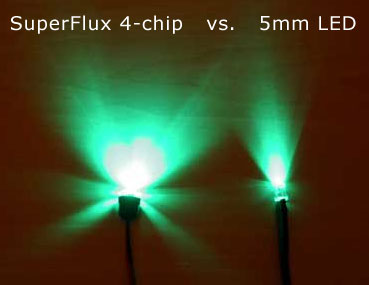 Other applications:
You are currently viewing
Marine
applications for our
Prewired Superflux 4 Chip LEDs
.
We also recommend this product for:
Customer Questions?
Our customers have asked 38 questions about this product.
→ Read common questions and answers.
Customer Reviews
9 Reviews
(9)
4 star:
(0)
3 star:
(0)
2 star:
(0)
1 star:
(0)
Average Customer Review
(9 customer reviews)
couldnt be happier!
Reviewer: Chris Abel (Manson, NC)
Item: Prewired Superflux 4 Chip LEDs
Ordered green 4 chip LEDs to match our malibu wakesetter, turned out great! The LEDs are bright with little little power drained. Beware, they are addicting!
Super flux LEDS Blue
Reviewer: Daniel Martin (Toowoomba, Australia)
Item: Prewired Superflux 4 Chip LEDs
Thanks again Oznium just ordered another 30 blue super flux leds to continue on my Cruiser Yachts stage two. Will post photo once finsihed fast delivery and great price.
Perfect Marine lights
Reviewer: Peterbee (South Carolina)
Item: Prewired Superflux 4 Chip LEDs
Received blue superflux leds and installed in my center consoles rod storage. Easy install and WOW how bright and what a great look!
Now thinking of where else I can put these fantastic lights..........
freak n awesome light
Reviewer: william hagan (Lakeland, FL)
Item: Prewired Superflux 4 Chip LEDs
the light is great its easy to install and lights up my hole cuddy with just 1 super flux 4 chip
DAMN!!!!!!!!
Reviewer: Jason Stulting (Chino, CA)
Item: Prewired Superflux 4 Chip LEDs
I usually don't spend my time online doing product reviews but......

These lights are awesome. I usually buy LED lights that have grommets attached from a local store and spend $8 each so that I can install them on aluminum boats for night fishing. Not only are these lights brighter than any other light I have used in the past, but are affordable. I have found myself using 1/2 as many lights. Buy these lights, go to a hardware store, buy 5/8 grommets with a 1/2in set hole and a 3/8in opening and install. So easy!!!!

Definitely a returning customer
Real fast shipping
Reviewer: Paul Miller (Lakeville, MA)
Item: Prewired Superflux 4 Chip LEDs
Thanks !! Oznium
Can't wait to install them !!! will send Pic when completed

Thanks
Superflux 4 Chip LEDs top choice
Reviewer: torrey crosby (Greenville, SC)
Item: Prewired Superflux 4 Chip LEDs
I ordered these leds on a friday and received them the monday following.Delivery was quick and easy and the leds are so bright.They will be used for my boat for night fishing and cabin lights.I am so satisfied with my lights and order that i am about to put a new one in.Thanks Oznium for this opportunity to custumize my boat with your lights.
SuperFlux LED lights
Reviewer: steven kowalchuk (Whitewater, WI)
Item: Prewired Superflux 4 Chip LEDs
I purchased 10 SuperFlux LED's for my boat. Extremely fast shipping. I was shocked with how quick they were at my door. Very easy to install, high quality product, and VERY bright. I couldn't be happier with the product.
Replaced Incandescent Lights
Reviewer: Rory Malner (Gilbert, MN)
Item: Prewired Superflux 4 Chip LEDs
I replaced all the "courtesy light" bulbs in my express cruiser with blue pre-wired superflux - WOW, what a great lighting effect it produced - I simply pulled out the old socket and glued in the superflux - Easy change - We camp out on the hook a lot so saving battery juice is important - With these lights I don't worrry about how long they are on because we are using 1/10 the amount of battery - Thanks for a great product at a great price!
Write an online review and share your thoughts with other customers.
Upload your own action shots - show us how you creatively used our product.