Forget traditional neon - cold cathodes offer a stronger glow for your car lighting design, but at a fraction of the cost of the standard neon lighting kit. These amazing kits include two cathode tubes in your choice of colors, and a dual output transformer to make them run like a dream.
Easy to install and packing a punch that you won't expect, these dual cathode lighting kits come in 12" and 4" lengths and a variety of colors.
Each tube consists of glass contained inside a protective acrylic tube, and is guaranteed not to break unless the surface they're mounted to flexes and bends. This amazing, inexpensive lighting option features standard polarity protection, for added protection against burn-out. The transformer is housed in a 3.25" x 1" x 0.75" black plastic safety housing.
Hook your cold cathodes up to our Oznium.com switches for an even better effect, and you can have the entire package, ready to install, for under $10!
Create the sort of custom glow that your neighbors will be talking about - get stuck into the Oznium.com range of cathodes today!
FlowLighting Cold Cathode FAQ's
How many cathodes does this kit come with?
1 cathode kit consists of: 2 tubes, and 1 transformer (with a red and black power wire). The 12" kit looks like this, and the 4" kit looks like this.
What exactly is a cold cathode?
A cold cathode is a lamp very similar to a neon lamp. The light comes from a small round neon tube (2.6mm diameter) powered by a transformer. The transformer is designed to use 12 volts DC, and output approximately 650 volts AC that is needed to power the cold cathode.
What is the difference between cathodes and neon's?
The main difference is in the light output and cost. Cathodes are much brighter and less expensive than regular neon accent tubes. Cathodes are a better value.
What are the cathodes made of?
The cathodes are made of glass with a protective acrylic tube around the glass. They will not break as long as they are mounted to a surface that prevents flexing and stress on the tube.
Do the lights get hot?
The glass and ends of the lamp do get a little warm, so they should be installed so that they do not touch any material that might be flammable.
Can the cathodes be used outside?
Yes, but you should first seal the tubes and transformer with a silicone sealant and possibly a few layers of electrical tape. Alternatively, You may consider using our Flexible LED Strips which are already waterproof.
Can I extend the white wires past the transformer?
While it is possible, we do not recommend extending the white wires past the transformer. The cathodes may dim and flicker from the loss of voltage. If you want a cathode on each side of the dash, just buy two complete sets. You can however, extend the red and black power wires to reach the battery, or other power source. If you need to extend the cathode tubes past the 11 inches, we suggest you buy either an extra set of cathodes, or buy an extra transformer.
How long are the white wires?
The white wires are 11" long. So that means, you could put the 2 cathode tubes about 22" apart from each other.
Are the red cathodes really red? What about the orange cream?
The newest style cathodes are quite red. The orange cream cathodes are not very orange, but more white with a hint of orange.
When hooking the cathodes up, does polarity matter?
It matters, but nothing bad will happen if you accidentally reverse the positive and negative wires. The transformers have built-in polarity protection.
How many amps does a cathode kit use?
Each cathode transformer draws about 0.7 amps of power at 12 volts.
How do I install the cathode kits in my car?
Please read this comprehensive INSTALLATION GUIDE in the Oznium Forums.
✓

Keep it clean. Do a professional install

Put the finishing touches on your install with one of our fancy on/off switches. Keep everything safe with an ATC fuse and inline fuse holder.
Another great product - you may also be interested in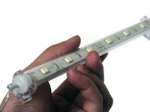 Tri-Chip LED Tube
For a great alternative to cathodes, try Oznium's brand new
Tri-Chip LED Tube
. Using LED technology, they are super bright,
super durable
, and made to last. You won't have transformers to deal with. They hook directly to your 12 volt power source. They've got the
same, if not more brightness
than a 12 inch cathode tube. Wide 120 degree angle light output.
Slightly more expensive, but this is well worth it!