Ultra Bright 12V Home Tri-Chip LED Lighting Tubes - Plug & Play! - Customer Questions
Frequently Asked Questions by Oznium Customers
Why do you no longer have the shorter 9inch tube in 5000K white? You only warm white, which is pretty yellow! - by Darren (Canada)
We are currently out of stock but more are on the way. Might be 3-6 weeks.
What parts would I need to make it run on batteries (AA)? Or, do you recommend the 12 Volt battery? What connector do I need? - by Joey (SoCal)
If you want to run it on AA batteries, you'll need 8 of them: 8 x 1.5v = 12v.
We offer a simple
8xAA battery holder
.
We also offer a
12v rechargeable battery pack
.
Depending on which battery pack you use, and how comfortable you are with wiring things, you can either use no connector (if you're comfortable doing things on your own), or you can use
this connector
(to make it more plug and play).
How long are the wire leads on either end of the 9" and 20" tubes?

9" = ?? (input, output)
20" = ?? (input, output) - by Michael (Delray Beach, FL)
3 inch lead on each end. Input 12V DC, same for output.
im wanting to use this light for my aquarium. What other equipment will I need to buy to do this? I already a plug in from a diff led light will this work to use on this light or no?
If using 110V you need an adapter, maybe some extensions cables. Not sure what kind of plug in you have to know if it will work or not. https://www.oznium.com/power-adapters/ac-adapter and https://www.oznium.com/replacement-parts/linear-light-extension-cable
Can these be mounted under the hood?
You can mount them anywhere you'd like.
I'm comparing the Ultra Bright 12V home Tri-Chip LED lighting tubes with the Pre-wired 4-chip Superflux LEDs. If I were to arrange 6 of the white Superflux LEDs with the same spacing as the 6 LEDs in the 9-inch length of the Tri-chip LED lighting tube (also in white), which would give out more light--the 6 Superflux LEDs or the 9-inch Tri-chip light tube? Also, what is the viewing angle of the Tri-chip light tubes? - by Rob (Hawaii)
The Superflux leds have four diodes in each chip, the TRi-Chip has 3 diodes in each so the Superflux would be brighter. Viewing angle is around 45.
Hi, I'm using this product for my freshwatr aqauarium.. Can I cut the wire with socket that I link other Tri-chip tubes? Would it affect anything at all?
Yes, you can cut the wire. It doesn't effect anything; you won't be able to add other wires/tubes to the kit, is all.
If i wanted to link together 5 of the 9 inch white and blues, can i just use the 2 AMP adapter or do i need one more powerful?
can i use a 120 volt dimmer rated for led's to dim the outlet i am plugging the transformer into or is the dimming only to be done on the 12 volt side? - by Peter (Manchester NH)
It will need to be on the 12v side.
Will there be a noticeable difference in brightness or color if I daisy chain one of these right next to a Pirahna bar (both warm white)? - by Wil (USA)
Yes. The LEDs used are different because they are two different products.
I want to install them on the grill of my car, are they water proof? - by Kenneth (El Paso, TX)
Nope, but you could make it waterproof by adding some silicone at the ends.
But why not just use a waterproof product like the Waterproof Surface Mount LED Bar?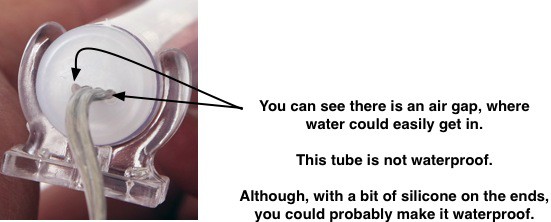 If I buy extra clips along with a 20" tube, will they work as well in the middle as they do on the ends? - by Sean (Fort Collins, CO)
The clips will work anywhere along the whole length of the tube. You're welcome to position them however you'd like.
Would there be an negative effect to the longevity of these led lights if they are run from a 12v power supply that provides more amps than the lights actually draw? For example three of your 20" light bars would require 672 mah. Would a power supply that provides 5 amps cause the leds to burn out sooner or do led lights only use the amount of amps needed to operate and the overage is disregarded? - by Jason (Hudson, WI)
Good question. There is no negative effect, since the LEDs disregard the unneeded current.
If i buy this product and want to plug it directly into a socket for a fish tank, I assume ill be needing the AC adapter, but will i need to make any further modifications? will i be required to do rewiring and anything of the sort? thanks
Have you ever heard any problems of this product reaching canada? I'm just afraid it might get detained at customs, for possibly electronics violations? Or have many come into vancouver canada with no issue? Thanks for the reply.
Never had problems related to a specific product. I don't see why it would be detained.
We've sent hundreds of packages to Vancouver. And we've sent over 30 orders with this specific product, the "Tri-Chip LED Tube" into Canada over the past few years.
You should probably choose an upgraded shipping method like USPS Priority or USPS Express.
I would like to replace the indirect florescent lighting in my motor home.The current lights cover approximately 20 ft. on each side of the coach and are hidden by a short cover in front. The lights are approximately 150 degree coverage pointing in an upwards direction. The florescent lights give off a yellowish tint and I want to change it to the brighest white I can get, then put a dimmer on each side. Could you suggest which lights you have that will acomlpish this? Martin-Beaufort NC - by Martin (Beaaufort NC)
These, or the Flood Lights and Spot Lights.
How is this powered before any modifications? Can I plug this directly into an outlet, or do I need an adapter?
This is 12v ready. Do NOT plug it in directly into a wall. You'll need an AC Adapter to drop the voltage down. https://www.oznium.com/power-adapters
I plan on wiring these up to the fusebox in my truck. What gauge wire should I use to splice onto the tube? - by Matt (Washington, PA)
16-22 gauge will work fine.
How do you hook these up in car - by Keith (west Virginia)
Take a power source from your battery, hook it up to a fuse. From the fuse, you may need a switch. It's really up to you.
Then from the switch, run that to your Tubes.

Battery > Fuse > Switch > Tube
would cutting off the connector and adding more wire then splicing into the 12v cigarette lighter work? - by Joey (Chatsworth, CA)
Depends on the cigarette lighter, really.
I want to replace my fish tank light with this, my tank is 36 inches long, should i get just 1 bar 20 inches or 2 bars? will one should give enough light output?
thank you
These are very bright, you could get two 20 inch or one long and one short bar, it totally depends on how much light you need.
I'm wondering about sizes for use as under cabinet lights: What is the diameter of the tube, and what is the projecting distance from flat (mounting) surface of the clip to the tips of the retainer? I am trying to see if it will be hidden in the recess of my cabinet. - by Kevin (Gainesville, Florida)
It measures 5/8 inches round. It is a round tube so if you have a lip at least 5/8" it will be hidden.
These are listed as the brightest you sell, but then in the questions you tell someone Piranha bar. Which is brighter?
The Tri-Chip. Sorry for the confusion.
Would these be safe to install inside a wall? I'm considering using frosted plexiglass instead of drywall on one side and wondered if these LED strips would be safe to inclose, to illuminate the plexi wall. - by Anthony (Ohio)
Should be fine. Go for it.
I plan on adding additional lights and would like to double check with you prior to placing my order. I would be running a total of (3) 9" bars and (3) 20" bars all on a 2 amp adapter. According to my math thats still keeps my under 2 amps, just wanted your opinion as well.... - by Daniel (Lebanon, PA)
Correct, you are still under 2 amps.
How many lumens are produced by the 9" and 20" tubes. 5000K is the color of the light not how bright they are. The lumens produced would compare the amount of light produced by the LEDs with 60, 75, 100 and 150 watt incandescent output. Dennis in Denver, CO - by Dennis (Denver, CO)
Please click on the "
Technical Info
" tab. You can see that the lumens, depending on color and size are anywhere from 10 to 173.
how can i connect it to an adapter outlet?
The AC Adapter has two wires coming out of it, a positive and negative. Take the positive and negative wires and solder/electrical tape/butt connect the wires together.
I have 4 9" bars adapters for the ac adapter and the 3 foot extensions. I cannot get the lights to work with any adapter I have 3 and I can get a tube to light if I hold the bare wire connector to it. Why are these not working with the adapters, or when connected in series? - by Dave (Nor Cal)
Try turning the bars around and connecting to the Adapter and power source. If you still have problems please call Customer Service at 866-332-6411.
can and how can I connect the tube to your 8 battery 12V product? I am confused because the battery pack does not have a connector just 2 wires... - by Ryan (Oregon)
Yes of course!

The LED tube also has 2 wires, so its quite simple:

1. Connect the positive wire from your power source to the positive wire of the LED tube.
2. Connect the negative wire from your power source to the to the negative wire of the LED tube.
3. It will light up.
What is the life expectancy of these tubes? I'd like to use some for business lighting and they'll be on for around 12 hours/day.
You mention in one of the Q&As that each of the tubes uses 300mA, I assume this refers to the 20" tube? I cannot find the specific mA on the specs page. I've actually ordered 4 20" tubes, 3 extension cables and a 2A power supply, I believe, if i'm correct about the 300mA i should be good. - by Zach (Leesburg, VA)
Your good with what you ordered. There is more Technical information here if needed: [https://www.oznium.com/home-led/tri-chip-led-tube#tech].
How long are the connecting wires on each side of the tube? - by Mark (Gering, NE)
The lead is about 3 inches.
I want a continuous row down my counter. I want the 20 inch tubes. Does one connect to another or is there something I have to buy to connect each one in order to have that continuous row of lights? I saw the extension cord but that puts 3 feet distance between each 20 inch tube. - by Mike (Houston)
Sure, you're welcome to connect them to each other without using the 3 foot extension cable.
I want to put these under my dash in my car. Is there anything else I need to get to make them work? What do I connect the lights to, to power them? - by Ryan (New Orleans)
Nope, maybe some wire. Can be connected to your battery or cigarette lighter, any 12v source. Here's a video on how to tap into your battery


I have a closet that is roughly 72x80x20 that would be used for storage. If I ran (4) 20" strips on the ceiling, would this be enough to light the entire closet?
Thanks!
What would be the difference in light between one of the 9" tubes and a 12 flourescent fixture for under a kitchen cabinet? - by Mike (Pittsburgh, Pa)
We haven't tested them compared to a 12" fluorescent fixture.
I am planning on putting lighting in my gun safe it is a large safe 72x42x30 it has two shelves on top and 39 gun capacity on bottom I figured it will need one 9 in. light on each shelf and a 20 in. on the bottom is the connector wires long enough to hook these together and which adapter would I need. - by Ron (United States)
Your looking at roughly .7 amps so the 2 amp adapter would be find, these have quick connect ends so they can be hooked together very easily.
are these brighter than the piranha bars - by Pau (Colorado Springs, CO)
The Piranha bars will be a little brighter.
Are these particular tubes able to be dimmed ?
Are these sold in pairs or 1 tube per quantity?
These are 1 tube, when you purchase quantity one.
Would it be more economical/practical to use the 8 AA adapter or use a 12V battery?
How many lumens does each tube give off? Need to know that in order to know how many will replace a fluorescent tube in the kitchen. Thanks - by Felicia (Chico, California)
I'm looking to replace a florescent light in my box truck. The light uses (2) 40w bulbs. My power inverter isn't working correctly so instead of replacing the inverter I was thinking of switching to LED lights. Think two of these would be brighter, dimmer, or close to the output of the current light? I was thinking about using four but I think that might be overkill. - by Chris (LaLa Land)
Probably pretty close to the same.
If these are being used in studio, is there much heat given off?
Also can these be directly wired, or do they need the additional power supplies - by Brad (Cheswick, PA)
There's really no heat given. They will stay cool to the touch.

They can be wired to any 12 volt power source.
I know some automotive 12v LED applications require a resistor for protection, does this one? I intent to mount them inside the fiberglass camper shell on my truck, do I need any special connectors or is it a simple 2 wire splice? - by LCP (HHI, SC)
Nothing special needed at all. Just plug and play!
Nope, but you could make it waterproof by adding some silicone at the ends.
Or use another one our waterproof products like the
Waterproof Surface Mount LED Bar
.
We have 5 of these in our house kitchen and we love them.
Now, I'd like to use 6 of these as cove lighting on my boat.
I don't need anywhere near as much light output, but want a smooth wash of light. How much would they draw in a triple series/parallel circuit, i.e. 2 in series with 3 pairs?
Thanks for making such a high quality product. - by Stephen (Whidbey Island WA)
It wouldn't make sense for them to be put in a series. 6 of these would pull 1.8 amps.
Can I chain this to a Piranha bar?
Would these lights be visible during the daytime from about 50 yds?
I guess it depends how you define visible. Perhaps you can order one tube to test and see if it will work for your application.
Is there any mounting hardware supplied with the tube? If not how is it mounted? - by EHB (Florida)
Yes, it does come with 2 mounting clips.
What is the reason for the product to be packaged in the tube? Is the base strip more fragile than other LED configurations? Doug - by Doug (Oriental, NC)
The tube helps protect the product
Can you show a photo of how they "chain together"? I'm wondering how seamless that chaining appears visually.

Jeff - by Jeff (Austin)
https://www.oznium.com/product_photos/large/1677.jpg
It will look exactly like that just not blue!
Are there going to be ny other or million colors cooming? - by Jonathan (New Concord, OH)
On a normal power supply box, how many do you think you could hook up w/out any problems?? - by Andrew (Mesquite, TX)
Depends what a 'normal' power supply box is. It depends on the Amps.
can you hook these together for a longer length? - by Gale (Frazee MN)
can I power the strips with a battery for a portable application
Yes. These strips require 12 volts, so just use a 12 volt battery :)
Can this tube be cut? - by John (Mesa az)