High-Intensity LED Flood Light - Blinding!
This high intensity LED flood light packs the punch of a high powered halogen flood light and more, with ultra-low energy consumption! This versatile product was designed to provide multiple options for your auto lighting needs. Forget those tedious hours of soldering resistors; just connect these LEDs to your 12V power source and you will have the smallest flood light you've ever seen! It can't be easier!
This High Intensity LED can easily be hooked up to your car for the convenience of an inexpensive, high tech, weatherproof auto accessory. You can use it for auto glow in for your car's front grille, in your trunk, foot-wells, wheel wells, under the hood, on headlights, or even along the dash warning lights.
This product is truly and fully waterproof; once you secure your wires, it can even be fully submerged for years of underwater brilliance. And your options are endless, because this wonderful waterproof module is available in six variously vibrant colors: warm white (3300K), white (6500K), red, green, blue, or amber.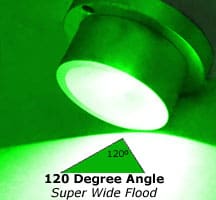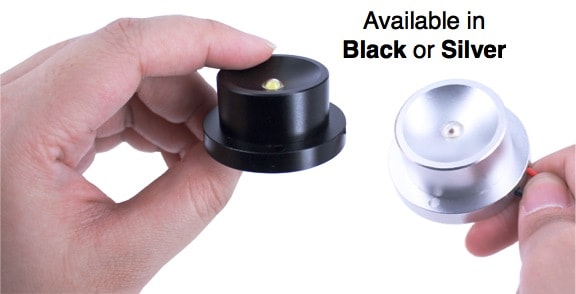 Do you need larger holes for mounting your LEDs?
We offer an elegant mounting bracket solution.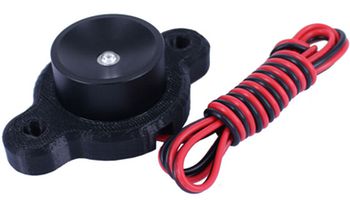 Other applications:
You are currently viewing
Automotive
applications for our
High Intensity LED Flood
.
We also recommend this product for:
Customer Questions?
Our customers have asked 58 questions about this product.
→ Read common questions and answers.
Customer Reviews
23 Reviews
Average Customer Review
(23 customer reviews)
Still Blink
Reviewer: Jordan Moddes (Kenosha, WI)
Item: High Intensity LED Flood
So.. on the fence with this. Finally bought it. When it came to my house and I seen it.. It was in a small very sleek looking housing and the LED on it was so small I initially was pissed because I automatically assumed it was going to be so dim I was going to send it right back... boy was I wrong. I plugged that thing is and it was brighter than my overhead light in my room (i guess i gotta upgrade huh?). I am for sure impressed. It is currently in my buddies car because he needed a new dome light and we wanted to test it out. Minus the conducting housing (nothing electrical tape doesn't fix) it works beautifully. The url below is his ugly mug looking at the light.

If you're on the fence... trust me. It's worth it!

http://tinyurl.com/7fdy35a
This little dude packs a punch
Reviewer: Jeff Wright (Angleton, TX)
Item: High Intensity LED Flood
I ordered these about a year and a half ago, and am just now getting around to the install. I have to say looking at the size of the led's on these, I was skeptical on how bright they would be. I wasn't prepared for what I saw when I powered them up. OMG. These things are blinding brilliant BRIGHT. WOW! The housing feels really substantial and appears extremely well made. I'm impressed, to say the least. Oznium.com rocks. Thanks ya'll.
Dome Light
Reviewer: Devin (Colonial Heights, VA)
Item: High Intensity LED Flood
Custom made a dome assembly with orange vinyl and got 2 of these in orange installed. Super bright for just two LEDs.
Excellent Customer Service!!!
Reviewer: Robert Norris III (Shreveport, LA)
Item: High Intensity LED Flood
The original LED floods I purchased caused serious Radio Frequency Interference whenever they powered on. I took my concerns to the site's Forum where the admins were already on top of the issue.
Once the RF Free lights were available, Phil Suslow, owner, gave me all the info I needed to order my replacements. Best part is HE offered to replace them w/o having to send the defective ones back. I didn't plan on asking for any special treatment but it felt good knowing Phil goes the extra mile for his customers. Now i have my replacements plus the old ones so I guess you can say I bought one set, got the second set free. Couldn't ask for a better bargain. Oznium has been my only source for vehicle lighting in the past and will remain to be. Thanx Phil and Oznium admins.
Man these are bright
Reviewer: Derek (Midwest City, OK)
Item: High Intensity LED Flood
I just got my one in today which arrived right on time,man its bright.I bought one to try it out to see how bright they really was,and its well worth the money.Thanks oznium for a great product.
More than advertised
Reviewer: DENIS LEBLANC (Rochester, NH)
Item: High Intensity LED Flood
Super bright leds...excellent products and more than outstanding service.....ordered on Wed got on Fri.....from Ca to NH...have ordered there before with the same great service and will order from them again
High Intensity LED Flood
Reviewer: Seamus McNally (Merrimack, NH)
Item: High Intensity LED Flood
Wicked bright, lights up my whole engine perfictly. Also ordered flexable LED strips and those are just as bright i have them on my bike and in my car. i recomend this stuff to everyone. im finishing instaling the rest of the LEDS in my car.
Special Display
Reviewer: Frank Acquafreda (Bethel, CT)
Item: High Intensity LED Flood
I built a display for a custom '69 Camaro Show Car. I used the floodlights in Orange and the Spotlights in White. The paint on the Camaro is Orange so the lights did a great job with the color and the white spots really gave the paint depth. Not to mention what they did for the chrome on the vehicle. First outing she won best in show and best display in show. Thank you Oznium. We are now building another Camaro in blue and a Kawasaki ZX7R in Candy Tangerine for this springs shows. I can't wait to do the displays for them. The Camaro pix are on our site at: www.streetlightleds.com
LED FLOODS
Reviewer: Robert Russ (San Bernardino, CA ( CONCRETE DEEP ))
Item: High Intensity LED Flood
WOW I HAVE SEE BLUE RED AND ORANGE,, AND THEY ARE BRIGHT.. BUT IM LOOKING FOR THE UV... CAN YOU GET THEM OR MAKE THEM FOR ME..


Brightest LED I have seen
Reviewer: david tribbett (Collegeville, PA)
Item: High Intensity LED Flood
I have 1000s of LED's that I use for lighting fixtures I construct and these are just incredible! The red is the first I opened and plugged into my 12c bench supply - WOW! Put on the sunglasses - seriously.

The other thing is I order these late Thursday and they arrive today (Monday) - this is from CA to PA. I doubt I will need their customer support but I am sure its every bit as good as their products and shipping time frames.

I have just bought several other items here but have only opened and tested the floods, so look for other reviews from me.

It is absolutely wonderful to find a company that bundles excellent products with phenominal service - few and far between. The prices are pretty exceptional too!

Short of sounding like a commercial, I will be buying everthing Oznium sells that I can use in my products!

Thanks guys, really!
See all 23 customer reviews...
Write an online review and share your thoughts with other customers.
Upload your own action shots - show us how you creatively used our product.