High Intensity Flush Mount LED Bolt
Want it delivered

Tuesday, July 29

?

Order it in the next

13 hours and 44 minutes

, and choose

One-Day Shipping

at checkout.
New for 2014
, we designed these from the ground up, to be super
bright
, and super
sleek
.
The applications are endless. The only limit is your imagination. You can use them for architectural accents, indoors, outdoors, in walkways, in railings, decks, etc. Use them for car lighting, in the front of your car, back of your car, or even inside your car.
The CNC'ed aluminum housing (choose from either silver, or black) helps dissipate heat from the 0.5W LED, so they don't get too hot.
Super easy to install. Just drill an appropriate sized hole, feed the wires, and LED bolt through. Tighten the matching nut from the back side, and everything will stay sturdily in place. Wires directly to any 12 volt power source.
The housing is
fully waterproof
, with an IP68 rating.
Hole size? 6mm, 11mm, or 16mm (0.23", 0.43", or 0.63")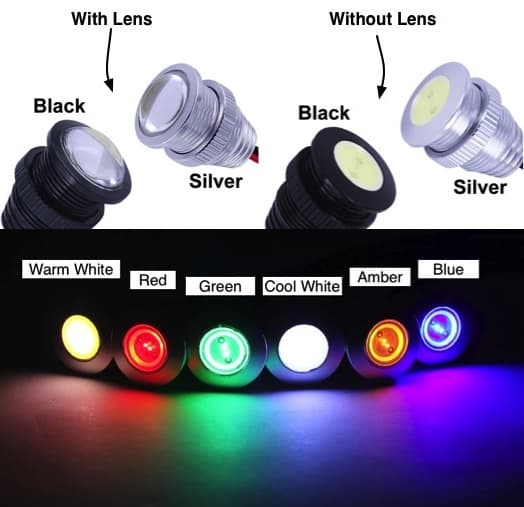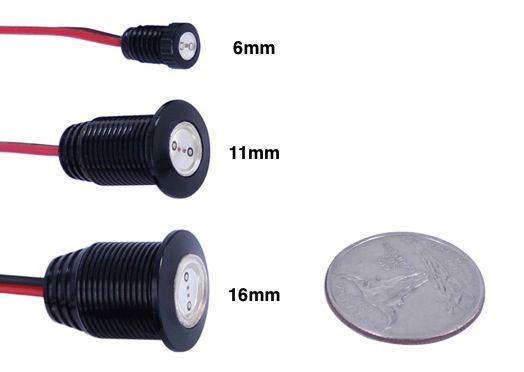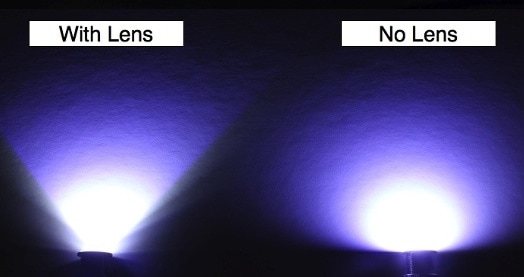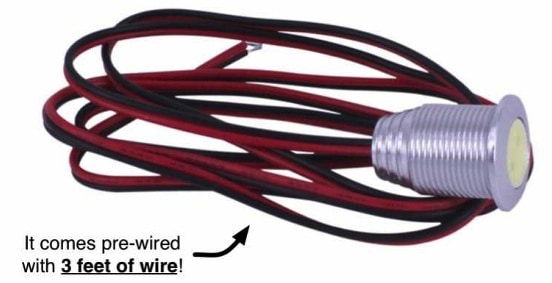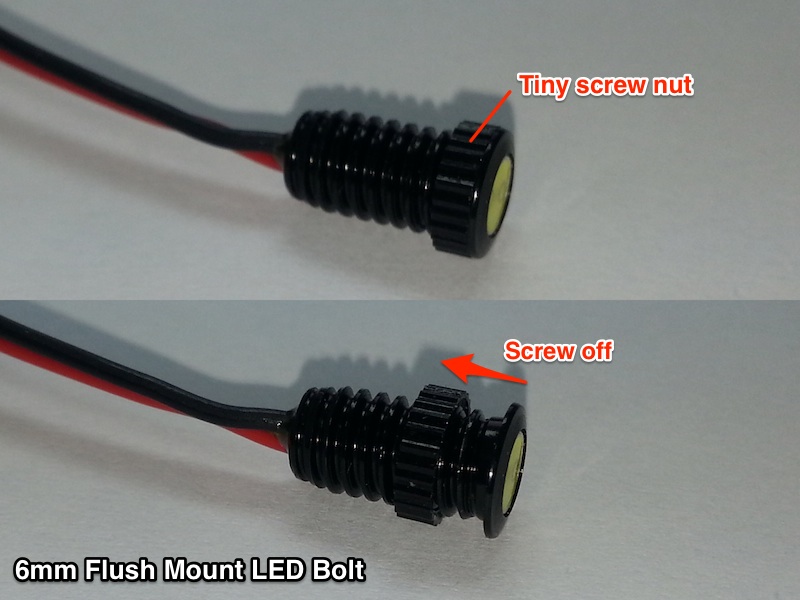 Product review & unpacking from a satisfied Oznium.com customer:
Customer Questions?
Our customers have asked 26 questions about this product.
→ Read common questions and answers.
Customer Reviews
78 Reviews
Average Customer Review
(78 customer reviews)
Oznium 16mm Led bolt.
Reviewer: mark (Bournemouth, United Kingdom)
Item: Flush Mount LED Bolt
Excellent product! Very well made! and the possibilities are endless.
Can't find anything like this in the UK and i was very impressed with the quality and performance of these lights.
Highly recommended for any kayak night fishing enthusiasts.
These little lights are extremely bright, very easy to install and a great feature for any kayaker looking to see, or be seen at night.
Overall 10/10 for product and customer service.
Will definitely order again.
Many thanks.
awesome little lights
Reviewer: Jerald Trzebiatowski (Nelsonville, WI)
Item: Flush Mount LED Bolt
Flush mounted in the cockpit of my sit on top kayak, one on each side, cast enough light to choose lures and tie them on. The bolts are super tough and tightened down very nice without breaking the flange. I am thinking about putting in a few more just for fun.
Head light
Reviewer: Thomas McCune (Winchendon, MA)
Item: Flush Mount LED Bolt
I bought these for a project that I'm working on (head light for GE 65 ton engine) so I haven't used them yet but I've hooked them up in my dark garage and the amount of light is amazing, and just in case I bought spares, for maybe another project.
great product
Reviewer: Nicholas Colacino (Girard, OH)
Item: Flush Mount LED Bolt
I was looking online for flush mount LED's to use as blinkers on my motorcycle to stay legal. These worked perfect and they look great! The price is perfect and the quality and craftsmanship is even better and the fact that they are sealed and wetherproof is a definite plus. I have the largest red LED's flush mounted in the tail section of my bike. I would have preferred the black housings but only one was available to ship at the time, but the polished housing look great and they are very stealth but extremely visible even during the daytime.
Exactly what I was looking for
Reviewer: Greg (Australia)
Item: Flush Mount LED Bolt
Ordered these for my 2012 Honda Civic Hatchback. These are perfect. The brightness level is just right for my application. Installed these with the dimmer. LEDs sit flush with the surface mounted on. It looks like factory install. Much better that LED strips. Very happy.
Great Lights
Reviewer: Sean (Penfield, NY)
Item: Flush Mount LED Bolt
These lights are awesome. Very high quality and were perfect for my application. The fact that they have a built in mounting system is pretty sweet too. Just drill the hole, pop them in and tighten the nut on the back. I couldn't be happier with the product or the price.
Great product, great service!....Bookmark this site!
Reviewer: Jordan (Niagara Falls, NY)
Item: Flush Mount LED Bolt
I never heard about this site until a few days ago. Glad I found it.... I needed some LED's to put on my childs Power Wheels truck. They had exactly what I needed along with a huge selection of other things. I really like how the site has a video showing how each product works. That was the clencher for me.

The items are very high quality along with the packaging. The shipping was stupid FASSSSSTTT and reasonable. Great job Oznium!!!!!!!
Replacement Lamps for Outside Step Lights
Reviewer: Howard S. (Tampa, FL)
Item: Flush Mount LED Bolt
I have outside step lights that utilized the automotive style lamps and holders. Over time, the socket bulb holders would corrode and stop working. Also, the life of the bulbs was very short. The fixtures are installed in brick steps and could not be easily replaced so a rebuild of the internals using waterproof LED's seemed like a good solution. I removed the old lamp holder assembly and mounted the LED bolt into a replacement metal bracket. The lights are powered by a 12V AC landscape power supply so I purchased some bridge rectifiers and powered up the 12V DC LED's. Coated all connections with liquid electrical tape for a waterproof system. Great, easy cost effective solution that should last many years (I hope!) LED's seem to be really good quality.
Awesome product
Reviewer: Scott Rawling (Glen Waverley, Australia)
Item: Flush Mount LED Bolt
I purchased two sets of these lights to install on my cars as puddle lights under the mirrors. They are so simple to install and wire in as well as being invisible when installed. The light output is fantastic and these lights have added so much to the cars, they were a truly worthwhile investment. I would not hesitate to recommend these to anyone, I am so glad I stumbled across them.
LED side maker light
Reviewer: Leslie Cowan (Dublin, Ireland)
Item: Flush Mount LED Bolt
I Fitted three 11mm red led lights to the mudguard of my sidecar. They work very well. would be nice if you could offer a shorter body I had a little bother with wheel clearance.
See all 78 customer reviews...
Write an online review and share your thoughts with other customers.
Upload your own action shots - show us how you creatively used our product.