High Intensity Flush Mount LED Bolt
Want it delivered

Thursday, July 30

?

Order it in the next

4 hours and 6 minutes

, and choose

One-Day Shipping

at checkout.
New for 2015
, a 100% Oznium exclusive, we designed these from the ground up, to be super
bright
, and super
sleek
.
The applications are endless. The only limit is your imagination. You can use them for architectural accents, indoors, outdoors, in walkways, in railings, decks, etc. Use them for car lighting, in the front of your car, back of your car, or even inside your car. Use them for marine or industrial applications.
Not only does the CNC'ed billet aluminum housing look cool (choose from either silver, or black), it helps dissipate heat from the high power LED, so they don't get too hot.
Super easy to install. Just drill an appropriate sized hole, feed the wires, and LED bolt through. Tighten the matching nut from the back side, and everything will stay sturdily in place. Wires directly to any 12 volt power source.
The housing is
fully waterproof
, with an IP68 rating.
Hole size? 6mm, 11mm, or 16mm (0.23", 0.43", or 0.63")
Are you seeking ultimate performance?
Want the best brightness possible?
We've got you covered. Choose our
Premium
Stainless Steel (3W)
version, which packs a powerful punch of
triple the lumens
(yes, 3X the brightness!), in a durable marine-grade Stainless Steel housing.
We originally designed it for use in really harsh caustic industrial environments, so its guaranteed to stand the test of time, and shine strong for years to come.
Our premium Stainless Steel (3W) version is only available with these options:
✓ Silver housing
But naturally, Stainless Steel is slightly darker than Aluminum
✓ 11mm (or 0.43")
For now, to keep things simple, we're just producing the premium Stainless Steel (3W) in the most popular 11mm (0.43") size.
✓ No Lens
We fill the top part with a durable 2-part epoxy, so nothing can touch the LED. Because there's no lens, the viewing angle is nearly 180-degrees.
As an added bonus, it also comes with a
high quality marine-grade cable
, which is double insulated in a black sheath.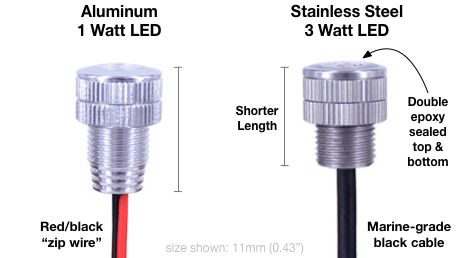 ◊ Comparison between 1W no lens bolt and 3W Stainless Steel bolt: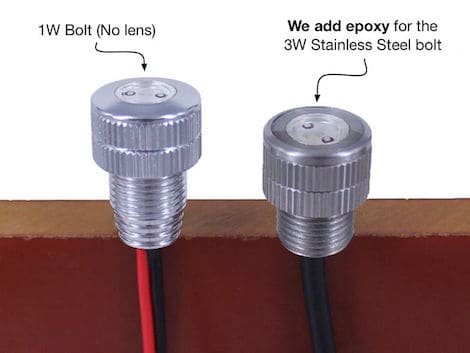 We use epoxy to seal both the top and bottom of the 3W Stainless Steel bolt: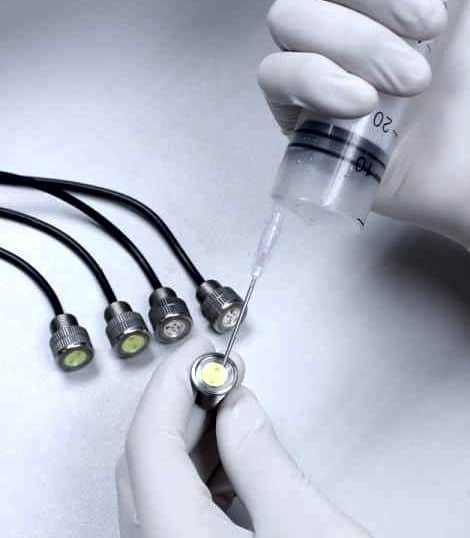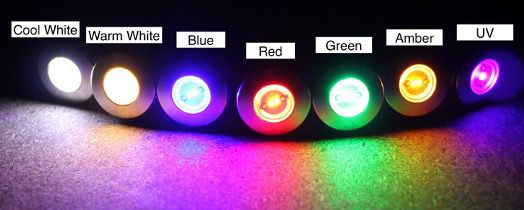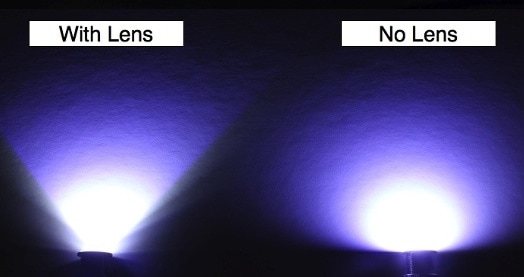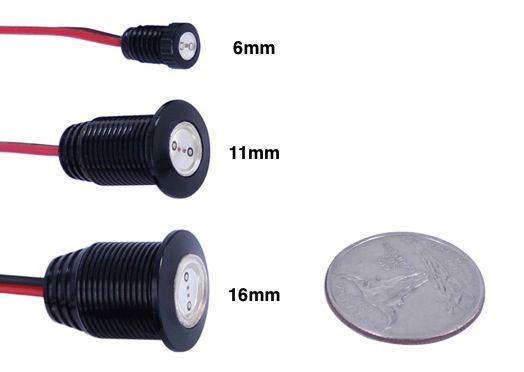 A new UV (ultraviolet/blacklight) color is now available, and its REALLY bright compared with most other UV LEDs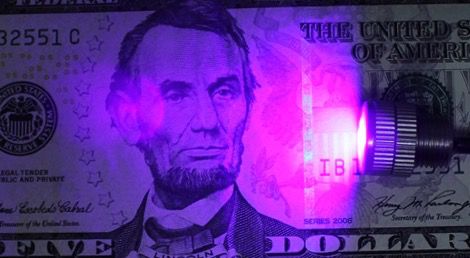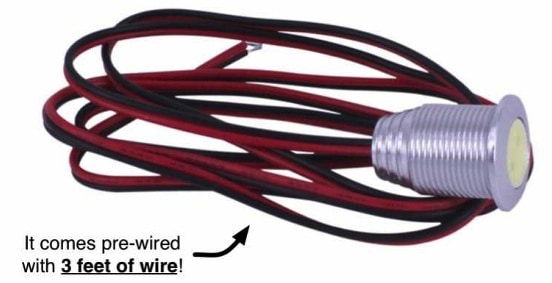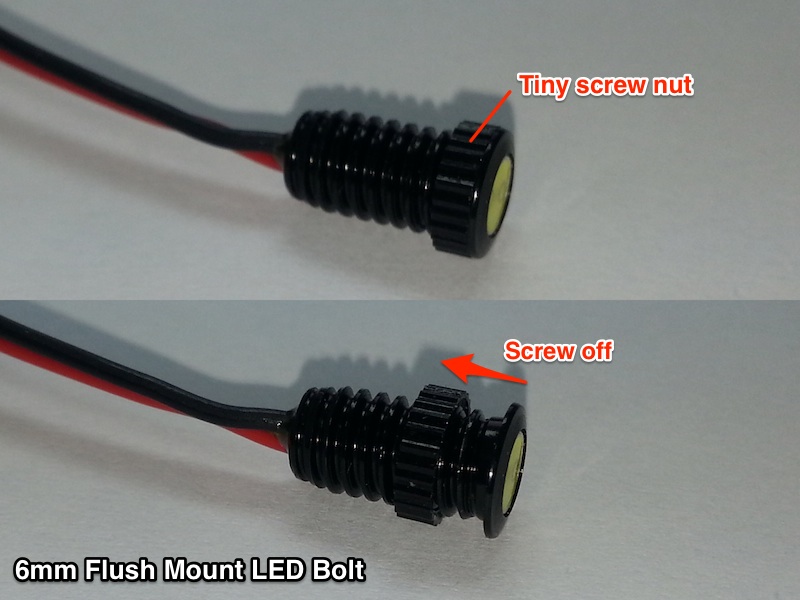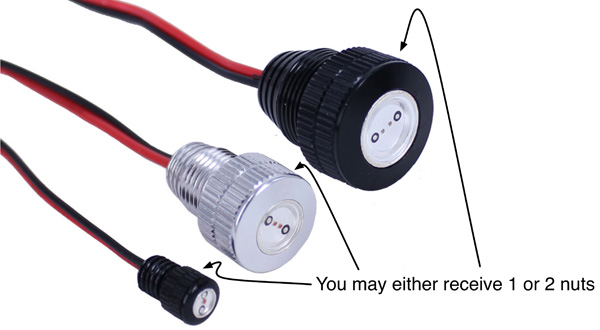 Note: because of customer feedback (thank you!), we now include two nuts instead of one with each bolt. Two nuts can help keep everything secure, especially when exposed to vibrations. You can also try a dab of Loctite thread fastener, or some other adhesive to keep the nut secure. Anything
produced
after January 2015, will include two nuts. You may however still receive old inventory produced before January 2015 which includes only a single nut. For example, with certain variations, we may still have inventory which was produced in 2014, and until we sell these, we don't produce new ones. It doesn't make sense to open all existing bags to add an extra nut. Thus, if you absolutely need two nuts, we recommend you buy an
additional replacement nut
.
Product review & unpacking from a satisfied Oznium.com customer: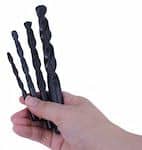 Need
metric drill bits
?
Buy them conveniently from us in various sizes to match the diameter of your LED Bolts: 6mm, 11mm, and 16mm.
Customer Questions?
Our customers have asked 38 questions about this product.
→ Read common questions and answers.
Customer Reviews
165 Reviews
(151)
(10)
(3)
(1)
1 star:
(0)
Average Customer Review
(165 customer reviews)
Nice
Reviewer: Big Nate (Oklahoma)
Item: Flush Mount LED Bolt
I have ordered over 2 dozen of these and they work awesome. I installed them on some small stop signs we have on our gate arms at work and I hooked up a flasher board and they run 24/7 365 outdoors in the elements. I have only lost one due to dropping it on the concrete. My first order I messed up and ordered the wrong color which I noticed as soon as I tested them. Oznium customer service was great they issued me an RMA number and as soon as they shipped back I received my refund and reordered the correct color. Thanks guys!
Great as an auxiliary boot/hatch interior light.
Reviewer: Daniel Hillyer (Bensalem, PA)
Item: Flush Mount LED Bolt
Great quality, price and service! I'm really excited about this tiny project: I drilled a hole through some plastic molding in the trunk area of my hatchback, wired it in parallel with the existing (dim) LED trunk light, and now I can see everything more clearly when I'm rifling through my trunk at night.
Flare for a four wheeler
Reviewer: Don (Manitowoc, WI)
Item: Flush Mount LED Bolt
I just bought a four wheeler and thought it was a bit boring so... Why not add flare with lights... I'm using the light bolts to light up my foot boards, 16 mm lights with lens for reverse lights in the back. I couldn't be happier.. only down side is the length of the light bolt it's self... I used washers so that it wouldn't rub against the wiring harness.. I had to give the lights five stars because they are just that good. I'd only ask, is there a way to cut down the threaded part of the bolt but not damage the light?
Great product for a great price
Reviewer: Tyler Nealis (Mount Sterling, KY)
Item: Flush Mount LED Bolt
I used these lights to light up the deck of my boat for night fishing. Since I have installed mine I have got three people in the last two weeks to order these lights for their boat. Everyone that sees it loves it! Great product for a great price.
Bolt led lights
Reviewer: steven cupac (Clifton, NJ)
Item: Flush Mount LED Bolt
They work great and bright they are so easy to hook up and mount any where the best thing about them they are waterproof!!!
Absolutely love it
Reviewer: Cameron Alexander (Fort St. John, Canada)
Item: Flush Mount LED Bolt
I bought these bolt leds for accent lighting for the inside of my car, and for courtesey lights. I put a single white bolt under each door pannel, and a blue one under the armrest of each door. Even the single watt ones are very bright, and well worth the money.
OZNIUM LED Bolt and Anti-Vandal Switch
Reviewer: Richard Culver (Taylor, UT)
Item: Flush Mount LED Bolt
Purchased the OZNIUM Flush Mount LED Bolts after seeing some information about them on the internet, decided to go with the 11 mm, stainless steel, red colored LEDs with no lens. Received all 6 of the high quality products and upon giving them a visible inspection was glad to see that they are sturdy and well manufactured, same thing with the Anti-Vandal Switch.

I installed the LED Bolts and Anti-Vandal Switch on a Stratos 201 Pro XL Evolution fiberglass bass boat and the purpose was to illuminate the deck areas of the boat during hours of darkness, and be able to cycle the lights on/off with a single push of a button.

PROs
Flush mountable extremely low profile, out of the way and does not impede anything, no protruding lens to knock off, small size makes them look almost hidden, great design.
Prewired comes with 3 foot of preinstalled wiring, secured, rugged and easy to work with. Installation came with 2 nuts on each LED Bolt for additional security and lessens the chance of the light coming loose, simple and easy to install.
LED illumination Outstanding, provides great coverage and the RED color does not washout your night vision capability.

CONs
Would like to have seen the LED Bolts come with a rubber grommet to dampen any possible vibration or scratching of the surface area on the fiberglass (grommet would go between the LED bolt and the fiberglass). I ended up finding and using black round rubber gasket(s) normally used for a vehicle oil pan plug at the local automotive store, hole size was perfect in diameter and overall circumference matched the diameter of the LED Bolt.

OVERALL
LED Bolts and Anti-Vandal switch have been installed and used several times with zero issues, no flickering or vibration at 65+ mph running down the lake, or in inclement weather. Extremely happy and satisfied with this product and give them a 5/5 rating and would have no qualms with purchasing them again for future projects.

See photos
Illuminating a dark area in my FJ Cruiser
Reviewer: John Baker (Austin, TX)
Item: Flush Mount LED Bolt
The LED bolts are incredible! For weeks, I searched for lights that would work in the location I needed to illuminate. They are exactly what I needed for my application.

The problem with my vehicle (2012 Toyota FJ Cruiser) was that there was no light located below the faceplate in the middle of the dash to see the switches, plugs, 4X4 shifter, and cup holder (which I use for things like receipts, change, and cell phones). It was frustrating and nearly impossible to plug in a charger or USB cable in the dark. Turning on the ceiling map light did not provide enough light to plug in accessories at night.

The LED bolts are a perfect solution. There is very little space between the faceplate and the dash of my vehicle. But the LED bolts are small enough to install without drilling or cutting the dash which holds the faceplate. All I had to do is drill two small holes in the faceplate for the LED bolts, insert the bolts, tighten the nuts and connect wires and a switch.

Just as the Oznium team promised me, these tiny LEDs provide plenty of light on the cup holder, 4X4 shifter, switches and plugs. Now, it's easy to plug in accessories, find things in the cup holder, and shift into 4X4 at night.

Kudos to Phil and his team at Oznium for bringing theses LED bolts to the market and for providing the highest level of customer service and support. They answered all of my many questions and gave me installation instructions and product specifications.

I have purchased the 12 inch LED strips for the glove boxes in my FJ and VW Beetle. I installed them because neither vehicle had lights in the glove boxes. They are a perfect solution for that application, too!

I plan to make Oznium my first source for LED lighting. In fact, I plan to order more LED bolts for the second glove box in the top of my FJ's dash.
Great Lights
Reviewer: Joseph (Virginia)
Item: Flush Mount LED Bolt
I purchased the Amber 1W 11mm lights and they function very well. For now, my little Danger Ranger resembles a miniature Ford Raptor. As advertised, they are very durable. They have been exposed to high heat in the grille of my truck from direct sunlight and the radiant heat from the engine as well as copious amounts of water. Only the test of time will really reveal how durable these lights are. I wired the lights in a series to protect the battery and the current to each light is still enough to notice the lights are functioning at high noon. If you are looking for a nice accessory light for your vehicle, look no further. The shipping is reasonably priced and the customer service staff are very helpful if needed.
6mm blue Leds for ram Head eyes on my Dodge Ram p/u
Reviewer: Charles Loguidice (Freehold, NJ)
Item: Flush Mount LED Bolt
I installed these lights so the Ram head eyes would appear blue on the tailgate of my Dodge Ram-they look incredible!!Thank you for your fine service!!
See all 165 customer reviews...
Write an online review and share your thoughts with other customers.
Upload your own action shots - show us how you creatively used our product.