High Intensity Flush Mount LED Bolt
New for 2014
, we designed these from the ground up, to be super
bright
, and super
sleek
.
The applications are endless. The only limit is your imagination. You can use them for architectural accents, indoors, outdoors, in walkways, in railings, decks, etc. Use them for car lighting, in the front of your car, back of your car, or even inside your car.
The CNC'ed aluminum housing (choose from either silver, or black) helps dissipate heat from the 0.5W LED, so they don't get too hot.
Super easy to install. Just drill an appropriate sized hole, feed the wires, and LED bolt through. Tighten the matching nut from the back side, and everything will stay sturdily in place. Wires directly to any 12 volt power source.
The housing is
fully waterproof
, with an IP68 rating.
Hole size? 6mm, 11mm, or 16mm (0.23", 0.43", or 0.63")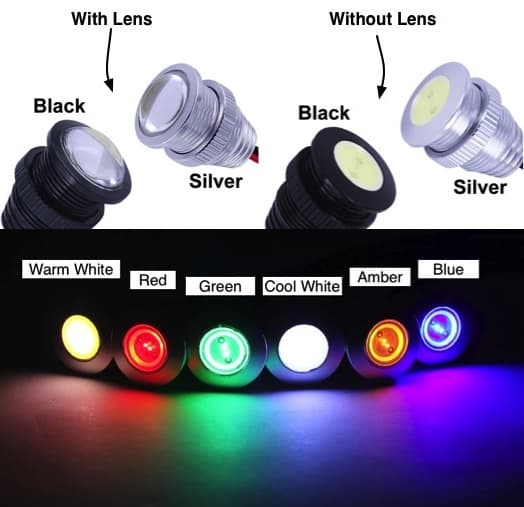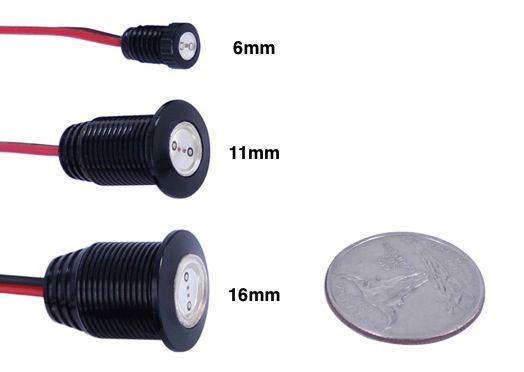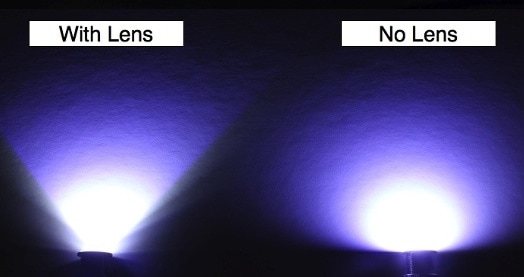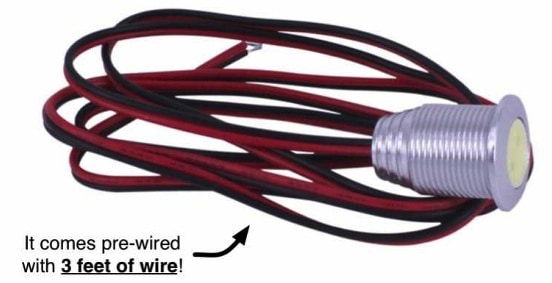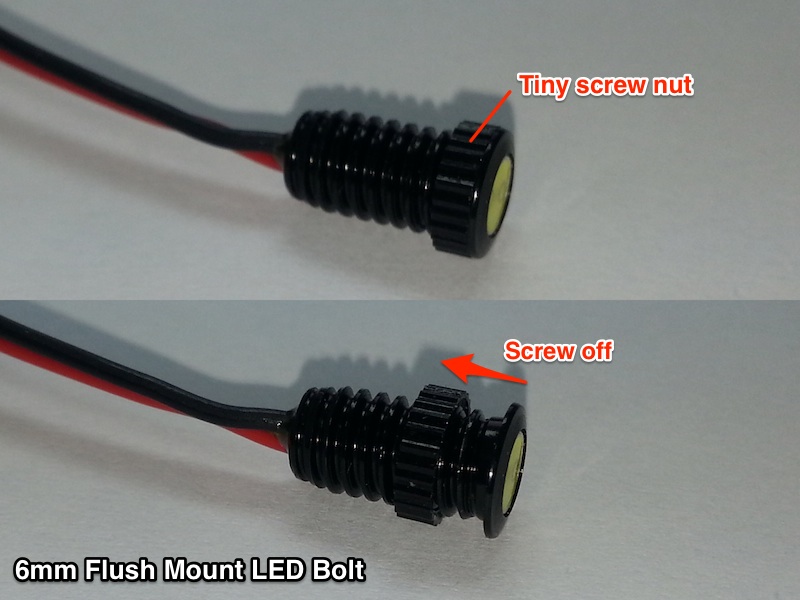 Product review & unpacking from a satisfied Oznium.com customer:
Customer Questions?
Our customers have asked 30 questions about this product.
→ Read common questions and answers.
Customer Reviews
104 Reviews
(94)
(7)
(2)
(1)
1 star:
(0)
Average Customer Review
(104 customer reviews)
Super Bright! Great Product.
Reviewer: Steve Unglaub (Easton, PA)
Item: Flush Mount LED Bolt
Excellent Product!!!! Wow can't believe how bright these are in such a small package. Used them for foot well lighting, also down lighting from overhead console.
Incredibly bright!
Reviewer: G Medlin (Anderson, SC)
Item: Flush Mount LED Bolt
I installed these in the cargo area of my Honda Fit. The lights are incredibly bright. I open my hatchback now at night and it is like daylight. I liked these so much I ordered more of the 11mm and 6mm sizes for other projects that I will be working on.
LED Staircase Accent Lights
Reviewer: Chris Williams (Centennial, CO)
Item: Flush Mount LED Bolt
I just wanted to post a review on the LED bolts. All I can say is WOW! These lights are bright. I needed a way to light up the custom stairs I built and these were the perfect solution. Installation couldn't have easier. The mounting holes in the steel were slightly larger than the bolts so I used 5/8" washers as an adapter. I also purchased an inline 12V dimmer to allow me to adjust the brightness since they lit up the whole room at night. Did I mention that these lights are bright?

I have attached a few photos of my completed project for you to use as you wish. Thanks again for the follow up and a great product. I highly recommend them!
LED door handles for my 2007 BMW X3
Reviewer: Kevin Jones (Auburn, AL)
Item: Flush Mount LED Bolt
So I was looking for an aftermarket LED that I could install in the door handles for my 2007 BMW X3 and came across the LED bolts on the Oznium website. They were exactly what I was looking for in an LED for this particular project. I decided on these bolts versus other types of LEDs because they were small, waterproof, practically flush when installed and also round, making them easy to put in. When I first received them I didn't expect the bolts to be as tiny as they were and my first thought was they weren't going to give off enough light. But I tested them out and was pleasantly surprised at how much light they gave off. Installation was a breeze as well. Once I removed the door handles from my car, I was able to drill a small hole where I wanted the lights to go and ran the wire through the door and wired them to the power going to the courtesy lights on the bottom of the doors. This way the door handles would light up whenever I opened the door or unlocked the car using my remote. I would definitely recommend these LED bolts and Oznium to anyone looking to purchase LEDs for their own lighting projects. I've had nothing but good experiences with their customer service and the owner of Oznium even sent me an email to see how I liked the bolts. Top notch!

LED BOLTS
Reviewer: Larry Dematteo (Deltona, FL)
Item: Flush Mount LED Bolt
I am using straight shank LED Bolts as headlights for ride on model trains 1/8th size. Also plan LED bolts for use on other railroad equipment such as flashing Safety, Marker, Identification number lights and track Signals.
I am also trying the LED controller strip ($9.99 and 14.99) as I think the various light modes will give me the light effect I want that I don`t find elsewhere.
The low cost, I like it--of these Oznium items is Awesome compared to regular hobby suppliers.
Larry D

awesome
Reviewer: Aghory (Chicago, IL)
Item: Flush Mount LED Bolt
I used 2 of them as side marker In a tail light for a Yamaha Stryker. Very bright and noticeable very happy with them. They also look very stylish on the bike.
LED Bolt
Reviewer: Craig Sisk (White Pine, TN)
Item: Flush Mount LED Bolt
The LED's are bright and small the quality is also nice! The shipping was extremely quick! I would certainly recommend this product.
perfect for motorcycle
Reviewer: Kyle Bieker (Tucson, AZ)
Item: Flush Mount LED Bolt
Used the 6mm bolts for front turn signals on the bathing fairing on my vstar works perfect
Oznium 11mm bolts
Reviewer: Tony Hansen (Bedford, TX)
Item: Flush Mount LED Bolt
Needing to be seen on the local super highways by cars approaching from far lanes in my blind area. I chose Ozniums 11mm bullets with lenses for turn signal marker lights on my 2010 Honda Goldwing. I installed these in the passengers armrests (speaker housings) 4 to the side and 2 to the back in each armrest. Suuuuper bright and you cannot miss me changing lanes with the lights high enough that they can't be missed. Super easy to install and easy hookup to the existing signals made these a dream!!! I've already lined up a few of my buddies for the same install....pictures to follow!
rolled pan bumper
Reviewer: steve verge (Northborough, MA)
Item: Flush Mount LED Bolt
Hi looked at lights to light up the license plate and a lot of them showed or had to a hole big enough for it to fit. With this light bolt a small hole was made installed the light tightened it up the nut worked perfect recommend this light easy to install nice and bright to
See all 104 customer reviews...
Write an online review and share your thoughts with other customers.
Upload your own action shots - show us how you creatively used our product.