High Intensity Flush Mount LED Bolt
Want it delivered

Friday, February 12

?

Order it in the next

23 hours and 3 minutes

, and choose

One-Day Shipping

at checkout.
New for 2016
. 100% Oznium exclusive. Designed from the ground up, to be
bright
, and
sleek
.
The applications are endless. The only limit is your imagination. You can use them for architectural accents, indoors, outdoors, in walkways, in railings, decks, etc. Use them for car lighting, in the front of your car, back of your car, or even inside your car. Use them for marine or industrial applications.
Not only does the CNC'ed billet aluminum housing look cool, it also acts as a heat sink for the high power LED.
Super easy to install. Just drill an appropriate sized hole, feed the wires, and LED bolt through. Tighten the matching nut from the back side, and everything will stay in place. Connect the wires to any 12 volt power source.
The housing is
waterproof
, with an IP68 rating.
Hole size? 6mm, 11mm, or 16mm (0.23", 0.43", or 0.63")
Are you seeking ultimate performance?
Want the best brightness possible?
We've got you covered. Choose our
Premium
Stainless Steel (3W)
version, which packs a powerful punch of
triple the lumens
(yes, 3X the brightness!), in a durable marine-grade Stainless Steel housing.
Designed for industrial environments, its guaranteed to shine bright for many years.
Our premium Stainless Steel (3W) version is only available with these options:
✓ Silver housing
Stainless Steel is darker than Aluminum
✓ 11mm (or 0.43")
For now, to keep things simple, we're just producing the premium Stainless Steel (3W) in the most popular 11mm (0.43") size.
✓ No Lens
We fill the top part with a durable 2-part epoxy, so nothing can touch the LED. Because there's no lens, the viewing angle is 180-degrees.
As an added bonus, it comes with a
high quality marine grade cable
, which is double insulated in a black sheath.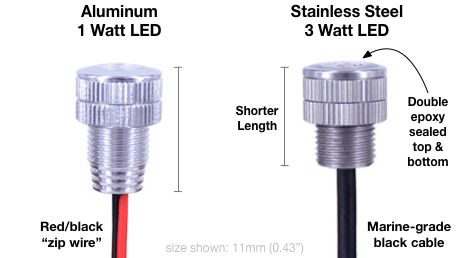 ◊ Comparison between 1W no lens bolt and 3W Stainless Steel bolt: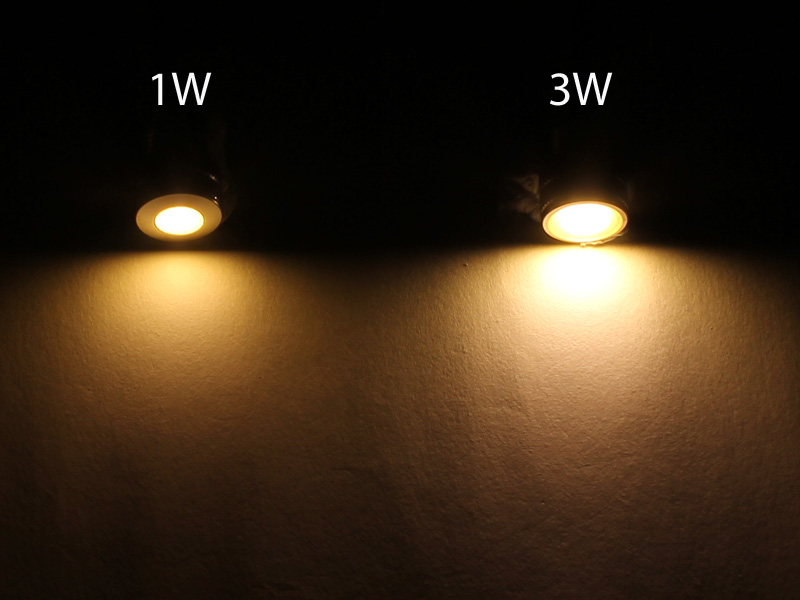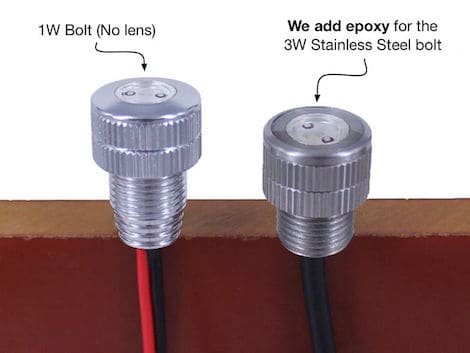 We use epoxy to seal both the top and bottom of the 3W Stainless Steel bolt: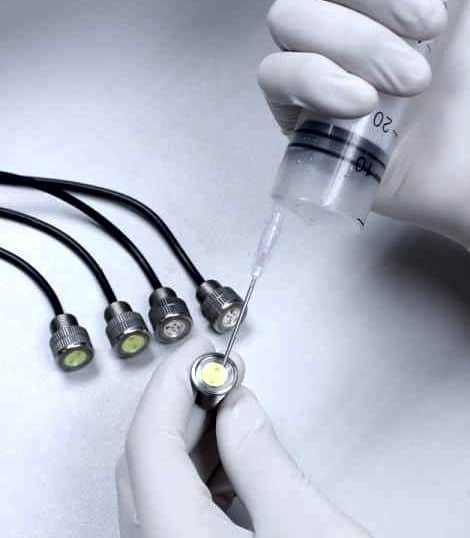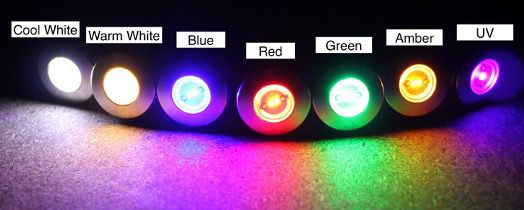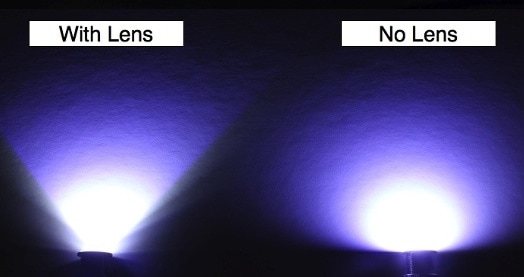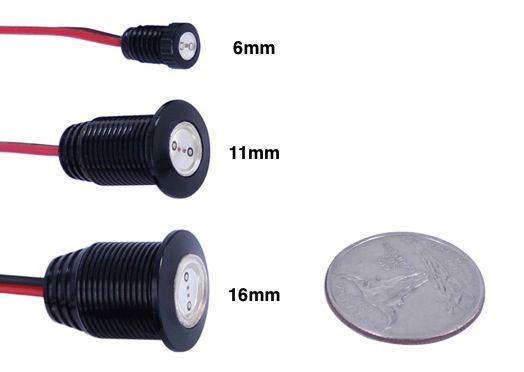 A new UV (ultraviolet/blacklight) color is now available, and its REALLY bright compared with most other UV LEDs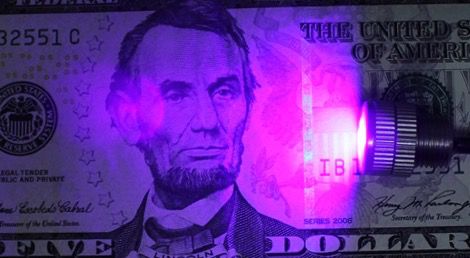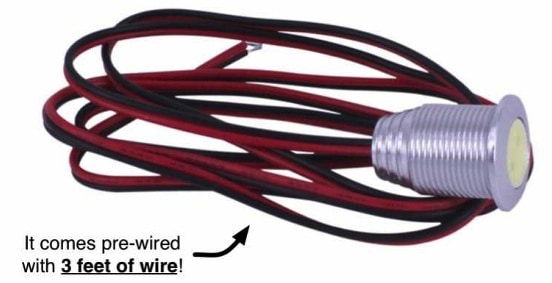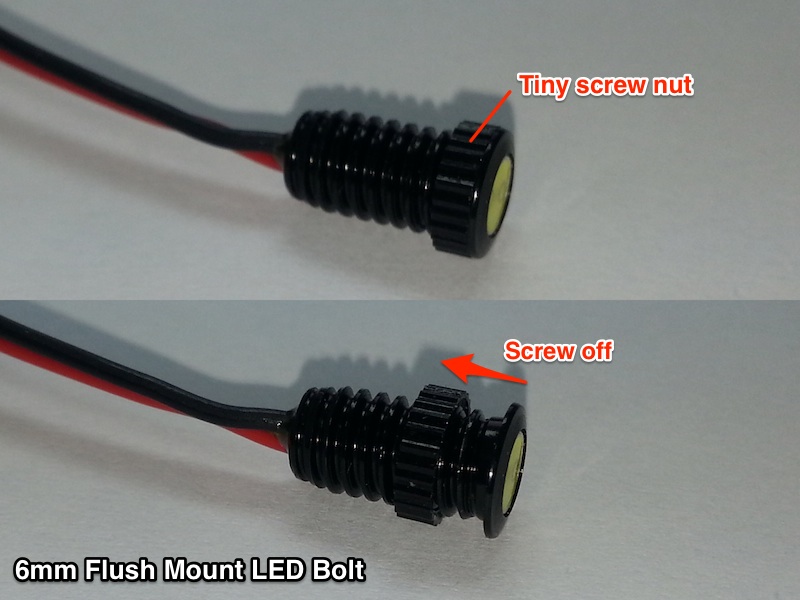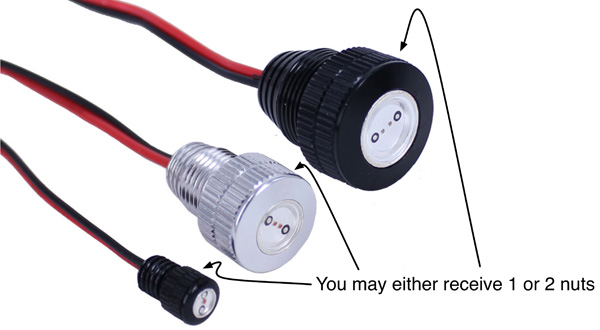 Note: because of customer feedback, we now include two nuts instead of one with each bolt. Two nuts can help keep everything secure, especially when exposed to vibrations. You can also try a dab of Loctite thread fastener, or some other adhesive to keep the nut secure. Anything
produced
after January 2015, will include two nuts. You may receive older inventory produced before January 2015 which includes a single nut. Certain variations are from 2014, and until we sell these, we don't produce new ones. It doesn't make sense to open all existing bags to add an extra nut. Thus, if you need two nuts, we recommend you buy an
extra replacement nut
.
Product review & unpacking from a satisfied Oznium.com customer: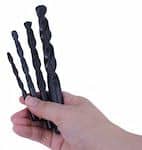 Need
metric drill bits
?
Buy them conveniently from us in various sizes to match the diameter of your LED Bolts: 6mm, 11mm, and 16mm.

Need
Rubber O-Rings
?
For a water-tight seal around the bolt bezel and your panel.
Customer Questions?
Our customers have asked 43 questions about this product.
→ Read common questions and answers.
Customer Reviews
204 Reviews
(186)
(14)
(3)
(1)
1 star:
(0)
Average Customer Review
(204 customer reviews)
11mm Bolts
Reviewer: Sean McFeters (Anoka, MN)
Item: Flush Mount LED Bolt
I love these bolts.super bright. Can't wait till I can see how they look at night on my bike. Living in Mn. It's still to cold to ride. Put on 02 shadow Bobber. I wouldn't mind a larger size.
Bright!
Reviewer: Richard G. (Kirkwood, NY)
Item: Flush Mount LED Bolt
Used these as side marker lights on the fenders of my kids power wheels jeep. Being waterproof, I can just hose off the mud after a ride. Plenty of wire to keep the connections dry.
Bright and Slick!
Reviewer: M.D. (Waterloo, Canada)
Item: Flush Mount LED Bolt
We are integrating these lights into a trades show display wherein we use them to illuminate a transparent human heart. They cast a huge amount of light in a very contained beam - perfect! The aluminum housing looks great and finished. Very happy.
Led bolt lights
Reviewer: Nicholas (Greenville, WI)
Item: Flush Mount LED Bolt
My friend and I ordered some 11mm Stainless Steel Led flush bolts with lenses, i have not installed mine yet, however My friend has his installed for about a month and they are rusting already, so i am unsure if i will install mine. otherwise seem like a nice product
6mm and 11mm Bolts
Reviewer: Dustin B (TX)
Item: Flush Mount LED Bolt
The bolts put off a good amount of lumens for their size and they made for a very easy/clean install. All of the 11mm bolts I purchased have the lenses and one of them has already fallen off but a little super glue fixed it up. Overall very happy with the product and glad that they provided ample wiring to reach the next point of termination. If it weren't for the simple lens issue this would be a 5 star product. I will be purchasing again for other projects
Great Product, Well built
Reviewer: Razor Edge Systems (Ely, MN)
Item: Flush Mount LED Bolt
We ordered this LED light as part of an R&D project. Its appears to be a well designed product but unfortunately we decided on a different kind of light for this project.
Great Product
Reviewer: Bill (Bossier City, LA)
Item: Flush Mount LED Bolt
I ordered the bolt style LED light because I didn't have enough light in the cargo area of my Jeep. The dome light was just a little too far forward, and with my rear seat folded up it was pretty dark in the back. I also didn't want a light that would be shining in my eyes every time I opened the door.
The bolt was the ideal solution. I was able to mount it low and flush with the interior trim. It's out of the way, and it provides the light that I was wanting.
I am considering ordering two more to add as secondary reverse lights to flush mount in my bumper.
NICE
Reviewer: Michael Suhr (Camas, WA)
Item: Flush Mount LED Bolt
Bought the flush mount LED bulbs to illuminate my skull exhaust tip. They work great, love the glow they throw off of it.
Awesome!
Reviewer: adam bissell (Greenland, NH)
Item: Flush Mount LED Bolt
Added to the bumper of my truck to add to the back-up lights. Even better than I expected. One of the lights I received did not work but was replaced with no hassle. I plan on buying 6-8 more to mount in the hull of the boat I'm building for fishing and just plain looking cool!
Great fix for low price
Reviewer: Geoffrey D (Tuscola, IL)
Item: Flush Mount LED Bolt
I found a post to replace puddle lights on my Ford Freestyle with these LED bolts. Ford's price on them was $80. I did both puddle lights for $12, a tube of Crazy glue and about 25 minutes install time. These LED bolts are extremely bright and I can't wait to find other uses for them. They are very well constructed and look great when lit.
See all 204 customer reviews...
Write an online review and share your thoughts with other customers.
Upload your own action shots - show us how you creatively used our product.