High Intensity Flush Mount LED Bolt
Want it delivered

Thursday, August 21

?

Order it in the next

9 hours and 18 minutes

, and choose

One-Day Shipping

at checkout.
New for 2014
, we designed these from the ground up, to be super
bright
, and super
sleek
.
The applications are endless. The only limit is your imagination. You can use them for architectural accents, indoors, outdoors, in walkways, in railings, decks, etc. Use them for car lighting, in the front of your car, back of your car, or even inside your car.
The CNC'ed aluminum housing (choose from either silver, or black) helps dissipate heat from the 0.5W LED, so they don't get too hot.
Super easy to install. Just drill an appropriate sized hole, feed the wires, and LED bolt through. Tighten the matching nut from the back side, and everything will stay sturdily in place. Wires directly to any 12 volt power source.
The housing is
fully waterproof
, with an IP68 rating.
Hole size? 6mm, 11mm, or 16mm (0.23", 0.43", or 0.63")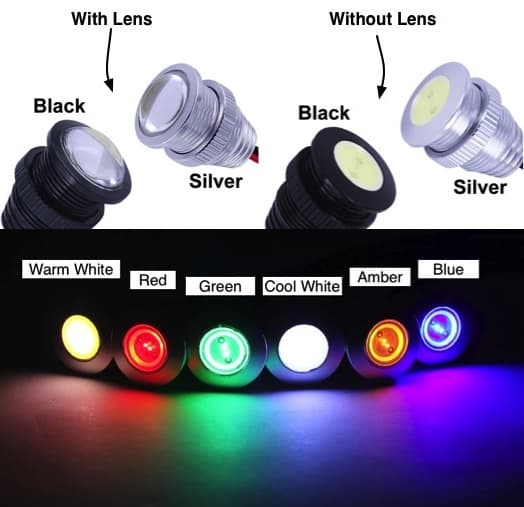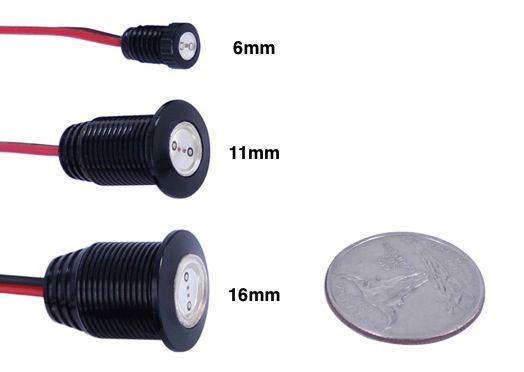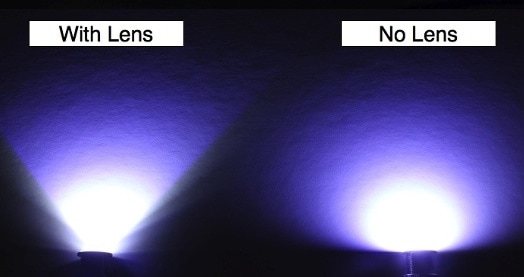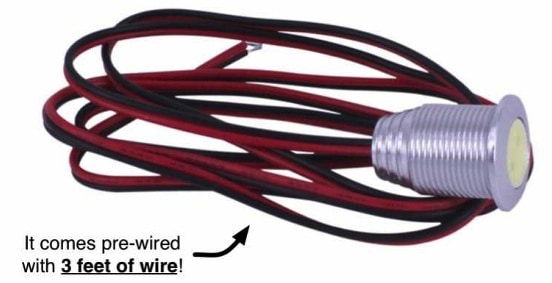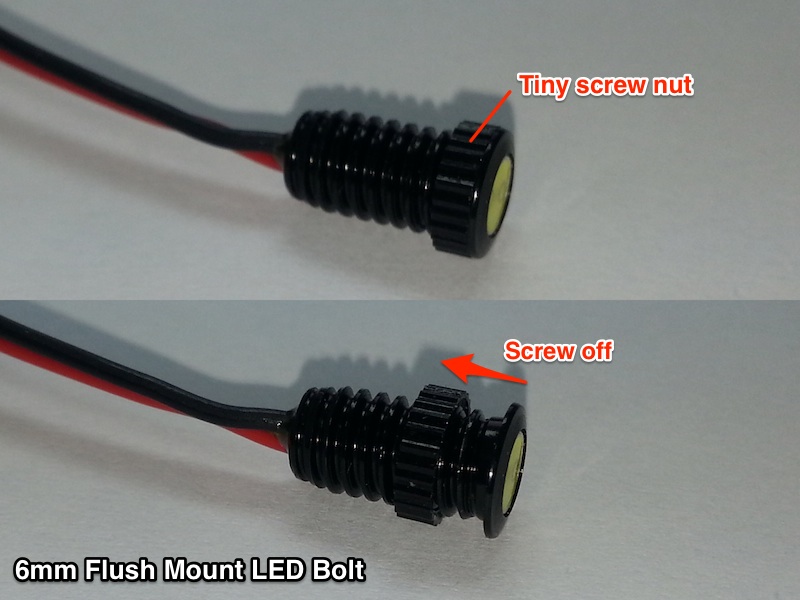 Product review & unpacking from a satisfied Oznium.com customer:
Customer Questions?
Our customers have asked 28 questions about this product.
→ Read common questions and answers.
Customer Reviews
84 Reviews
(74)
(7)
(2)
(1)
1 star:
(0)
Average Customer Review
(84 customer reviews)
11m flush amber led's
Reviewer: Ken Day (Aurora, CO)
Item: Flush Mount LED Bolt
I bought 6 11m flush amber led's and my project turned out awesome! I made a led running light bar and mounted it in my grille. The led's were very easy to work with and quality is AAA+.
Door and overhead trunk ights
Reviewer: Phillip T. (Temple City, CA)
Item: Flush Mount LED Bolt
These lights work great for my application. Put one each under each door and hooked them up to the door switch. Put 2 in the trunk of my XB and it lights it up flawlessly. Will buy more since I want more light!
6mm Amber LED Bolts
Reviewer: Rick Intihar (Mentor, OH)
Item: Flush Mount LED Bolt
I purchased these to use as footwell accent lighting in my '14 Mirage.

First of all, the concept is awesome. There have been many times in the past that these would have worked perfect for my application but this time they weren't quite what I needed.

I have these mounted in the side of the console as close to the firewall as possible, aimed horizontally. The light isn't intense enough to flood the area with light to reach the kick panel. The would probably work best mounted and aimed vertically.

Also, they are blindingly bright even when viewed at nearly 90 degrees off the center of the light. Even more reason to mount these hidden and in a vertical orientation. I almost with they were slightly recessed in the bezel.

The definitely serve a purpose, just maybe not the one I was looking for this time. Back to good old cold cathode tubes for my footwell lighting.
great product
Reviewer: Christopher Thibaut (Columbus, OH)
Item: Flush Mount LED Bolt
I love these bolt-LEDs. They were easy to install and I used the online LED control for brightness and made a nice decoration for my room
12 mm
Reviewer: jesse (North Las Vegas, NV)
Item: Flush Mount LED Bolt
Good product, can use for a variety of applications. I used them on my pergola as overhead lighting and I put them in the golf cups on my putting green. One of the bubble lenses came off but I'm sure I can glue it back on with no problem.
Good quality but dissapointed...
Reviewer: evo77 (Zion, IL)
Item: Flush Mount LED Bolt
I purchased one 16mm silver in amber for testing for an automotive LED turn signal retro project. First impressions were that the bolt is built very well and appears to be of high quality. It even has some weight to it when in the palm of your hand. However when applying 12 volts to the light I was underwhelmed with the brightness and color. The color is NOT amber but yellow in my opinion. And it was not as bright as I had hoped. It contains 2 chips where as other LED bolts on the market contain 3. This may be why it lacks brightness.

###
Note from Oznium.com Jul 31st:

Glad to hear you're pleased with the build quality.
Sorry to hear the color and brightness of the Amber fell short of your expectations.
As you probably know, Amber has the least amount of visible light. (from "Technical Info" tab: 3.1 lumens for 16mm Amber compared with 18.4 lumens for 16mm Cool White!)
While the color of amber/yellow/orange can be a bit subjective, we do try to represent the actual color as best as possible in the photos online.
Since you're not fully satisfied, we've refunded your full order amount of $11.78 (including shipping)
Oznium 16mm Led bolt.
Reviewer: mark (Bournemouth, United Kingdom)
Item: Flush Mount LED Bolt
Excellent product! Very well made! and the possibilities are endless.
Can't find anything like this in the UK and i was very impressed with the quality and performance of these lights.
Highly recommended for any kayak night fishing enthusiasts.
These little lights are extremely bright, very easy to install and a great feature for any kayaker looking to see, or be seen at night.
Overall 10/10 for product and customer service.
Will definitely order again.
Many thanks.
awesome little lights
Reviewer: Jerald Trzebiatowski (Nelsonville, WI)
Item: Flush Mount LED Bolt
Flush mounted in the cockpit of my sit on top kayak, one on each side, cast enough light to choose lures and tie them on. The bolts are super tough and tightened down very nice without breaking the flange. I am thinking about putting in a few more just for fun.
Head light
Reviewer: Thomas McCune (Winchendon, MA)
Item: Flush Mount LED Bolt
I bought these for a project that I'm working on (head light for GE 65 ton engine) so I haven't used them yet but I've hooked them up in my dark garage and the amount of light is amazing, and just in case I bought spares, for maybe another project.
great product
Reviewer: Nicholas Colacino (Girard, OH)
Item: Flush Mount LED Bolt
I was looking online for flush mount LED's to use as blinkers on my motorcycle to stay legal. These worked perfect and they look great! The price is perfect and the quality and craftsmanship is even better and the fact that they are sealed and wetherproof is a definite plus. I have the largest red LED's flush mounted in the tail section of my bike. I would have preferred the black housings but only one was available to ship at the time, but the polished housing look great and they are very stealth but extremely visible even during the daytime.
See all 84 customer reviews...
Write an online review and share your thoughts with other customers.
Upload your own action shots - show us how you creatively used our product.