High Intensity Flush Mount LED Bolt
Want it delivered

Monday, November 30

?

Order it in the next

18 hours and 49 minutes

, and choose

One-Day Shipping

at checkout.
New for 2015
, a 100% Oznium exclusive, we designed these from the ground up, to be super
bright
, and super
sleek
.
The applications are endless. The only limit is your imagination. You can use them for architectural accents, indoors, outdoors, in walkways, in railings, decks, etc. Use them for car lighting, in the front of your car, back of your car, or even inside your car. Use them for marine or industrial applications.
Not only does the CNC'ed billet aluminum housing look cool (choose from either silver, or black), it helps dissipate heat from the high power LED, so they don't get too hot.
Super easy to install. Just drill an appropriate sized hole, feed the wires, and LED bolt through. Tighten the matching nut from the back side, and everything will stay sturdily in place. Wires directly to any 12 volt power source.
The housing is
fully waterproof
, with an IP68 rating.
Hole size? 6mm, 11mm, or 16mm (0.23", 0.43", or 0.63")
Are you seeking ultimate performance?
Want the best brightness possible?
We've got you covered. Choose our
Premium
Stainless Steel (3W)
version, which packs a powerful punch of
triple the lumens
(yes, 3X the brightness!), in a durable marine-grade Stainless Steel housing.
We originally designed it for use in really harsh caustic industrial environments, so its guaranteed to stand the test of time, and shine strong for years to come.
Our premium Stainless Steel (3W) version is only available with these options:
✓ Silver housing
But naturally, Stainless Steel is slightly darker than Aluminum
✓ 11mm (or 0.43")
For now, to keep things simple, we're just producing the premium Stainless Steel (3W) in the most popular 11mm (0.43") size.
✓ No Lens
We fill the top part with a durable 2-part epoxy, so nothing can touch the LED. Because there's no lens, the viewing angle is nearly 180-degrees.
As an added bonus, it also comes with a
high quality marine-grade cable
, which is double insulated in a black sheath.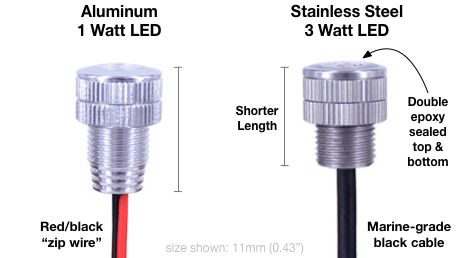 ◊ Comparison between 1W no lens bolt and 3W Stainless Steel bolt: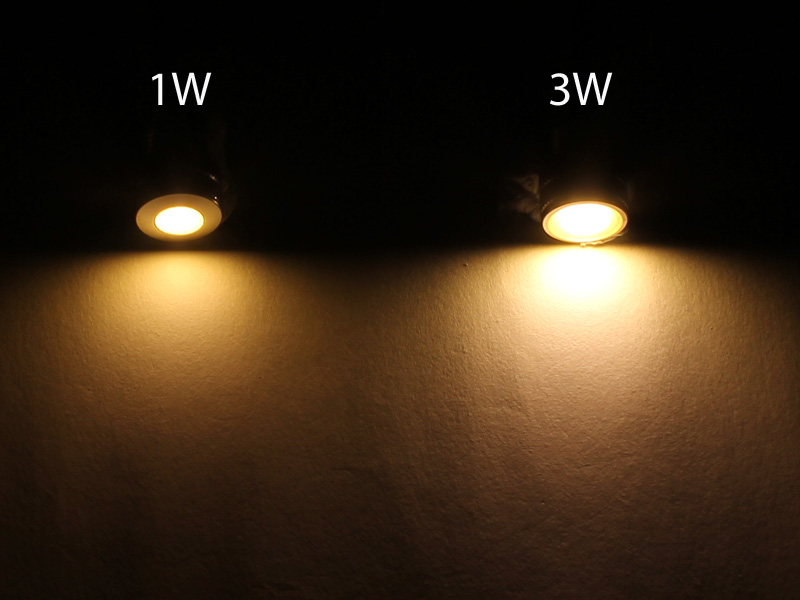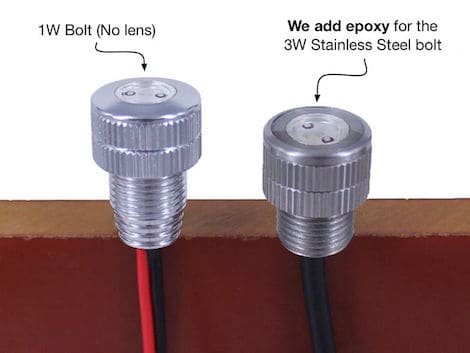 We use epoxy to seal both the top and bottom of the 3W Stainless Steel bolt: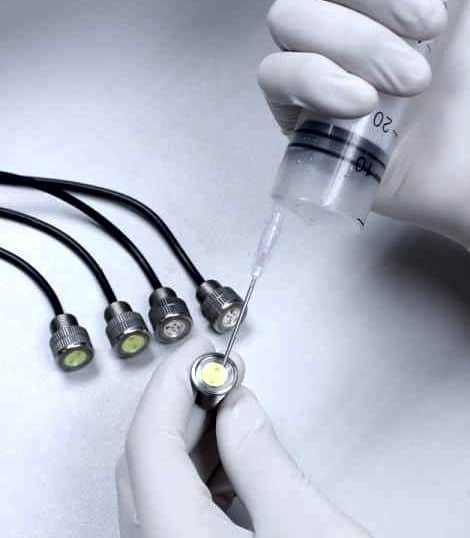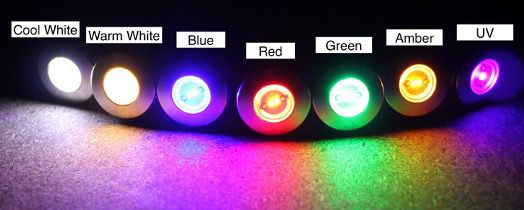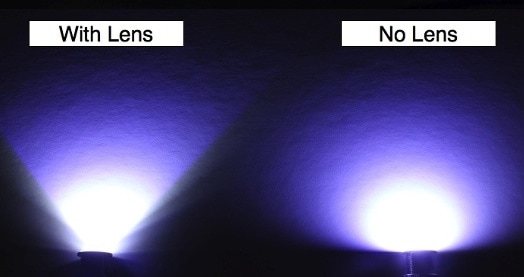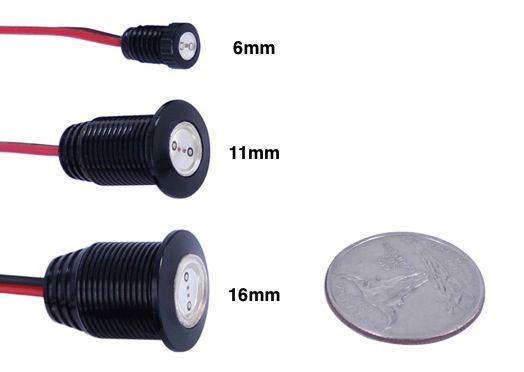 A new UV (ultraviolet/blacklight) color is now available, and its REALLY bright compared with most other UV LEDs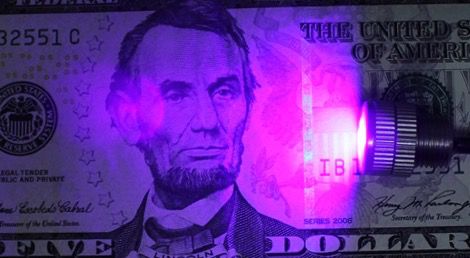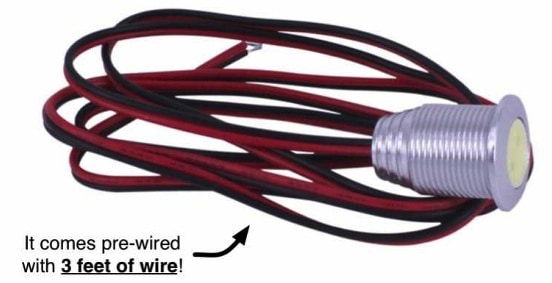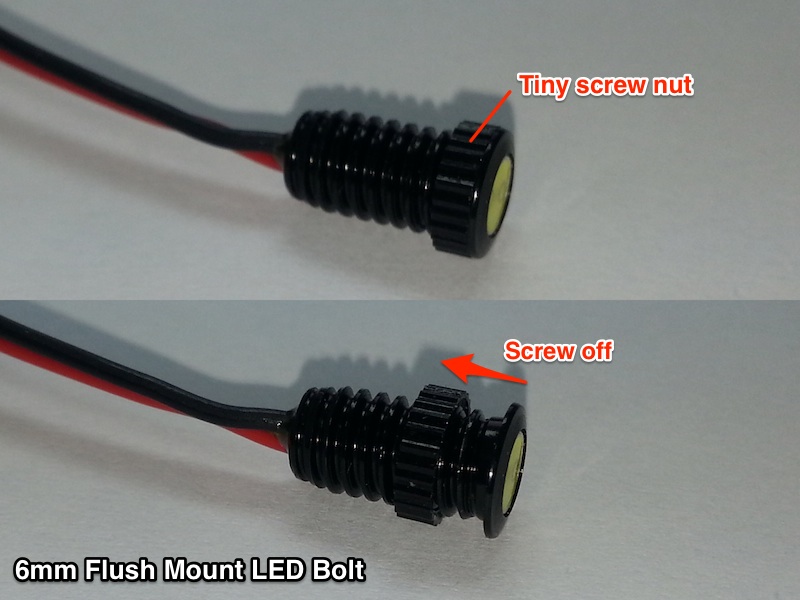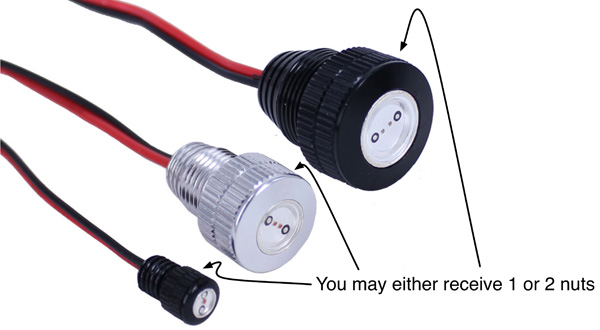 Note: because of customer feedback (thank you!), we now include two nuts instead of one with each bolt. Two nuts can help keep everything secure, especially when exposed to vibrations. You can also try a dab of Loctite thread fastener, or some other adhesive to keep the nut secure. Anything
produced
after January 2015, will include two nuts. You may however still receive old inventory produced before January 2015 which includes only a single nut. For example, with certain variations, we may still have inventory which was produced in 2014, and until we sell these, we don't produce new ones. It doesn't make sense to open all existing bags to add an extra nut. Thus, if you absolutely need two nuts, we recommend you buy an
additional replacement nut
.
Product review & unpacking from a satisfied Oznium.com customer: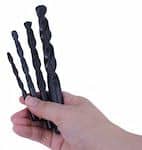 Need
metric drill bits
?
Buy them conveniently from us in various sizes to match the diameter of your LED Bolts: 6mm, 11mm, and 16mm.

Need
Rubber O-Rings
?
For a water-tight seal around the bolt bezel and your panel.
Customer Questions?
Our customers have asked 39 questions about this product.
→ Read common questions and answers.
Customer Reviews
194 Reviews
(178)
(12)
(3)
(1)
1 star:
(0)
Average Customer Review
(194 customer reviews)
Toyota Tacoma led grill insert
Reviewer: Martin Robert (Mascouche, Canada)
Item: Flush Mount LED Bolt
Very Nice product quality sure!
Super bright for such a small light!
Reviewer: Adam (IL)
Item: Flush Mount LED Bolt
I used 3 of the 6mm Amber lights for a "Raptor-style" grill project. Turned out great. I used their advice and utilizes a little blue loctite on the threads of the nut. Great product, I'll probably be buying some more for interior accents.
We're winning HANDS DOWN in every event
Reviewer: Perry Performance Group (Dania Beach, FL)
Item: Flush Mount LED Bolt
Hi Oznium folks, just thought I'd let you know what my experience has been
with your LED's. We use them on many ATV's we have prepared for Show and
Shine contest at some Local ATV events and we win HANDS DOWN, in every event
we entered our Can Am Maverick in and as for the machines performance, no
increase in Horse Power!! We received many praises for our lights still
working at the end of Race events that see them covered with Mud and Water,
submerged at times for over 10 minutes! STILL WORKING!!! We have one white
Bolt Light we need to replace as it has failed, but the stuff your building
is TOP SHELF, and I am not an easy sell. Thanks for a great product, and
thanks for caring about your customers. A+ Rating from Perry Performance
Group, a BRP (Can Am ATV's/Sea-Doo PWC)in the humidity riddled South
Florida! Christ, it is in the 90's right now nearly!! Regards, Glen Perry
Attention-getter
Reviewer: Alan (Chilliwack, Canada)
Item: Flush Mount LED Bolt
I installed rows of the 3W stainless lights on the sides of my motorcycle and they are great! Very bright and when put where you normally wouldn't see lights, very effective. They actually light up the side bags as well.
The 90 degree red bolts work very well but could do with more robust wires and they are not nearly as bright as the stainless.
leds
Reviewer: kasey zehr (Wagoner, OK)
Item: Flush Mount LED Bolt
worked good and looked good. will probably order a few more. will recommend them every chance I get.
love them
Reviewer: Brandon McElmury (Waukegan, IL)
Item: Flush Mount LED Bolt
Got them for a different use, i think im going put them in the door. I have them in the grill of my dodge ram 1500
led bolts
Reviewer: paul d williams (Elizabethtown, KY)
Item: Flush Mount LED Bolt
these put out a lot of light and the possible uses are endless,i'll buy more when I think of a new project
Polaris ranger bumper lights
Reviewer: WESLEY PERVIS (Huntsville, TX)
Item: Flush Mount LED Bolt
Work great on back bumper of my ranger👍 will order more
Another DRL setup on Honda HRV
Reviewer: Jason V (De Pere, WI)
Item: Flush Mount LED Bolt
I think you've got a great product here.
I like how small these are but also how low profile they are when mounted.
I wouldn't mind seeing a little thicker wire on them but I understand these
LEDs are pretty small. I am using these as DRLs which could be a little
brighter for this application but these achieved the look I wanted.
Thanks for the great LEDs I rate them 5 out of 5.
I will be getting some for my wife's new car as well. I've attached some
pics.

Using 10 x Aluminum (1W), No Lens, Black, 6 mm, Cool White



DRL's on Land Rover
Reviewer: James W (London, England)
Item: Flush Mount LED Bolt
Finally got around to properly fitting the LEDs on my truck.
I used them to create DRLs on my trusty off-road Land Rover - proprietary kits for a Land Rover require a complete new bumper, at considerable cost.
I simply drilled out 4 x holes each side of the existing bumper and wired the LEDs into a $10 relay control. In the EU, DRLs must go off with headlights so they don't dazzle at night.
The pics show the result. I am more than happy with my modest investment.
I particularly like the robust construction of the LEDs, the double lock rings and the brightness. Have had many admiring comments from fellow off-roaders. So far they have proved to be 100% waterproof as well.
Many thanks, Jim (in London, a Yank abroad).

Using: 8 x Aluminum (1W), With Lens, Black, 16 mm, Cool White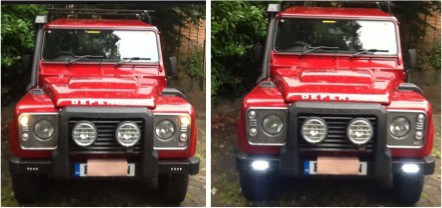 See all 194 customer reviews...
Write an online review and share your thoughts with other customers.
Upload your own action shots - show us how you creatively used our product.