High Intensity Flush Mount LED Bolt
New for 2015
, we designed these from the ground up, to be super
bright
, and super
sleek
.
The applications are endless. The only limit is your imagination. You can use them for architectural accents, indoors, outdoors, in walkways, in railings, decks, etc. Use them for car lighting, in the front of your car, back of your car, or even inside your car.
The CNC'ed aluminum housing (choose from either silver, or black) helps dissipate heat from the 0.5W LED, so they don't get too hot.
Super easy to install. Just drill an appropriate sized hole, feed the wires, and LED bolt through. Tighten the matching nut from the back side, and everything will stay sturdily in place. Wires directly to any 12 volt power source.
The housing is
fully waterproof
, with an IP68 rating.
Hole size? 6mm, 11mm, or 16mm (0.23", 0.43", or 0.63")
Premium Version: 3W LED bolt with Stainless steel housing is now available!
Much brighter, more durable!
⇒ Premium version is only available in: Silver housing, 11mm, no lens and with high quality cable.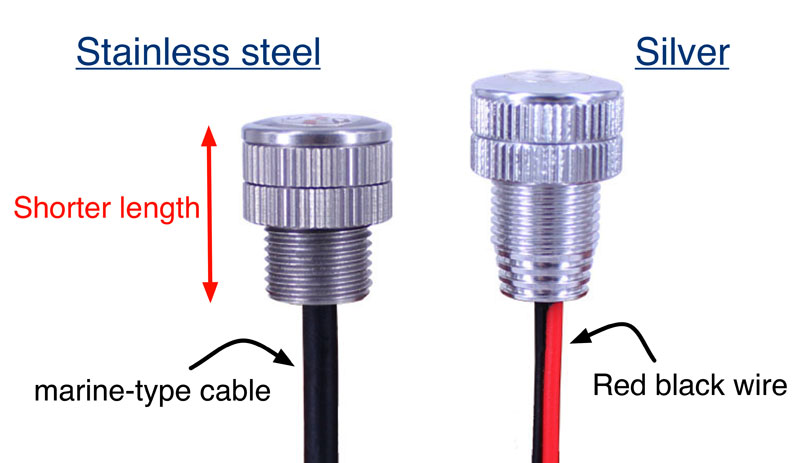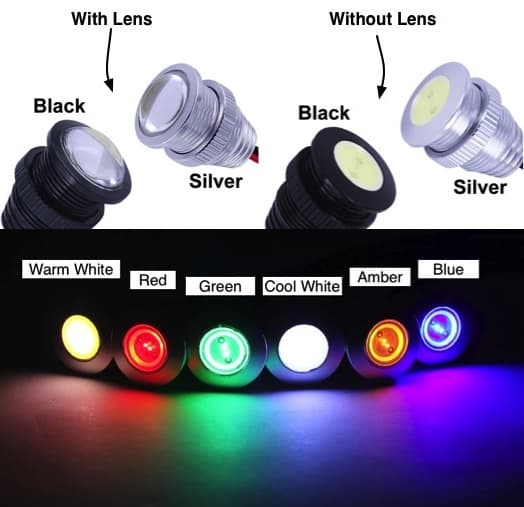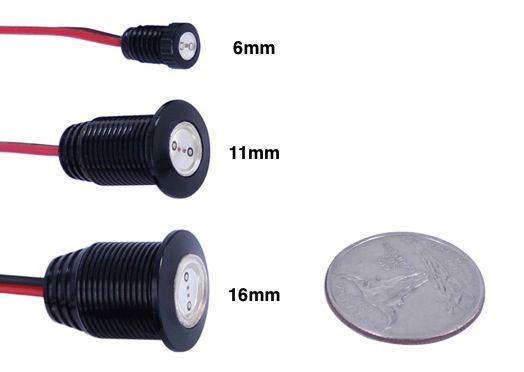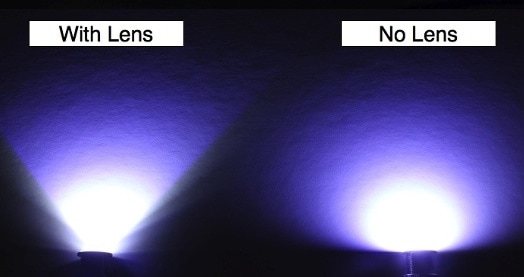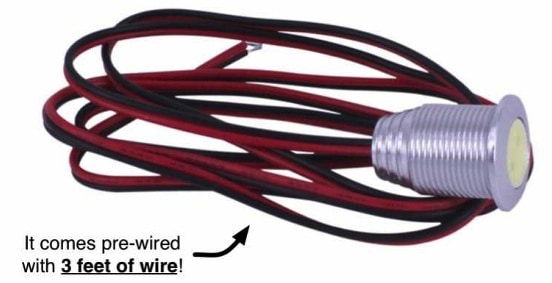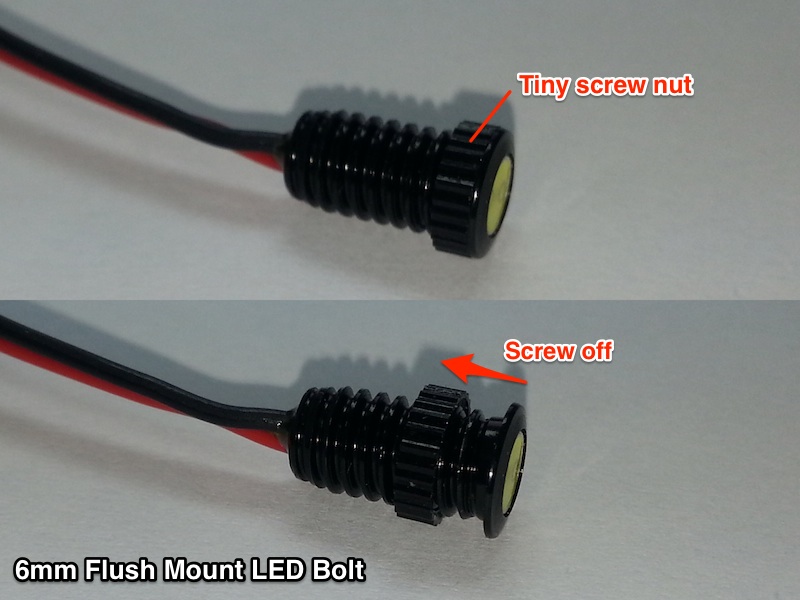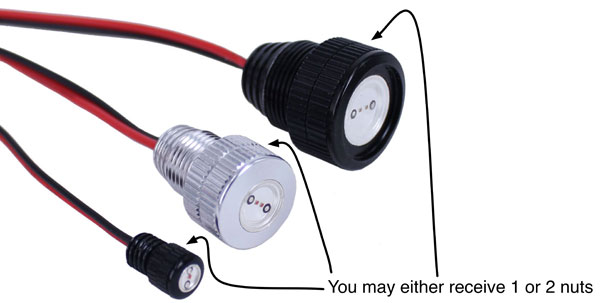 Product review & unpacking from a satisfied Oznium.com customer:




Customer Questions?
Our customers have asked 31 questions about this product.
→ Read common questions and answers.
Customer Reviews
127 Reviews
(115)
(8)
(3)
(1)
1 star:
(0)
Average Customer Review
(127 customer reviews)
LED Bolts!
Reviewer: Keith Kellogg (Port Aransas, TX)
Item: Flush Mount LED Bolt
These LED bolts are fantastic. They made installing lights around the center console on our boat very easy and they look great. Highly satisfied with my purchase.
I think the bullet lights are great.
Reviewer: Mark Foster (San Jose, CA)
Item: Flush Mount LED Bolt
I have a late model Dodge Durango. It is pretty well equipped, but one of the options it didnt have was puddle lights. Puddle lights are typically mounted on the underside of the exterior mirrors that come on when you hit the remote unlock, & go off a few seconds after you close the door. The mirrors had plastic covers on the bottom of where they were supposed to go, had you selected that factory option. I snapped them out & thought Id find a factory harness & just have to buy the fixtures from Dodge & put them in. WRONG!

That became my challenge. To find a small LED light that I could install myself. I googled a bunch & found the bullet lights. These were perfect for this application. Installation of the light was straightforward. Exterior of the light was flush mount & virtually invisible. The light without the lens had the beam spread I wanted (wide).

I learned how to remove door panels & fish wire through the boot from the body of the car to the door. Drilled a 1/2 hole in the blank pop out plate on the mirror bottom & screwed the bullet lights in. I connected the wire to the front floor courtesy lights with tap connectors so the puddle lights mirror their behavior, which is just perfect.

I have absolutely nothing bad to say about them. They were exactly as described. Your website has plenty of information about their power requirements, cable length, dimensions, etc. I thought they were so cool when I saw them on your website, I bought 4 instead of 2. Trying to figure out what Ill do with the other two. Theyll probably find a home somewhere on my travel trailer. Just dont know where yet.
Awesome LED's for car interiors
Reviewer: Russ Allen (Battle Creek, MI)
Item: Flush Mount LED Bolt
I have only tested the leds and don't have them mounted yet but just looking at them and powered up, they look very cool. Can't wait to get the interior of my chevelle done so i can get these installed for real!!
6mm Flush Mount LED bolt
Reviewer: Todd Harmon (Palmer, AK)
Item: Flush Mount LED Bolt
I really like these. They are extremely small and can be hid anywhere. The nut that holds the bolt is tiny, which can be damaged easily. I have not mounted them yet but plan on using a dab of black silicone to secure them. I was thoroughly impressed when I received an email from the owner warning me that the nuts can be damaged easily if over tightened. Great customer service. I will buy from Oznium again and again. I had not heard about Oznium until I purchased a part for my FJ Cruiser that came with Oznium LEDs. Thank you. When I have time these will be used in the interior of my FJ.
Nice accent
Reviewer: MPR (Bellingham, MA)
Item: Flush Mount LED Bolt
i was looking for a nice easy install accent light and these did the trick
6MM Amber LED Bolt is Amazing
Reviewer: Curtis DeVault (Billings, MT)
Item: Flush Mount LED Bolt
I purchased 4 of the 6mm LED bolts in amber to mount in the grill of my 2007 Nissan Xterra to simulate the Ford Raptor LED lights in the grill. They look amazing, I am shocked at how bright they are. They have worked in snow, rain, and even temperatures as low as 15 degrees below 0. Oznium's customer service is some of the best service I have received in a long time.
Amber bolt lights
Reviewer: Branson (NC)
Item: Flush Mount LED Bolt
I ordered these lights for the grille in my truck, they were super easy to install and work amazing. They aren't obnoxiously bright and they aren't too dim, they are just what I was looking for and recommend them to everybody who is wanting to do a little custom work to their vehicle or anything you can think of. Best purchase I have made lately by far.
Green LEDs for Mitsubishi 3000GT
Reviewer: C4 Auto Sales LLC (Hudson, FL)
Item: Flush Mount LED Bolt
These LEDs are magnificent. Simple to install and.highly visible, these look great on our custom car and lend a classy, not cheesy, look to it. Highly recommend to anyone wanting to upgrade to the quality and durability of LED lighting
Flush LED Bolt
Reviewer: William Hobbins (Gansevoort, NY)
Item: Flush Mount LED Bolt
I think it's a great product they just need to last a little longer. I just had 2 go out after 13 months and of course they are after the warranty period.
LED lights
Reviewer: Tom Wellenstein (Seattle, WA)
Item: Flush Mount LED Bolt
I really like these lights. I'm using these as running lights and auxiliary turn signal lights on the saddle bags of my motorcycle. Brightness is good day and night. Mounting is super easy by drilling a hole where you want the light.

I'll be looking for more ways to use these.
See all 127 customer reviews...
Write an online review and share your thoughts with other customers.
Upload your own action shots - show us how you creatively used our product.