High Intensity Flush Mount LED Bolt
New for 2015
, a 100% Oznium exclusive, we designed these from the ground up, to be super
bright
, and super
sleek
.
The applications are endless. The only limit is your imagination. You can use them for architectural accents, indoors, outdoors, in walkways, in railings, decks, etc. Use them for car lighting, in the front of your car, back of your car, or even inside your car. Use them for marine or industrial applications.
Not only does the CNC'ed billet aluminum housing look cool (choose from either silver, or black), it helps dissipate heat from the high power LED, so they don't get too hot.
Super easy to install. Just drill an appropriate sized hole, feed the wires, and LED bolt through. Tighten the matching nut from the back side, and everything will stay sturdily in place. Wires directly to any 12 volt power source.
The housing is
fully waterproof
, with an IP68 rating.
Hole size? 6mm, 11mm, or 16mm (0.23", 0.43", or 0.63")
Are you seeking ultimate performance?
Want the best brightness possible?
We've got you covered. Choose our
Premium
Stainless Steel (3W)
version, which packs a powerful punch of
triple the lumens
(yes, 3X the brightness!), in a durable marine-grade Stainless Steel housing.
We originally designed it for use in really harsh caustic industrial environments, so its guaranteed to stand the test of time, and shine strong for years to come.
Our premium Stainless Steel (3W) version is only available with these options:
✓ Silver housing
But naturally, Stainless Steel is slightly darker than Aluminum
✓ 11mm (or 0.43")
For now, to keep things simple, we're just producing the premium Stainless Steel (3W) in the most popular 11mm (0.43") size.
✓ No Lens
We fill the top part with a durable 2-part epoxy, so nothing can touch the LED. Because there's no lens, the viewing angle is nearly 180-degrees.
As an added bonus, it also comes with a
high quality marine-grade cable
, which is double insulated in a black sheath.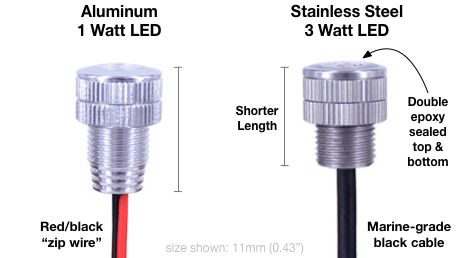 ◊ Comparison between 1W no lens bolt and 3W Stainless Steel bolt: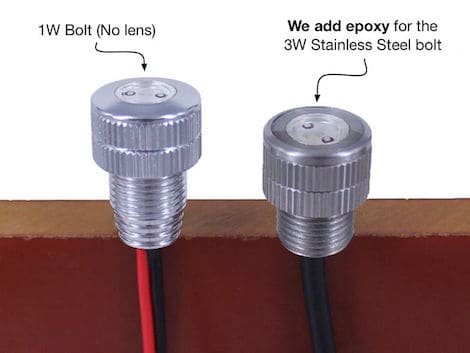 We use epoxy to seal both the top and bottom of the 3W Stainless Steel bolt: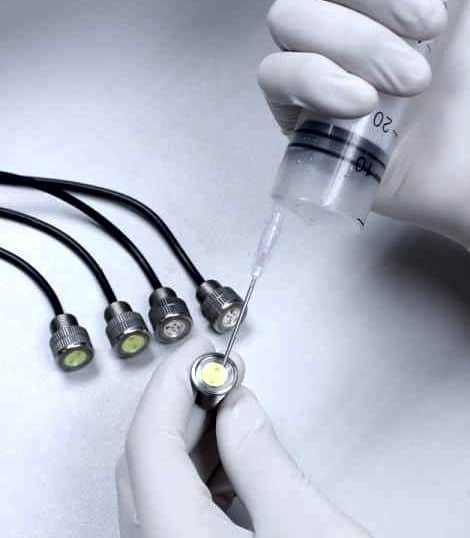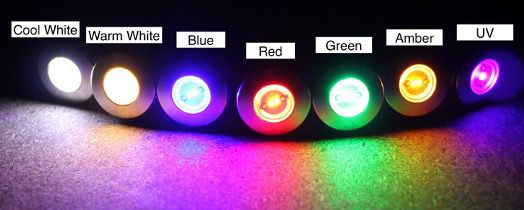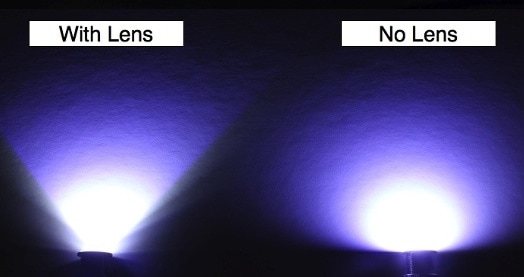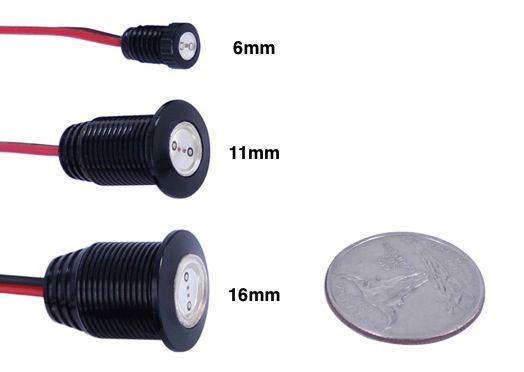 A new UV (ultraviolet/blacklight) color is now available, and its REALLY bright compared with most other UV LEDs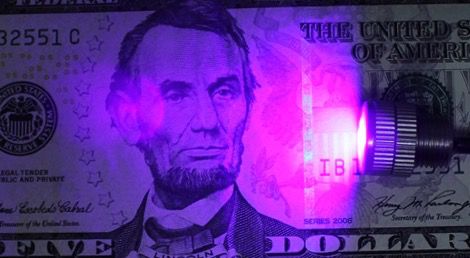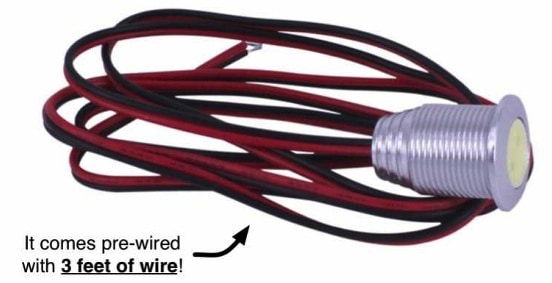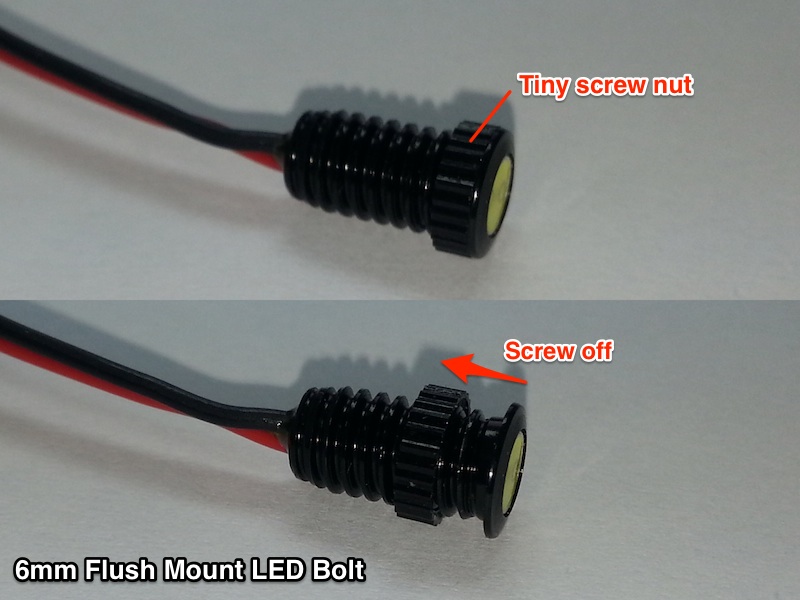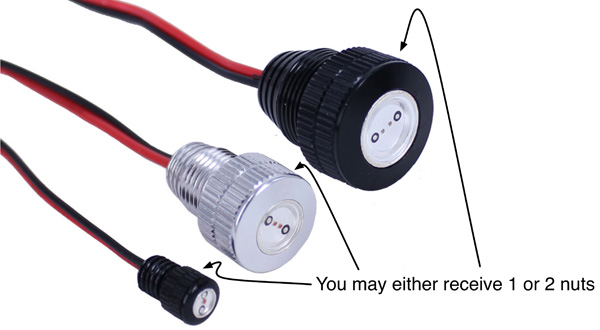 Note: because of customer feedback (thank you!), we now include two nuts instead of one with each bolt. Two nuts can help keep everything secure, especially when exposed to vibrations. You can also try a dab of Loctite thread fastener, or some other adhesive to keep the nut secure. Anything
produced
after January 2015, will include two nuts. You may however still receive old inventory produced before January 2015 which includes only a single nut. For example, with certain variations, we may still have inventory which was produced in 2014, and until we sell these, we don't produce new ones. It doesn't make sense to open all existing bags to add an extra nut. Thus, if you absolutely need two nuts, we recommend you buy an
additional replacement nut
.
Product review & unpacking from a satisfied Oznium.com customer:
Customer Questions?
Our customers have asked 35 questions about this product.
→ Read common questions and answers.
Customer Reviews
149 Reviews
(135)
(10)
(3)
(1)
1 star:
(0)
Average Customer Review
(149 customer reviews)
6mm black aluminum used as Motobiker license plate light. Boy is this tiny light brigh!!!
Reviewer: Michael H. (Naugatuck, CT)
Item: Flush Mount LED Bolt
This little cool white light worked good to mount on my bike as a custom light for the license plate. It's tiny 1/4 inch approximately circle and it works tremendous. It hooked right to the 12 volt supply and runs constantly. Sitting perfectly flush you can't see where the light is comming from it cool. It gives it a good look. Shipping was lightning fast pretty much two days standard shipping. You cannot go wrong and you got a customer for life.
bolt light
Reviewer: Ian Johnston ( Australia)
Item: Flush Mount LED Bolt
Great little light, I am using these lights as clearance lights on the top of guid poles on my boat trailer,
also make a great guide to line the boat up when loading on the boat ramp.

6mm led bolt
Reviewer: Justin (Denham Springs, LA)
Item: Flush Mount LED Bolt
The only bolt I could find on the market small enough and bright enough to use for what I needed. Daylight brightness is great, from what I found most other factory drl options use 1w leds like Rostra or Nolan.
Unobtrusive and bright.
Reviewer: Tim (Florida)
Item: Flush Mount LED Bolt
They mount flush, easily install, and are deceptively bright for their size. Can't go wrong with these.
Love these little lights
Reviewer: Sherry (River Ridge, LA)
Item: Flush Mount LED Bolt
Very easy to hook up and they are very bright for being so little. Got them on the back of my bike for a bit more light.
LED BOLTS
Reviewer: Derek (Las Vegas, NV)
Item: Flush Mount LED Bolt
Very easy to install! Small and compact to hide almost anywhere. They are extremely bright for their size. Will be ordering more!
sweet led light bolts
Reviewer: John Ellison (Crown Point, IN)
Item: Flush Mount LED Bolt
well i just wanted to say thank you! these led light bolts are very cool i couldn't be more happy.at every angle i'm totally impressed with the way they look on my toyota tundra crewmax on the grill.ill send you a picture.the brightness of the lights are perfect,straight forward installation instant impact,ill forsure be ordering more of them for other projects i have lined up.thanks again great place to do business with. John Ellison
Led bolt lights
Reviewer: Greg (Ozark, AR)
Item: Flush Mount LED Bolt
Great lights, great buy, I'll be ordering more
LED Bolt, black 11 mm with lens for map light
Reviewer: Darrel (WA)
Item: Flush Mount LED Bolt
The compact size and high light output is just what I needed. I am using it for a spot light/map light inside my car. The car came with a standard dome lamp, but I wanted a narrow pattern light for a passenger to use while I am driving. It was easy to modify the overhead cluster to add the LED bolt and an anti-vandal LED switch.
Flush Mount LED Bolt Red, Aluminum (1W), 11 mm, No Lens, Black
Reviewer: Bernard Carr (Kansas)
Item: Flush Mount LED Bolt
Very impressed with how bright the (red) lights are. Installed them in my 02 Ford Escort ZX2 in the cup holders and on the back side of the center consol. This was a test run to see if we wanted to use them in our Ford Excursion and YES we are going to. Great product!!!!!
See all 149 customer reviews...
Write an online review and share your thoughts with other customers.
Upload your own action shots - show us how you creatively used our product.