High Intensity Flush Mount LED Bolt
New for 2015
, a 100% Oznium exclusive, we designed these from the ground up, to be super
bright
, and super
sleek
.
The applications are endless. The only limit is your imagination. You can use them for architectural accents, indoors, outdoors, in walkways, in railings, decks, etc. Use them for car lighting, in the front of your car, back of your car, or even inside your car. Use them for marine or industrial applications.
Not only does the CNC'ed billet aluminum housing look cool (choose from either silver, or black), it helps dissipate heat from the high power LED, so they don't get too hot.
Super easy to install. Just drill an appropriate sized hole, feed the wires, and LED bolt through. Tighten the matching nut from the back side, and everything will stay sturdily in place. Wires directly to any 12 volt power source.
The housing is
fully waterproof
, with an IP68 rating.
Hole size? 6mm, 11mm, or 16mm (0.23", 0.43", or 0.63")
Are you seeking ultimate performance?
Want the best brightness possible?
We've got you covered. Choose our
Premium
Stainless Steel (3W)
version, which packs a powerful punch of
triple the lumens
(yes, 3X the brightness!), in a durable marine-grade Stainless Steel housing.
We originally designed it for use in really harsh caustic industrial environments, so its guaranteed to stand the test of time, and shine strong for years to come.
Our premium Stainless Steel (3W) version is only available with these options:
✓ Silver housing
But naturally, Stainless Steel is slightly darker than Aluminum
✓ 11mm (or 0.43")
For now, to keep things simple, we're just producing the premium Stainless Steel (3W) in the most popular 11mm (0.43") size.
✓ No Lens
We fill the top part with a durable 2-part epoxy, so nothing can touch the LED. Because there's no lens, the viewing angle is nearly 180-degrees.
As an added bonus, it also comes with a
high quality marine-grade cable
, which is double insulated in a black sheath.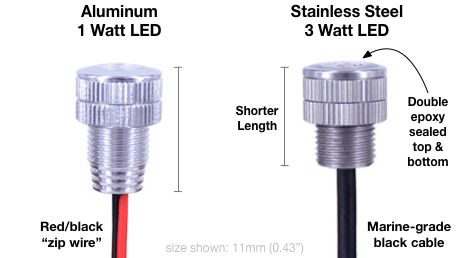 ◊ Comparison between 1W no lens bolt and 3W Stainless Steel bolt: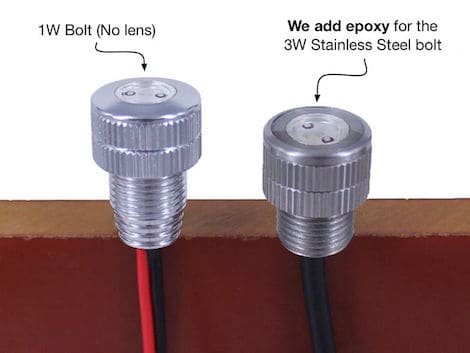 We use epoxy to seal both the top and bottom of the 3W Stainless Steel bolt: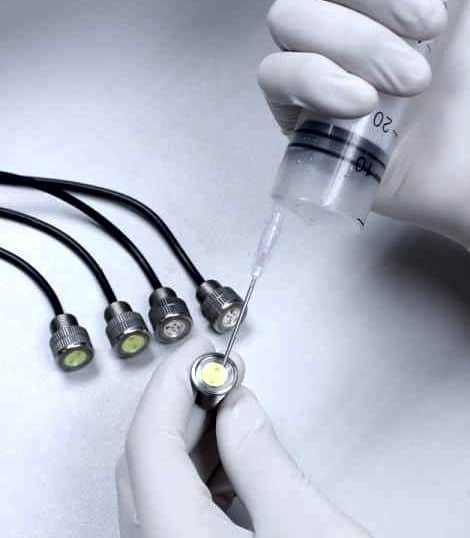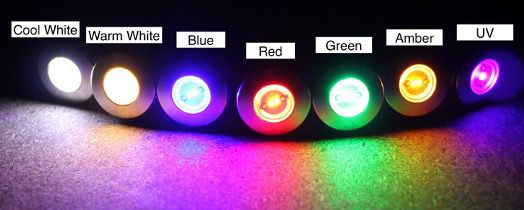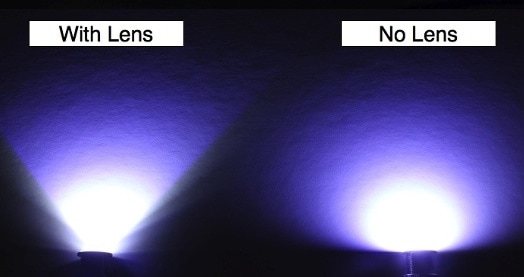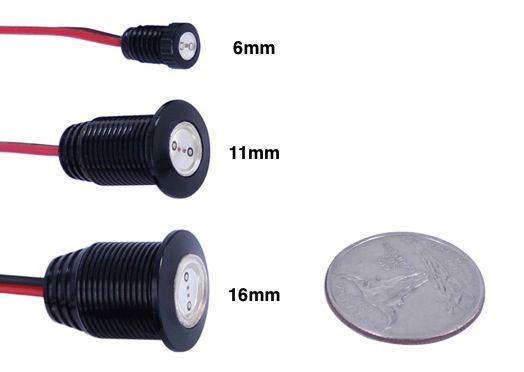 A new UV (ultraviolet/blacklight) color is now available, and its REALLY bright compared with most other UV LEDs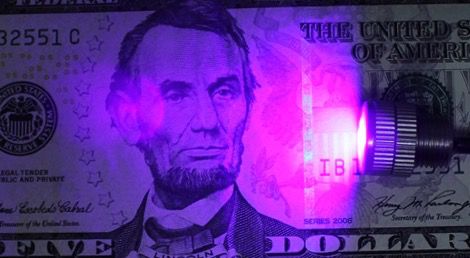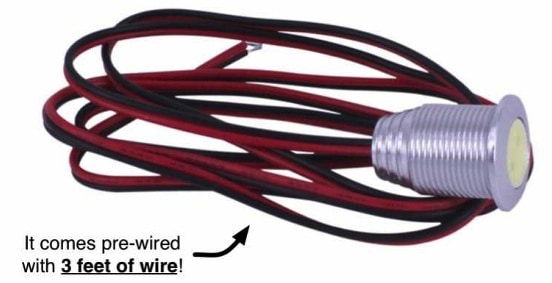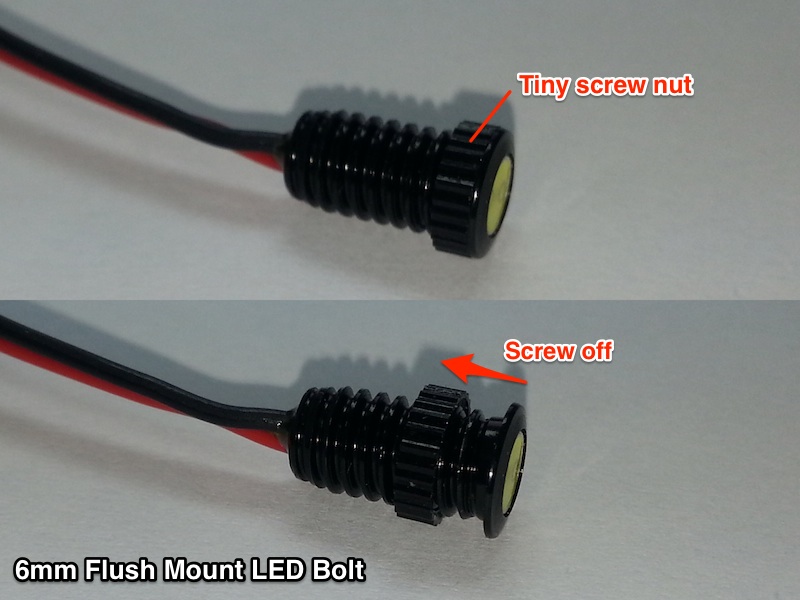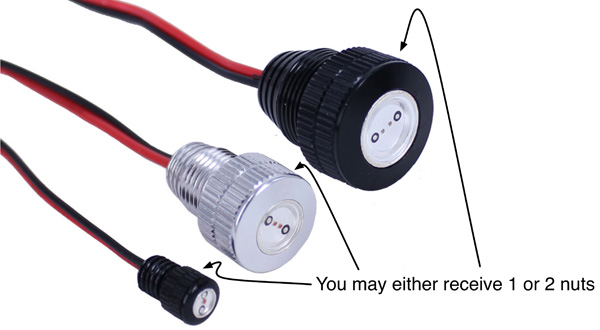 Note: because of customer feedback (thank you!), we now include two nuts instead of one with each bolt. Two nuts can help keep everything secure, especially when exposed to vibrations. You can also try a dab of Loctite thread fastener, or some other adhesive to keep the nut secure. Anything
produced
after January 2015, will include two nuts. You may however still receive old inventory produced before January 2015 which includes only a single nut. For example, with certain variations, we may still have inventory which was produced in 2014, and until we sell these, we don't produce new ones. It doesn't make sense to open all existing bags to add an extra nut. Thus, if you absolutely need two nuts, we recommend you buy an
additional replacement nut
.
Product review & unpacking from a satisfied Oznium.com customer: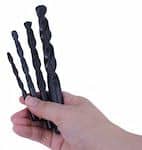 Need
metric drill bits
?
Buy them conveniently from us in various sizes to match the diameter of your LED Bolts: 6mm, 11mm, and 16mm.
Customer Questions?
Our customers have asked 38 questions about this product.
→ Read common questions and answers.
Customer Reviews
179 Reviews
(164)
(11)
(3)
(1)
1 star:
(0)
Average Customer Review
(179 customer reviews)
Great
Reviewer: Alexander Larsson (Marstrand, Sweden)
Item: Flush Mount LED Bolt
Absolutly best walue and never seen so small get so much light.
Will come back with pictures after mounting them.
Raptor Grill Tacoma Mod LED Lights
Reviewer: steve kenyon (Fort Collins, CO)
Item: Flush Mount LED Bolt
These LED's are great. The size and the install was great. My only recommendation is that the washer/bolt that attaches to the back side be a hex for ease of getting tightened. The area I installed was very difficult to get tight but locktite was able to help me out.

Otherwise great lights I would highly recommend them to anyone for projects. I will most likely order more for misc. projects on the truck once I figure out where I want to mount them.

Oznium has the best prices for these types of items and their customer service is great. There are alot of companies who overcharge for LED's and they remain fair prices and exceptional quality. I will continue to purchase and refer people to Oznium.
Great on snowmobiles
Reviewer: Derick Wall (White Lake, MI)
Item: Flush Mount LED Bolt
I ordered the 11mm RED and UV 3W stainless steel Flush Mount LED Bolts from Oznium for myself and my close friend. We own a 2015 Yamaha Viper XTX-SE and 2014 Yamaha Nytro XTX respectively and wanted to make them stand out on and off the trail. The installation was a complete breeze and the 11mm bolts fit absolutely perfectly into the areas of the snowmobile that we needed them to go. The ordering process was simple and the delivery time was right on the nose (actually they showed up a day earlier than expected). The quality of the product was fantastic. We are excited to see how the Oznium LED bolts stand up to the harsh Michigan winters and the demands of a hard and fast snowmobile ride. For those of you looking to put these on your sled, I would not hesitate and order now. Hopefully our pictures will give you some guidance. Thanks again Oznium and special thanks to the owner: Phil Suslow for following up.
6mm pack a bunch of light in a tiny size!
Reviewer: John K (NC)
Item: Flush Mount LED Bolt
Purchased several of the 6mm blue versions (with no lens) to have installed inside my 2013 Ford Fusion for ambient lights during night driving... and I love them!

Don't be fooled by their extremely small and compact size: These things pack a bunch of light!

I first bought one LED of each size (6, 11, and 16mm) in the blue color to test and see how big and where they should go in my car.

I did this by waiting for it to get dark, buying a 12v cigarette lighter adapter to externally power the lights and taping them all around the inside of my car where I would like for them to go.

Side-note: You guys at Oznium may want to consider selling a cigarette light adapter. It was necessary for me during this "test phase" of my lighting project: https://d114hh0cykhyb0.cloudfront.net/images/uploads/power-adapter-vpa-8a.jpg)

I'm glad I did this test before drilling any holes in my vehicle as not only did I find I wasn't a fan of having lights illuminate my foot wells (I could see every speck of dirt on my floor mats which would drive my OCD crazy) I also quickly found that the 11 and 16mm LEDs are crazy powerful and bright and that the 6mm would be more than enough to light the inside of the vehicle without glare or being distracting while night driving.

This also worked out nicely since the 6mm ones are so small it made them much easier to install and discretely hide from sight.

Ultimately I decided to install seven of the 6mm LED bolts: One in each of my four doors, one in each of the two front cup holders, and one in the center cubbyhole underneath the dash.

Once I found how many and where each of the 6mm LEDs needed to go I had them professionally installed and couldn't be happier! On my car, they fade on when I open any of the doors (so they act as a courtesy lights... especially the ones that are installed in the doors) and fade off a minute after the engine is turned off or when I lock my doors exiting the vehicles.

But most important and the whole reason I had them installed: While driving they only come on when the interior dash lights come on (so in my car, the dash lights only turn on when the light sensor detects it's dark outside).

I personally like it this way as having them ALWAYS on would look a little weird (especially during the day) and not seem as intentionally/professionally done otherwise.

The only criticism I have with these tiny LED bolts is how small the "lip" is around the light's source. I bought the 6mm drill bit from Oznium as well for the install but the "lip" that is meant to hold and keep the LED from slipping through the hole is so little I didn't trust it to securely keep it and place. So if there's one piece of advice for improvement it'd be to make that lip a bit bigger for peace of mind.

Because of that I went to my local hardware store and bought rubber washers that fit very snug and secure around the bolts and are exposed on the outside; and metal washers that would rest on the inside (the part of the LED bolts you wouldn't see) to ensure no chance of the tiny LEDs slipping through their holes.

I've made a video of them in action and will upload some images as well so check out Oznium's gallery page for more details.



11MM LED USED FOR SCALE RAILROAD LOCOMOTIVE
Reviewer: STEPHIE KOLATA (Deltona, FL)
Item: Flush Mount LED Bolt
PURCHASED THE LED TO BE USED FOR DITCH LIGHTS ON MY SCALE RR LOCOMOTIVE. THE LEDS ARE THE RIGHT SIZE FOR THIS SCALE PRODJECT.
Amber lights
Reviewer: R.Yepez (Fresno, CA)
Item: Flush Mount LED Bolt
Lights are very nice. Bright very easy to install anywhere
Will also be installing clear ones in the bed of my truck for hunting season. Will be buying more to install under the hood. Very nice light
LEDs perfect
Reviewer: John Grabowski (Mobile, AL)
Item: Flush Mount LED Bolt
I ordered these for a unique application. We are repairing props to use in a High School Band show. The ravens use LED eyes to add and ominous effect. One of the raven's was missing its eyes and these will work probably better than the ones they are replacing. I've already tested them and will be installing them with a 9v battery and a simple switch. Pictures/video posted soon.
Fantastic product ! Highly recommend
Reviewer: Michael D. Denney (Covington, LA)
Item: Flush Mount LED Bolt
I purchased two of these LED bolts to use as "puddle lights" on the underside of my side view mirrors. With the three feet of provided wiring I had no issues running the wire through the mirror, into the door panel and down into the vehicle cab.
The output of the LEDs are incredible. I purchased the 1watt with a lense in cool white.
Super pleased with the purchase and will purchase from again in the future should I do anymore exterior lighting to my vehicle.
Flush mount led 1W
Reviewer: JOE N (T.O, CANADA )
Item: Flush Mount LED Bolt
I have been looking for these flush mount led everywhere and I wish I would have found it earlier. I just love the way it sits flush and it's pretty bright for a 1W LED bulb. Definitely will be coming back for more of these great products.
Amber LED bolt 1W
Reviewer: Steven Cummings (Springfield, IL)
Item: Flush Mount LED Bolt
These are incredible! The light output is crystal clear and the perfect brightness. I have already recommended them to several of my friends who have placed orders. Fantastic product.
See all 179 customer reviews...
Write an online review and share your thoughts with other customers.
Upload your own action shots - show us how you creatively used our product.