Wiring a 4 Pin lighted rocker switch, depends on the type of rocker switch. 
We have these two Rocker Switches, with technical information:
https://www.oznium.com/switches/rocker-switch#tech
https://www.oznium.com/switches/momentary-rocker#tech
Just remember, whenever you come across a part with unknown connections, the first thing to do is look for the datasheet! If you don't understand the pinout from the datasheet, then by all means post a question about it and we will assist with the wiring of our Rocker Switches.
Below is a diagram on how to wire a 4 Pin Lighted Rocker Switch: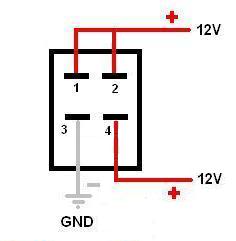 ---
FORUM THREAD
---
Rolla


---

I need a little help wiring a 4 Pin lighted rocker switch. The switch has no labels of any sort so I tested it. Below are the results. 

 

Now how would I go about wiring it so that the LED works together with the switch? Will this work? 

 

BTW the switch is used to control an LED tube.

PwrRngr 

---

That's kind of generic on what you have. What type of switch do you have? Is it a standard DPST? Or is it a SPDT with a terminal for LED ground? Post a link where you bought the switch.
Regardless, you can NOT wire it the way you posted in picture 3. You can NEVER connect positive voltage to ground (Pin 4) b/c it's a short

bad venge

---

You need to take an ohmmeter and test it ,
check with switch in off and then in on position
likely 1 is power and 3 is output if the switch is closed
4 might be the ground for the light

PwrRngr

---

My guess is that it's a SPDT switch with an extra prong for the LED (kinda like the ones from here are SPST w/ an extra prong for the LED).
My GUESS is that you connect things between pins 1 (or 2) and 3. Then you ground pin 4 for the LED. THIS IS JUST A GUESS. Make sure you test it with a ohm meter to double check.

Rolla

---

Thaks guys! After much criss-crossing wires and getting zapped a couple times I figured it out.