"So what is an amplifier remote turn-on wire?" you might ask.
Your remote turn-on wire simply communicates to the amp that it needs to switch on.
If you opt for turning your amp on manually and would like to know how to turn on amp without the remote wire, here are some things you need to keep in mind: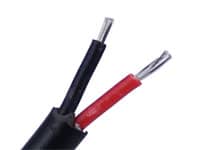 Marine Grade 2-Core Duplex Cable
You can rewire it using a relay off the switched power wire to the radio to a relay, you need to use the distribution block to the amp as a source. However, if you have more than one amp, it's recommended that you don't use a relay. Instead you could connect a wire from the switched power for the stereo to activate the relay.
Read common questions and answers on Rocker Switches
---
---
Latest Blog Posts
---