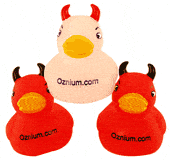 Sponsorships, Free Samples, Marketing Partnerships, and more
From time to time we receive requests for sponsorships, marketing partnerships, media promotions, media product placements, and product reviews. We also receive requests for discounts based on status as a non-profit organization, teacher, student, senior citizen, military personnel, veteran, disabled person, celebrity or celebrity pet. Others ask for dealer discounts even though they are purchasing a small quantity of a single product. And then there are those who ask for free samples, alluding to intentions to later buy large quantities.
Policy: sorry, but no
Our answer to all of these requests is simple and consistent: sorry, but no. No exceptions, no kidding. Our policy is to never provide free or discounted products for any of the above requests, nor for any similar requests.
Knock-Knock, its not you, its us
Even though you might have an excellent marketing or sponsorship proposal or might have an otherwise just and noble cause, it's not our policy to respond to such requests. This is no reflection on you or the value of your proposal - that's just the way we manage our business. We choose to not answer these knocks at our door. All of our advertising, marketing and charitable efforts are proactive - meaning we choose our own opportunities rather than waiting for them to come knocking.
Business Practices - slow and steady, fair and uniform
For most of our products we already offer tiered pricing based on quantity ordered. The more you buy, the lower the price, whether you are a big-shot movie producer or a humble citizen buying your first LED. Tiered pricing is available to all customers, both resellers and retail. All customers enjoy the same friendly service and generous warranty coverage. To maintain this high level of service with great products at competitive prices, we find it is best to treat all customers fairly rather than offer perks to a few at the expense of the many.
Loopholes, always a loophole
Everyone knows there are always loopholes, so what are Oznium's? The exception we make when it comes product give-aways is always for our best repeat customers; those who have been with us for years, placed many orders, promoted us to friends and always provided balanced, constructive feedback about our products and services. In the weeks prior to some new product roll-outs, we occasionally give these high-volume customers free samples to test. They never need to ask; we contact them when we want a product tested. This is on the condition that they give us detailed, constructive feedback. This program is not advertised and there is no application progress. Again, don't call us - we'll call you.
Thanks for taking the time to read about our policies.
Shop Now