Oznium.com Ships Fast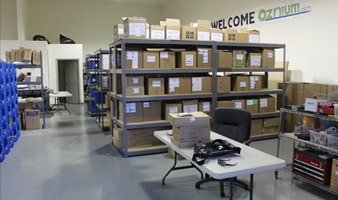 We ship from our warehouse in Colorado.
We primarily use two popular, fast, and reliable shipping carriers:
United Parcel Service (UPS), or the United States Postal Service (USPS)
In-stock items are shipped as soon as possible after we have received your confirmed payment. Out-of-stock items will be shipped as soon as we receive them from the factory.
Current Status of the Oznium Shipping Center
As of 3:56 pm PST, Sunday, December 10, 2023
Place your order now.
It will ship first thing Monday morning.
Oznium reserves the right to use a shipping service other than the one you selected for your purchase. While we generally will use the service you selected, in some cases, we may use a comparable service. For example, if you choose First-Class Mail by the USPS, we may use Ground by UPS.
If an item arrives damaged or is lost by the shipping company, please contact us immediately. Save all packaging in case of an insurance claim of damaged products. In the rare case a shipping problem occurs, Oznium will assist you in any way possible.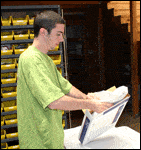 If you change your mind after placing an order, you can cancel the order if you notify us before we have shipped it.
Because of forces outside of our control, Oznium cannot guarantee delivery by a specific date. If an order is time-sensitive, (you need it by a certain date), please contact us directly to get an estimate of delivery date.
Shipping carriers may require a signature. If no one is available to receive the package, the carrier may leave a note. They will likely attempt re-delivery on the next business day or allow for pickup at their facility.
To view the exact shipping rates, simply add products to your shopping cart, and enter your country and zip/postal code.
How about international shipping?
Does Oznium ship outside of the United States? Yes!
We are happy to ship worldwide. As you are probably aware, air shipping can be expensive, and there may be unforeseen delays in Customs. Import duties and taxes may be imposed, but unfortunately we have no idea how much they will cost. We cannot give you an accurate delivery date, due to many variables such as Customs, etc. Please allow up to two (2) weeks for delivery time.
You can easily calculate exact shipping costs and options:
Add products to your shopping cart
While viewing your shopping cart, choose your country and enter your postal code
UPS Ground
The following map shows business days in transit with UPS Ground shipping from our warehouse in Colorado.
Oznium 2023 Holiday & Shipping Schedule
We want to get your order to you as soon as possible. We pack and ship orders Monday through Saturday - 6 days a week!
| Holiday | Date | UPS | USPS | Oznium Shipping Center |
| --- | --- | --- | --- | --- |
| Christmas Day | Monday, December 25, 2023 | Closed | Closed | Closed |
| New Year's Eve | Sunday, December 31, 2023 | Closed | Open | Half day |
| New Year's Day | Monday, January 1, 2024 | Closed | Closed | Closed |
United Parcel Service (UPS)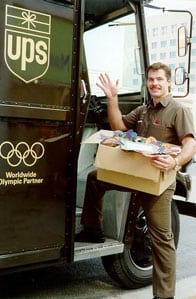 Delivered by a friendly driver in a big brown truck.
Usually requires a signature - depends on driver and situation. The driver is responsible for lost packages if they leave something at your door, and you never receive it. If you live out in a remote setting, the driver will probably simply leave the package for you. If you live in a more urban setting or crowded city, the driver is likely going to require a signature. You can always contact UPS and put a signature on file.
Tracking number lets you view your packages' progress. Expensive and slow to distant, far away places. Even more expensive, yet speedy, and reliable for Next-Day Air services.
Dog's best friend - many UPS drivers are known to toss your dog a few biscuits.
United States Postal Service (USPS)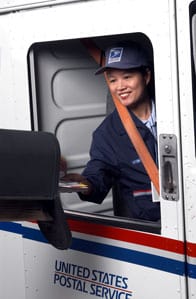 Delivered by the letter carrier in a wimpy mail truck.
Same people who deliver your mail everyday

- for example all your bills and your birthday card from Uncle Harry.

Fast and inexpensive. Perfect for small and lightweight packages. First-Class mail usually delivered in under seven (7) business days. Priority Mail usually delivered in 2 to 3 business days.
Dogs hate 'em - did you know an average of 11 letter carriers suffer dog-related injuries each day?
Moral of the story? Give a dog a bone