Environmentally friendly LEDs for creative architectural lighting
You'll never get caught in the dark with our home LED lights! Light up the darkest corners of your space with LED ceiling lights or LED under cabinet lighting. Our flexible waterproof LED strips are so versatile, you can mount them seamlessly in any space, no matter the size, and due to their extreme weatherproofing, they can live through many weather conditions, never-mind the occasional splash. These are highly versatile LED strip lights for home or even outdoor use. They work perfectly around curved ceilings, under or in cabinets or around your pool. Our pre-wired superflux chip LED light is a popular option, they're so tiny you can put them in the smallest of places, they come with a built-in resistor and a foot of wire so they're really easy to install!
The healing power of color: Chromatherapy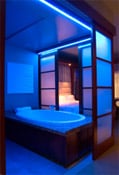 Red: Stimulating and exciting. Activates circulation and wakes up the senses.
Orange: Soothing and pain-relieving. Stimulates the respiratory system and soothes muscular pain.
Yellow: Digestive and creative. Promotes digestion and increases brain activity.
Green: Calming and stabilizing. Relaxes the entire body and stabilizes emotions.
Blue: Relaxing and soothing. Reduces blood pressure and stress and soothes the soul.
Violet: Immunizing and appeasing. Stimulates the immune system, detoxifies the body, and reduces anxiety.