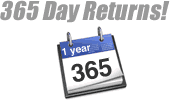 Returns
Returns at Oznium.com are simple:
You have 365 days from the purchase date to return a product
The product must be in re-sellable condition
You pay return shipping
You can request a Return Authorization (RA) number online. Here's how:
Log in to the My Account page.
Once you are logged in, locate the "helpnow" section and click the link to indicate you would like to return a product for a refund.
Follow the instructions to indicate which product(s) you wish to return.
You will be given a return authorization (RA) number and shipping instructions.
Once your return is received and inspected by our warehouse staff (usually within 72 hours of receipt), we will process your refund and automatically apply a credit to your credit card or original method of payment within 7 days. Please note that depending on your credit card company, it may take an additional 2-10 business days after your credit is applied for it to post to your account.
Do you need to report a defective or missing product?
These issues can also be handled from the
My Account
page.