New for 2016
. 100% Oznium exclusive. Designed from the ground up, to be
bright
, and
sleek
.
The applications are endless. The only limit is your imagination. You can use them for architectural accents, indoors, outdoors, in walkways, in railings, decks, etc. Use them for car lighting, in the front of your car, back of your car, or even inside your car. Use them for marine or industrial applications.
Not only does the CNC'ed billet aluminum housing look cool, it also acts as a heat sink for the high power LED.
Super easy to install. Just drill an appropriate sized hole, feed the wires, and LED bolt through. Tighten the matching nut from the back side, and everything will stay in place. Connect the wires to any 12 volt power source.
The housing is
waterproof
, with an IP68 rating.
Hole size? 6mm, 11mm, or 16mm (0.23", 0.43", or 0.63")
Are you seeking ultimate performance?
Want the best brightness possible?
We've got you covered. Choose our
Premium
Stainless Steel (3W)
version, which packs a powerful punch of
triple the lumens
(yes, 3X the brightness!), in a durable marine-grade Stainless Steel housing.
Designed for industrial environments, its guaranteed to shine bright for many years.
Our premium Stainless Steel (3W) version is only available with these options:
✓ Silver housing
Stainless Steel is darker than Aluminum
✓ 11mm (or 0.43")
For now, to keep things simple, we're just producing the premium Stainless Steel (3W) in the most popular 11mm (0.43") size.
✓ No Lens
We fill the top part with a durable 2-part epoxy, so nothing can touch the LED. Because there's no lens, the viewing angle is 180-degrees.
As an added bonus, it comes with a
high quality marine grade cable
, which is double insulated in a black sheath.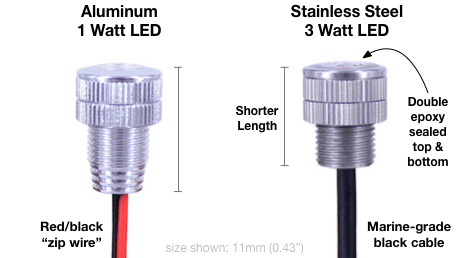 ◊ Comparison between 1W no lens bolt and 3W Stainless Steel bolt: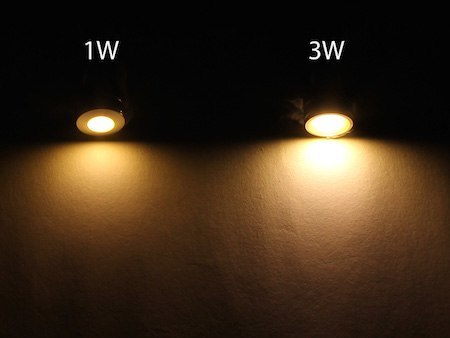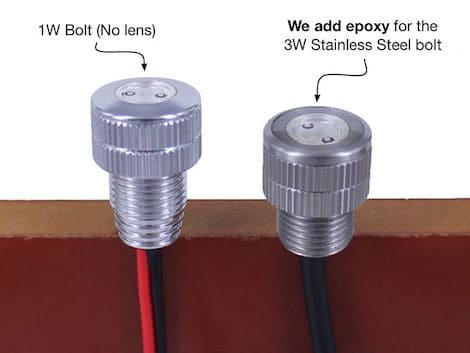 We use epoxy to seal both the top and bottom of the 3W Stainless Steel bolt: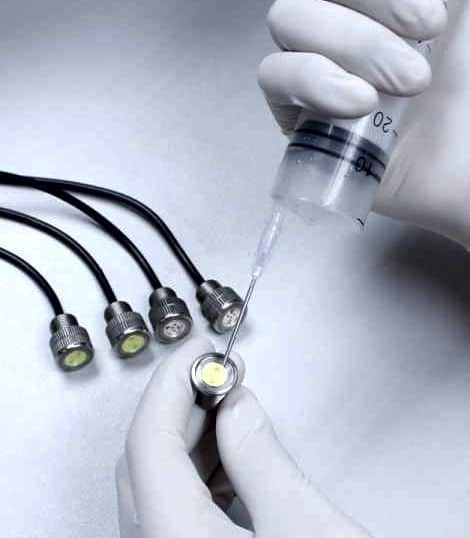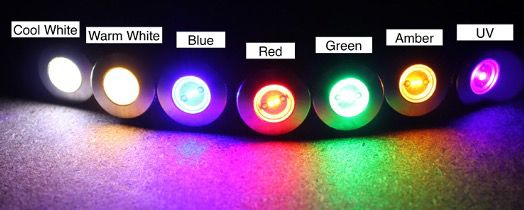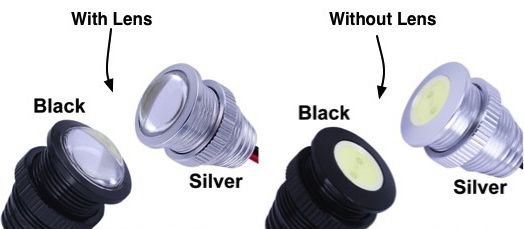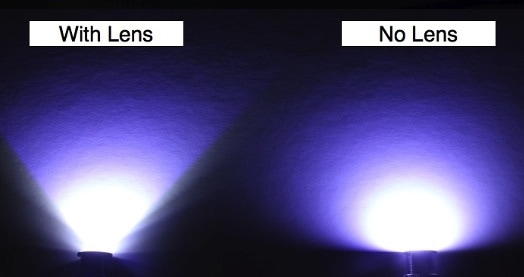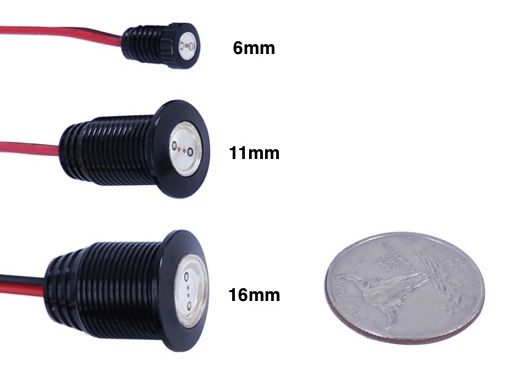 A new UV (ultraviolet/blacklight) color is now available, and its REALLY bright compared with most other UV LEDs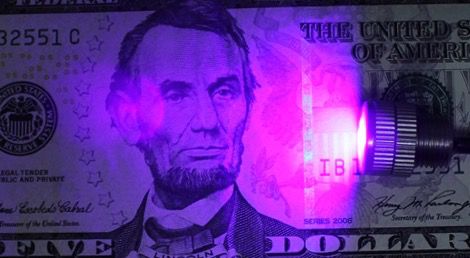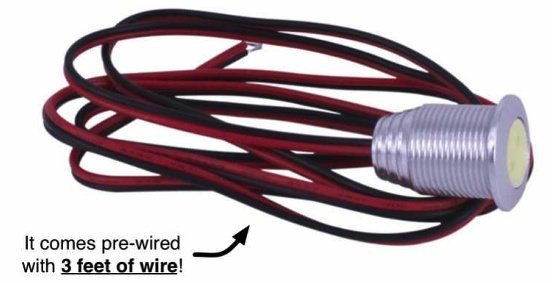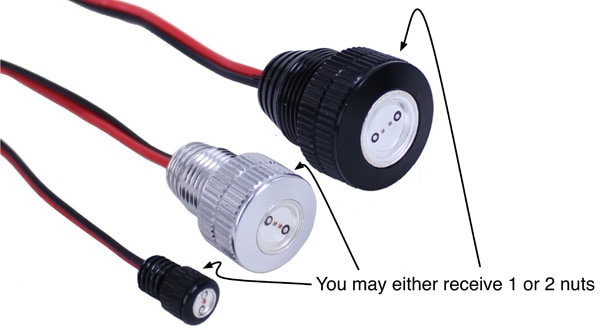 Note: because of customer feedback, we now include two nuts instead of one with each bolt. Two nuts can help keep everything secure, especially when exposed to vibrations. You can also try a dab of Loctite thread fastener, or some other adhesive to keep the nut secure. Anything
produced
after January 2015, will include two nuts. You may receive older inventory produced before January 2015 which includes a single nut. Certain variations are from 2014, and until we sell these, we don't produce new ones. It doesn't make sense to open all existing bags to add an extra nut. Thus, if you need two nuts, we recommend you buy an
extra replacement nut
.
Product review & unpacking from a satisfied Oznium.com customer: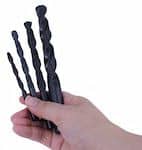 Need
metric drill bits
?
Buy them conveniently from us in various sizes to match the diameter of your LED Bolts: 6mm, 11mm, and 16mm.

Need
Rubber O-Rings
?
For a water-tight seal around the bolt bezel and your panel.